Caroline's Macaroni Pie • A Southern Baked Mac & Cheese
From Carrie Morey's Hot Little Suppers cookbook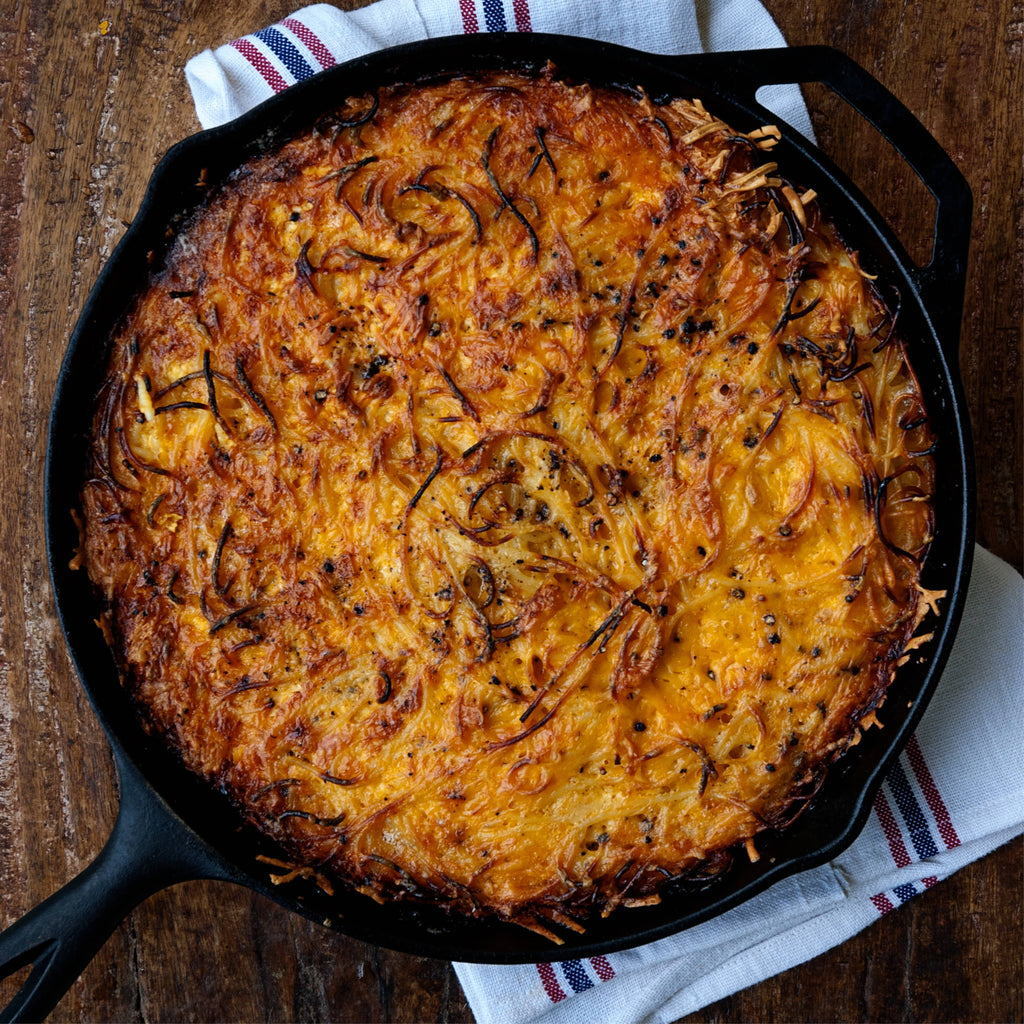 Ingredients
• Kosher Salt
• 1 lbs Vermicelli or Thin Spaghetti
• 4 Large Eggs
• 2 Cups Milk
• 1 Teaspoon Dry Mustard
• 1/2 Teaspoon Cayenne Pepper
• 5 Cups Shredded Sharp Cheddar Cheese
• 2 Tablespoons Butter (room temperature)
• Freshly Ground Black Pepper
In my family, this southern baked mac & cheese dish is referred to as Caroline's Macaroni Pie. I don't know why Grandmama (the "Caroline" of this recipe and one of the many Carolines in my family) called this macaroni "pie". There's no crust. But I think it's a Southern thing. To add to the mystery, this macaroni pie does not call for macaroni. It uses vermicelli or thin spaghetti instead. In Southern cooking, like Southern life, contradictions are abound. This dish is a contradiction worth embracing. Discover my Southern Baked Mac & Cheese unlike any macaroni dish you've had before!
You can make this to serve a ton of people. I once made enough to feed 250! It is always a crowd pleaser, and I get lots and lots of requests for this recipe.
Instructions
Bring a large pot of salted water to a boil. If baking the same day, preheat the oven to 375 degrees F.
Cook the pasta for 1 minute less than the package instructions state. Drain the pasta and reserve in a little of the cooking water to cool briefly.
Beat together the eggs, milk, mustard, and cayenne in a large bowl. Add the pasta and 4 cups of cheese. Mix well.
Butter a 12-inch skillet with 1 tablespoon of butter. Pour in the pasta. Top with the remaining 1 cup cheese, dot with remaining 1 tablespoon butter, and sprinkle with salt and pepper. At this point, you can cover the pie with plastic wrap and refrigerate overnight if you'd like. Uncover and let the pie come up to room temperature as the oven heats to 375 degrees F.
Bake 45 minutes, checking at 35 minutes, until golden brown and bubbly.
Hot Little Tip
If you really want to go all out, serve with fried chicken – or serve with anything to be honest! It's that good.