Crustless Quiche
From Carrie Morey's Hot Little Suppers cookbook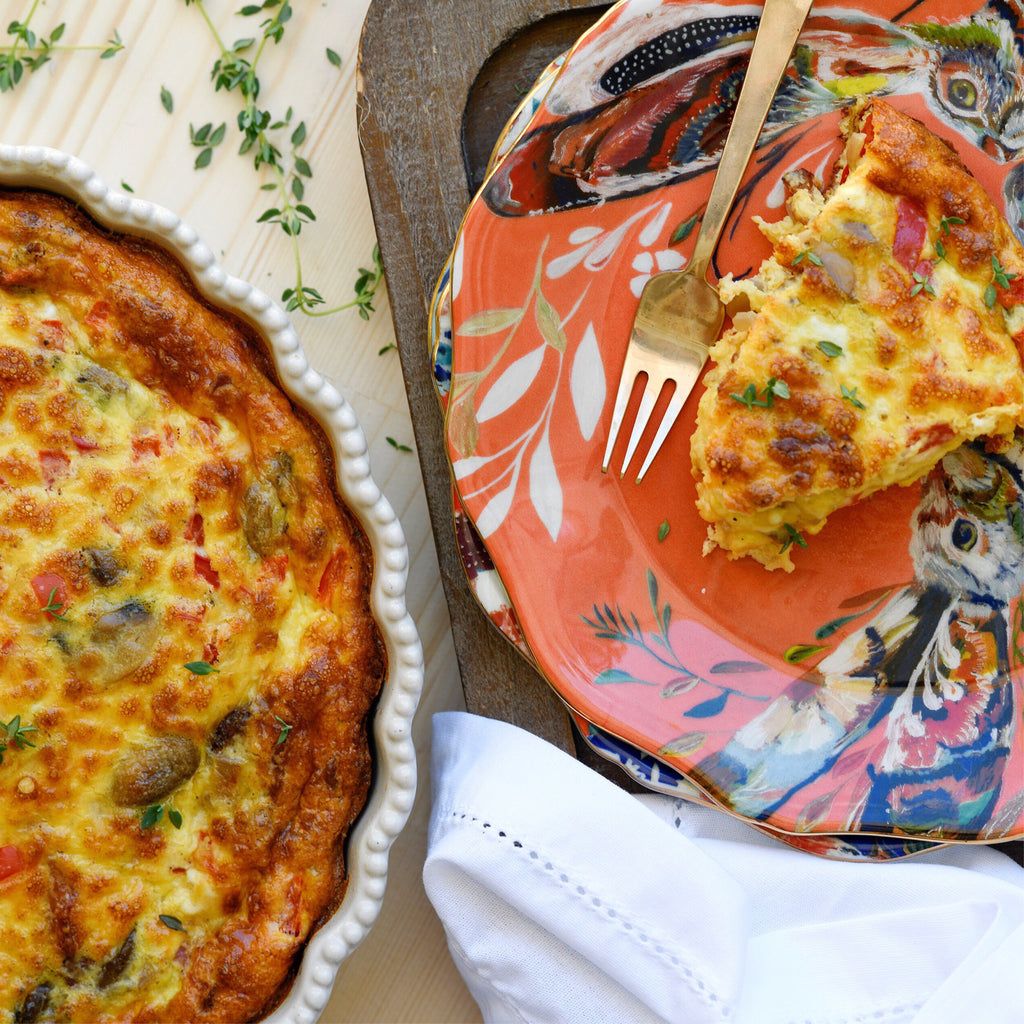 Ingredients
• 8 eggs
• 1 cup heavy cream
• 2 cups parmesan
• 1 cup shredded white cheddar
• 6 slices bacon
• 1 clamshell white mushrooms, sliced
• 1 shallot, diced
• ½ cup white wine or rose
• 1 red bell pepper, diced
• 2 tablespoons butter, divided
• 1 tablespoon fresh thyme
• Salt and pepper to taste
It's that time of year again where we show our mamas some extra love!
Impress your favorite lady with this crustless quiche. I made this quiche while we were on the keto diet and it is absolutely divine. The way the mushrooms, shallots, and thyme smelled as I sautéed them was simply mesmerizing! Pair this quiche with a glass of bubbly and vase of beautiful flowers to make your Mother's Day perfect!
How To
Preheat oven to 400°. Grease a pie plate with 1 tablespoon butter and set aside.
Heat a cast iron skillet or sauté pan to medium heat. Add the bacon and cook until crisp. Remove from pan and drain on paper towels; set aside. Reserving 1 tablespoon of grease.
In the same pan with the reserved tablespoon of bacon grease, add 1 tablespoon butter. Heat to medium and add the mushrooms, shallots and thyme. Sautée until tender.
Deglaze the pan with the wine, scraping up all of the bits. Let simmer for 20-30 minutes or until most of the liquid has evaporated. Turn off heat and let the mixture cool completely.
In a large bowl whisk together the eggs, cream, and cheeses. Stir in the cooled mushroom mixture, diced bell pepper, crumbled bacon and season with salt and pepper.
Bake for 25 minutes or until golden brown and set in the middle.
Serve immediately and enjoy!
Hot Little Tip
My girls like to go all out for Mother's Day with breakfast in bed and all! It is the cutest thing. This recipe is pretty easy for those little ones trying to help make Mother's Day great.