Mexican Chicken
From Carrie Morey's Hot Little Suppers cookbook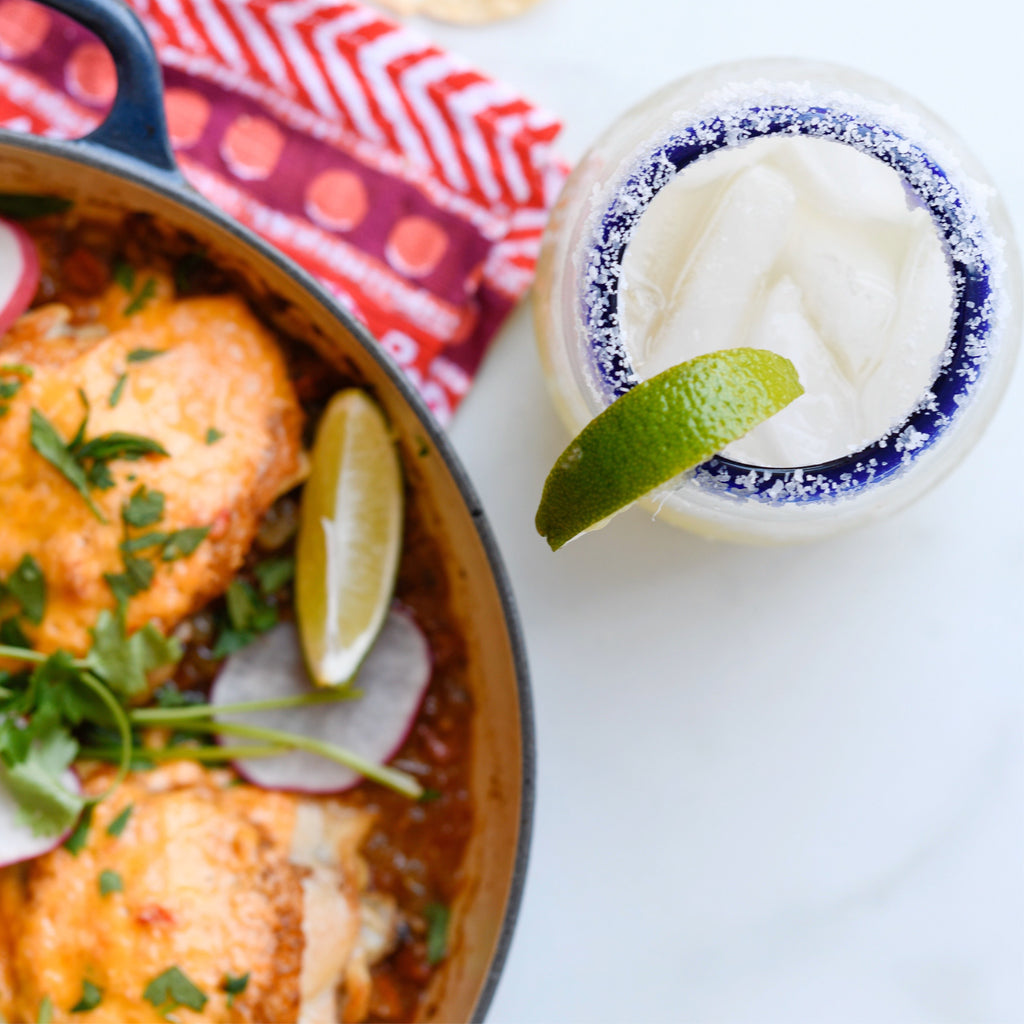 You'll Need
• 4 to 6 bone-in, skin-on chicken thighs
• 2 tbs olive oil or reserved bacon fat
• 4 cloves garlic, minced
• ½ white onion, diced
• 1 teaspoon ground cumin
• 1 teaspoon ground coriander
• 1 teaspoon chipotle chili powder
• Salt and Pepper to taste
• 1 (16 ounce) container of pico de gallo
• 4 to 6 tablespoons pimento cheese (I like to use our fiery pimento cheese)
• Zest of 1 lime
• Garnishes: Cilantro, sliced radishes, lime wedges, and tortilla chips
Y'all know I love a good Mexican dish! We eat chicken a few times a week so it's always fun to play around with new recipes. My favorite cut is a bone-in chicken thigh. The skin gets crispy and the chicken soaks in every bit of flavor. Simply delicious!
My girls were craving Mexican and since we're in quarantine, I thought we could bring the Mexican fiesta to us. This recipe is the perfect way to dress up your weeknight supper. Grab our fiery pimento cheese and some pico de gallo and you'll have Mexican take out made at home!

Instructions
Preheat oven to 350°F.
Mix all of the seasonings together (cumin, coriander, chipotle chili powder, salt and pepper) and set aside.
Heat a skillet to medium high heat and add the oil. Once pan is smoking hot add the chicken, skin side down. Sear on both sides for about 3 minutes per side.
Remove chicken from pan and set aside.
Lower the heat and add the onions and garlic to the same pan. Add the seasonings and stir until well incorporated.
Add the lime zest and juice to the pan, scraping up all the bits. Add the pico de gallo and mix together. Bring to a simmer for 5 minutes.
Add the chicken back into the pan. Place pan in oven for 20-25 minutes or until chicken registers at 165°F.
Place a tablespoon of pimento cheese on top of each piece of chicken. Turn on oven broiler and broil until cheese is bubbly.
Remove chicken from oven. Garnish with fresh cilantro, sliced radishes, tortilla chips and lime wedges. Serve immediately and enjoy!
Hot Little Tip
Now is the time to get creative with your recipes. Let's see what you come up with.