Southern Fried Green Tomatoes
From Carrie Morey's Hot Little Suppers cookbook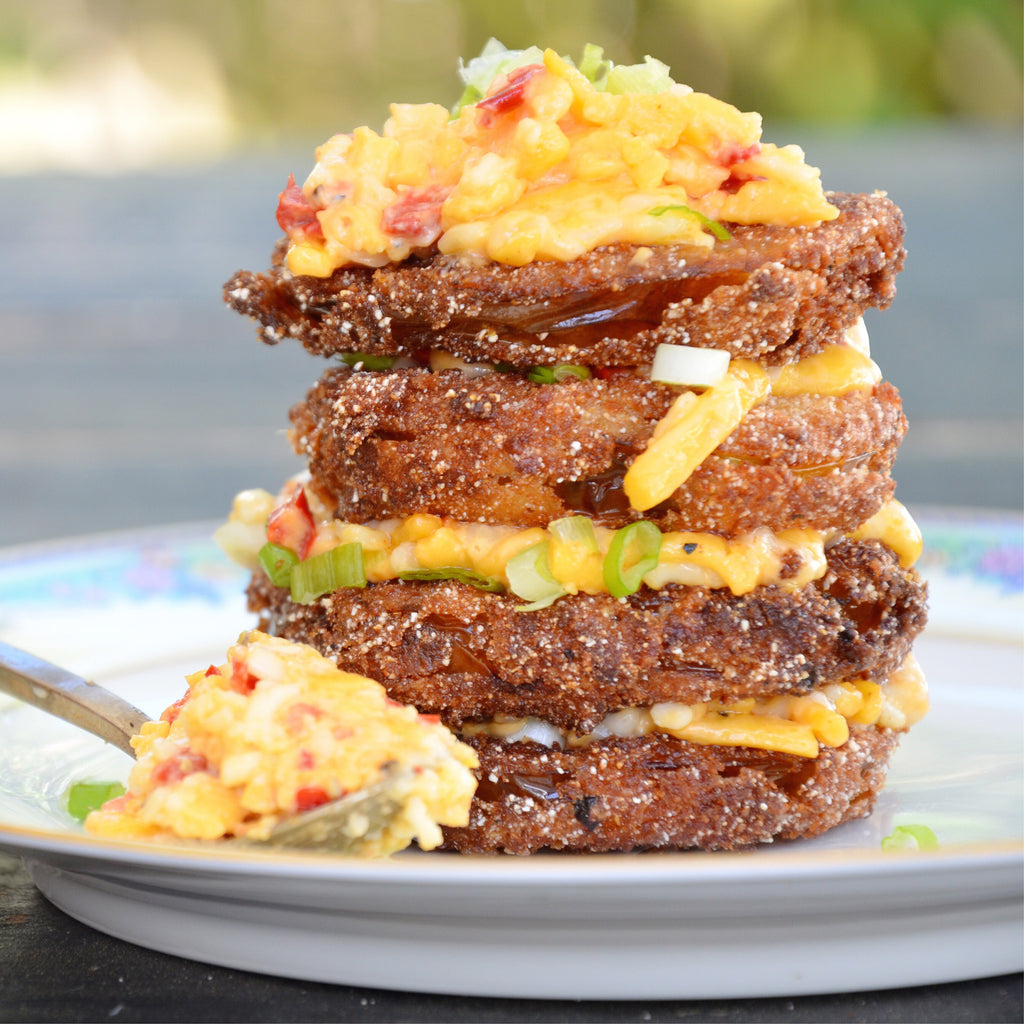 Ingredients
• 3 firm green tomatoes
• 1 cup all purpose flour
• 1 cup buttermilk
• 2 eggs
• ½ cup cornmeal
• ½ cup breadcrumbs
• ¼ cup finely grated parmesan
• ½ teaspoon cayenne pepper
• ½ teaspoon paprika
• ½ teaspoon ground mustard
• 2 cups oil or bacon fat
• Salt and Pepper to taste
It's no surprise that I love working in the kitchen with my girls, so in preparation for Mother's Day, my daughter Cate and I made these tasty fried green tomatoes. If you're from the South, this recipe should be a bit familiar to you. I'm here to spread the southern tradition for those who may not know (or have not tasted) this delicious southern treat! It's truly as easy as 1, 2, 3 – so have your kids join in the fun. I always top my fried green tomatoes with a bit of pimento cheese. Try our fiery 
pimento cheese
for an added kick! 
Happy Mother's Day, y'all! 
Instructions
Heat oil in a cast iron skillet to medium high heat.
While the oil is heating, cut your tomatoes 1/2-inch thick.
Then, create your dipping station. In one bowl add the flour and season it with salt and pepper. In the second bowl add the buttermilk, two eggs, salt and pepper. Whisk to mix all together. In the third bowl mix together the cornmeal, bread crumbs, Parmesan, cayenne, paprika, ground mustard, salt and pepper.
Carefully dip each tomato slice into the flour mixture, then dip into the egg mixture and then into the breadcrumb mixture. Gently shaking off any excess.
Gently place the tomato slices into the oil. Only do 3 or 4 slices at a time, you don't want to overcrowd the pan.
Cook for two minutes on each side or until golden brown.
Remove from pan and place on a wire rack or paper towels. Sprinkle a touch of salt on each slice right as they are removed from the oil.
Serve immediately and enjoy!
Shop the Post
Hot Little Tip
I like to add a little kick to my fried green tomatoes with pimento cheese on top, but you could also use a jalapeno jam or a black pepper preserve!