Vegetable Beef Soup
From Carrie Morey's Hot Little Suppers cookbook
"... and while I don't (always) use canned vegetables, you can certainly sub out fresh veggies for ones you like best!" - Carrie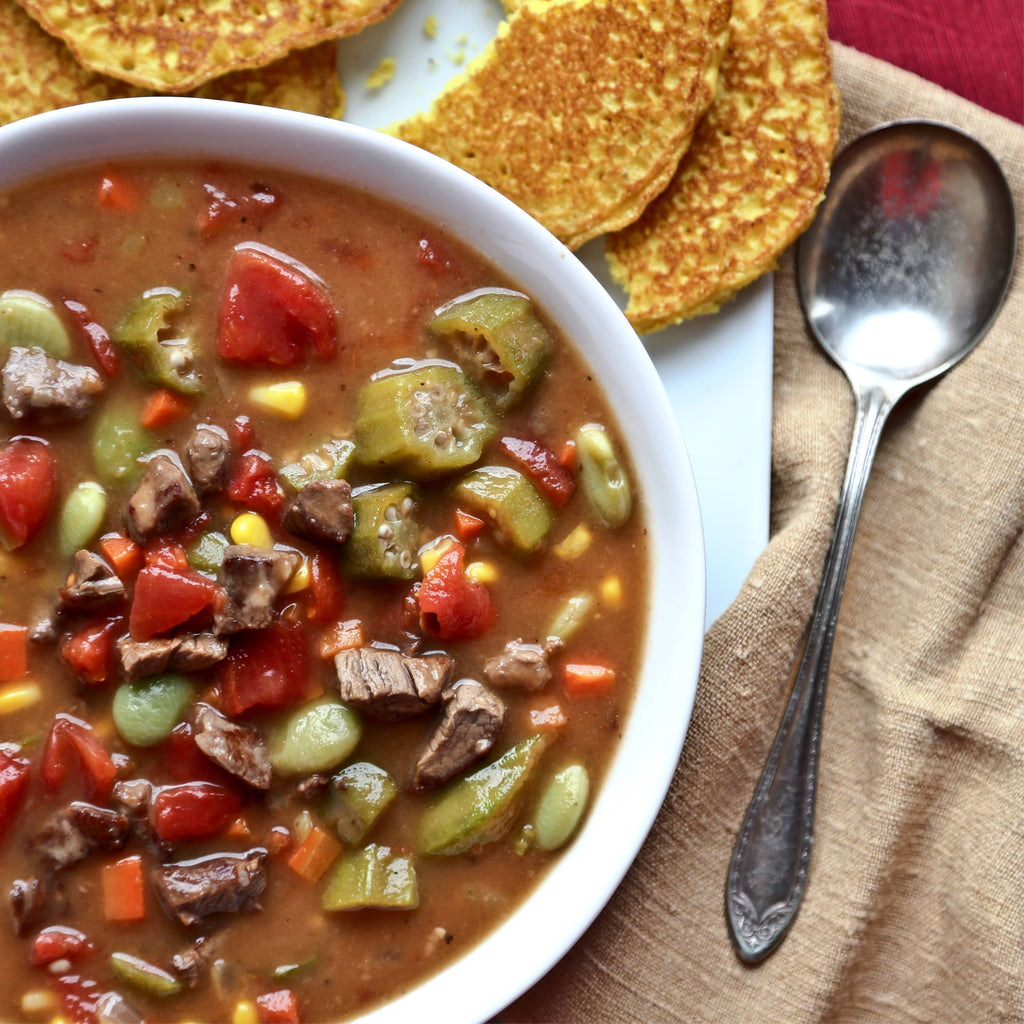 Ingredients
• 1/3 cup all-purpose flour
• 1½ teaspoons kosher salt, plus more for seasoning
• 1½ teaspoons freshly ground black pepper, plus more for seasoning
• 2 pounds beef stew meat or chuck, cut in ½-inch cubes Vegetable oil, to sear meat
• 1 tablespoon butter
• 1 tablespoon olive oil
• 1½ cups chopped carrots (about 6 carrots)
• 1½ cups chopped celery (about 4 stalks)
• 1½ cups chopped onion (1 large onion)
• 2 cloves garlic, smashed
• 1 (28-ounce) can diced tomatoes
• Up to 2 cups water
• 2 quarts beef stock
• 4 cups vegetables of your choice: sliced okra, corn kernels, cut green beans, shelled lima beans, butter beans, and/or peas
My dad's mom always bought the cheapest and fattest meats and canned vegetables.. you know those ones from a can that are not great for you but oh-so delicious?! She made sure to always have them on hand to whip out the Vegetable-Beef Soup and served it with cast-iron cornbread sticks.
I love that you can make this recipe with any vegetables you want, my favorite is Okra and Butterbeans... and while I don't (always) use canned vegetables, you can certainly sub out fresh veggies for ones you like best! 
This recipe has now become part of my staple go-to meal for my family. Like my maternal grandmother, I always have vegetables on hand just in case and I always serve it with cornbread. It is so easy and can save very well, you can freeze it beautifully and serve it over rice.
Ingredients
Prepare the seasoned flour: Mix the flour, salt, and pepper in a large resealable plastic bag.

Working in batches if necessary, add the meat, seal the bag, and shake the bag to coat the cubes well.

Heat a thin layer of vegetable oil in a large skillet on mediumhigh heat. Cook the meat in batches, if necessary, turning a few times, until seared and brown. Do not crowd the pan. Remove the meat with a wire mesh strainer and set aside. Pour out any excess fat, but do not wash the skillet.

In a stockpot or large saucepan, melt the butter into the olive oil. Add the carrots, celery, and onion and cook, stirring from time to time, until the onion is soft, about 8 minutes.

Stir in the garlic and the tomatoes and their juices, using the water to rinse all the tomatoes into the soup. Add the meat.

Pour some of the stock into the skillet and bring to a boil on medium heat. Scrape up the browned bits and add to the soup.

Add the rest of the stock to the soup. Add the vegetables of your choice. Bring to a boil, reduce the heat, and simmer 1½ to 2½ hours. Taste the meat for tenderness after 1½ hours.

Taste and adjust the salt and pepper
Shop the Post 
Shop our biscuits to perfectly pair with your soup: Biscuit Mix
Find this recipe and more in my cookbook. 
Hot Little Tip
What I love about this recipe is that I can use whatever vegetables I have on hand. It is truly a one-pot "dump" that is so tasty!