Waffle Waffle Waffles Recipe
From Carrie Morey's Hot Little Suppers cookbook
These waffles will add a delicious twist to a classic chicken and waffles meal!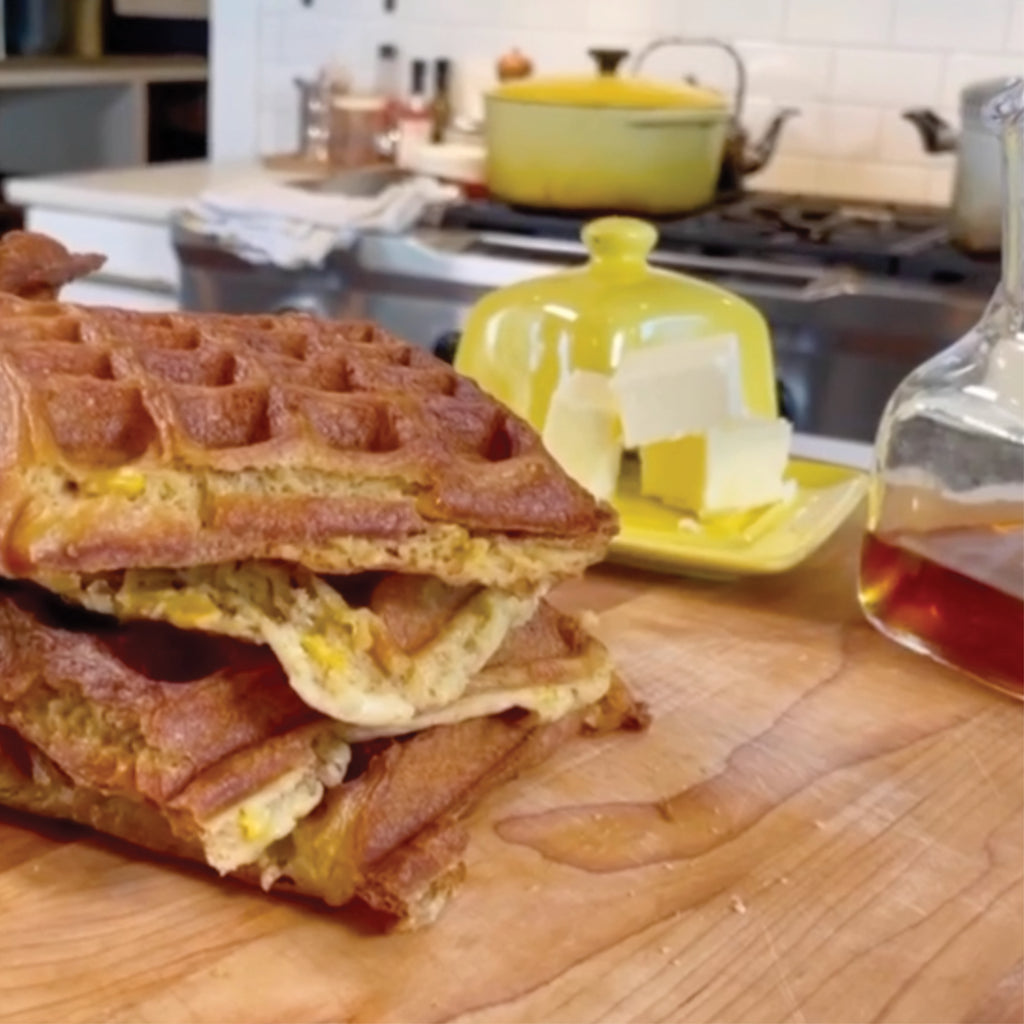 Ingredients
• 2 cups all-purpose flour
• 1 tablespoon baking soda
• 1 tablespoon sugar
• 1/2 teaspoon ground cinnamon
• 2 large eggs
• 1 1/2 cups creamed corn (a little less than one 14.75-ounce can)
• 1 1/2 cups buttermilk
• 12 tablespoons (1 1/2 sticks) butter, melted
• 1/2 teaspoon pure vanilla extract
• Serving suggestion: Warm maple syrup
When I was a little girl, I lived with my dad and some nights he would have to work late. No matter how late it was, he would come into my room and whisper in my ear, "Waffle waffle waffle!" I'd wake up and we'd go into the kitchen, where he'd make these waffles. It was an absolutely magical time for me - in the kitchen with my dad, eating waffles and talking about our day. 
Dad is a no-frills cook. His waffle recipe was to mix together pancake mix from the box with a can of creamed corn. Needless to say, I've dressed up Dad's recipe a bit, especially with my fried chicken recipe for the all-time favorite chicken and waffles! However, nothing can beat the magic of him saying, "Waffle waffle waffle." 
Instructions
Follow the manufacturer's directions for greasing and pre-heating the waffle iron. If you want to hold the waffles, preheat the oven to 200˚F and put a cooling rack placed over a baking sheet in the oven. (Putting the waffles in the warm oven makes them nice and crispy - just the way I like them!)
Combine the flour, baking soda, sugar, and cinnamon in a large bowl and whisk to blend.
Lightly beat the eggs in another bowl. Add the corn and buttermilk and blend well. Stir in the butter and vanilla. Pour into the flour mixture and mix well.
Cook the waffles according to the waffle maker's directions.
Serve the waffles immediately as you make them, or add them to your fried chicken for the perfect pairing - chicken and waffles with warm maple syrup!
Variation
Add 1 cup chopped cooked bacon and 1 cup shredded sharp cheddar cheese to the batter and garnish with chopped green onions or chives.  
Add chicken for a delicious chicken and waffle meal. Learn how to make my Fried Chicken Sammies.
Make waffles a sweet dessert instead with my Cocoa & Cream Cookie Waffles.
Hot Little Tip
Dad is a no-frills cook. His waffle recipe was to mix together pancake mix from the box with a can of creamed corn.