Coffee Rubbed Beef Tenderloin
From Carrie Morey's Hot Little Suppers cookbook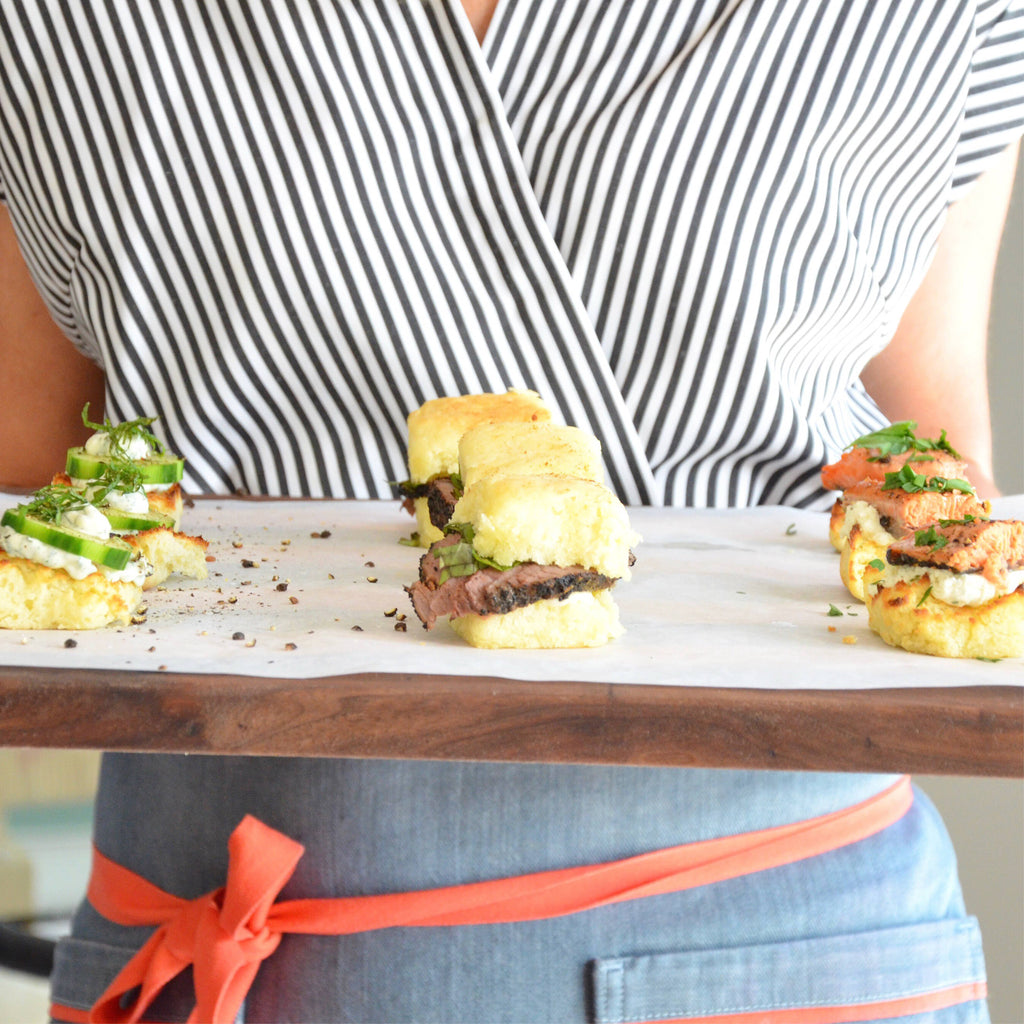 Ingredients
• 1 pound beef tenderloin
• 3 tablespoons finely ground coffee
• Salt and pepper to taste
• 1 tablespoon butter
• Callie's Hot Little Biscuit Buttermilk Biscuits
• Mayonnaise
• Fresh basil, sliced thin
Entertaining runs deep through my roots. A good Southern woman can whip up a delicious spread and a tasty cocktail for unexpected guests. When we have friends pop by, I pull out a dozen buttermilk biscuits from the freezer, a protein from the fridge and my trusty cast-iron skillet.
This coffee-rubbed beef tenderloin is one of my go-to biscuit cocktail hour snacks. I like to serve it alongside the refreshing cucumber dillicious biscuit, seared salmon biscuits (recipe coming soon) and a cocktail!
Instructions
Preheat oven to 350°F.
Melt 1 tablespoon of butter in a cast iron skillet or oven safe skillet and heat to high heat.
Rub the tenderloin with the coffee, salt and pepper making sure it is well coated.
Place tenderloin in the hot skillet. Sear on all sides for two to three minutes.
Place skillet in the oven. Insert a thermometer inside the beef and cook until desired temperature is reached. If you want a medium temperature, cook until inside temperature of 135° is reached. Let rest for 10 minutes before cutting.
To serve, spread mayonnaise on one half of a biscuit. Add the sliced tenderloin and garnish with fresh basil.
You can serve this open faced or place the other half of the biscuit on top.
Serve immediately and enjoy!
Shop this post
Callie's Hot Little Biscuit Buttermilk Biscuit
Hot Little Tip
Last-minute guests drop by all of the time and I always need something quick, fresh, and flavorful to put together!