FAQs
How We Ship Your Order
We recommend selecting Two-Day Express when shipping your southern staples.
If you select Ground/Home, shipments may take up to 7 days in transit.
All reshipments are handled on a case by case basis. Delivery dates cannot be guaranteed.
Please allow 3-5 business days for order processing. All of our perishable orders are shipped via Fedex or UPS Monday through Wednesday. Dry goods are shipped 5-days a week via Ground/Home service. If you need your order by a specific date, please call us directly at 843.577.1198.
We ship all of our perishable items in insulated boxes with frozen gel packs. Shipping cost are based on the amount of product, weight of box, and transit time due to perishable items needing to arrive quickly. It is the responsibility of the purchaser to make sure the recipient's shipping address is correct and available for delivery. We cannot ship to a PO Box. Callie's Hot Little Biscuit is not responsible for delays in transit caused by high package volume, weather, mechanical error, strikes, natural disasters, terrorism safety control, local carrier mis-scans or inaccurate/incomplete shipping information.
The 2-day Express shipping option will automatically be priced at $0.00 when your order is over $100 in value. You must select the Express shipping method in check-out to receive the $0.00 shipping offer.
Your order will arrive cool to the touch
A hand-packed box of biscuits will arrive on your doorstep fully baked, and ready to be reheated or placed in the freezer. Please note, your perishable order will arrive cool to the touch and not necessarily frozen. Our biscuits are fully baked before we freeze them, so they will not spoil. You can re-freeze the biscuits and cookies. Promptly put pimento cheese in the refrigerator upon arrival.
YOUR ORDER IS PACKED INTO AN INSULATED BOX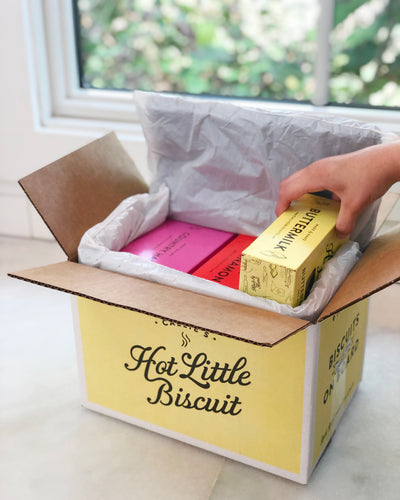 WE TOP IT OFF WITH FROZEN GEL PACKS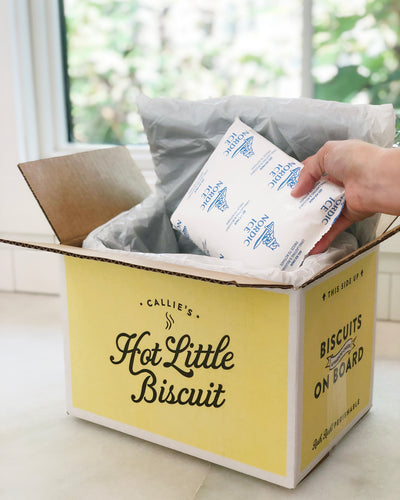 YOUR ORDER WILL ARRIVE COOL TO THE TOUCH
WHAT IS YOUR RETURN POLICY?
We cannot accept returns on packaged food. If you are dissatisfied with your order, please contact info@calliesbiscuits.com and our team will get back to you within one business day. 
WHAT IF MY GEL PACKS ARE MELTED OR MY BISCUITS AREN'T FROZEN?
Your biscuits will arrive cool to the touch. As long as the package is in tact—your biscuits are fine. Remember, the biscuits are fully baked so either pop them in your fridge for use in the next few days or the freezer. Nothing will spoil!
Gel packs will have melted by the time it arrives at your house. This means they have done their job!
WHAT IF THE VACUUM SEAL BAG ISN'T TIGHTLY SEALED?
No worries, they're fully baked already! Just place in a resealable bag before placing in the freezer or refrigerator.
HOW LONG CAN THE BISCUITS BE REFRIGERATED?
If you are using them in the next day or so they are fine to stay refrigerated until use.
HOW LONG CAN THE BISCUITS BE FROZEN?
18 months! As long as they are sealed either in our vacuum bag or your own resealable bag.
WHAT IF I DON'T WANT TO EAT THEM ALL AT ONCE?
Easy, just take them out of our vacuum seal bag, break apart and put the biscuits you're not ready to enjoy into your own resealable bag.
SHOULD I THAW THE BISCUITS BEFORE BAKING?
Pro Tip: Cut the baking time in half by letting biscuits thaw from frozen!

The biscuits do not need to be fully thawed before reheating. Just defrost enough to break apart and then you can wrap in foil and reheat. Place the biscuits in the refrigerator overnight if you'd like to thaw them.
HOW ABOUT THE COCOA & CREAM COOKIES, YOU ASK?
The cookies are a frozen, all natural product. In the freezer they last for 10 months. You may also keep them on the counter for 4 days or in the refrigerator for one week.