Pimento Cheese Pigs in a Biscuit Blanket - Elevate this Classic Appetizer
From Carrie Morey's Hot Little Suppers cookbook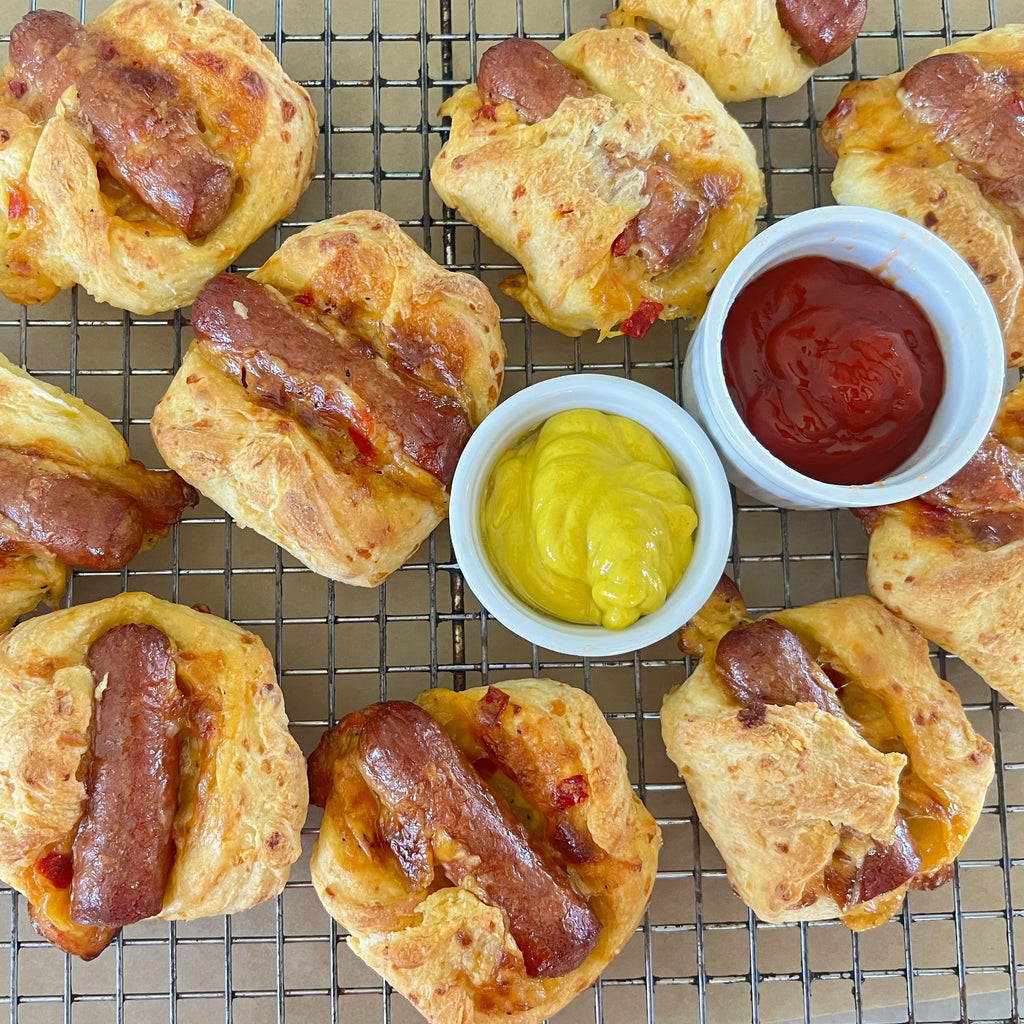 Ingredients
• Buttermilk Biscuit Mix
• Buttermilk
• Salted Butter
• Cream Cheese
• Smokies or Hot Dogs
• Pimento Cheese
Pigs in a blanket is one of my favorite finger foods... who doesn't enjoy this guilty pleasure? I always handmade my own pigs in a blanket so I know that I am serving my family whole ingredients. While this appetizer is amazing as is, here are a few tricks to elevate it. 
Tips and Tricks:
I make the "blanket" out of biscuit dough using our Buttermilk Biscuit Mix or Gluten-Free Biscuit Mix and added sharp cheddar cheese. Since our recipe is only four ingredients, I know that my family is getting the very best quality "blanket!" 
For this specific recipe, I added pimento cheese to the blanket before I wrapped it. This delicious twist is perfect for elevating your pigs in a blanket for spring or The Masters Tournament watch party. 
Make them ahead! Once your bigs in a blanket are assembled (pre-baking), you can place on a baking sheet and pop them in the freezer. Then, when you are ready to serve, bake in the oven 350 for 8-10 minutes.
Bring your favorite dipping sauces to the potluck or The Masters watch party - my personal favorites are ketchup and mustard... or even more pimento cheese! 

Instructions:
Preheat oven to 400 degrees F

Place 2 cups of Buttermilk Biscuit Mix into a large bowl.

Add 4 tablespoons of salted butter and work it into the. Mix in a snapping motion with your fingers. Once your mix is the consistency of grated Parmesan cheese, add 2 ounces cream cheese in the same snapping manner. The cream cheese portions should be about the size of a dime.

Add your sharp cheddar cheese (about 1-cup) and mix until evenly distributed. 

Make a well in the center of the dough. Add 3/4 cup buttermilk and combine until the dough is wet and sticky. Be careful not to overwork the dough. If more liquid is needed to absorb the flour, add the remaining buttermilk. 

Liberally dust the dough, rolling surface, rolling pin, and cutter with the remaining biscuit mix. Flip the dough onto a dusted surface. Roll the dough using a rolling pin until it is 1/4 inch thick. Shape your dough into a square, removing excess by trimming the sides. 

Measure the length of your Little Smokies, beef cocktail wieners, or (my favorite) cut-in-half hot dogs to cut at the width of the wieners. Cut the dough into squares that are as wide as your "dogs" are long. Then, you'll cut your dough once my by slicing the square in half to make a triangle. (like a croissant!)*  

Place teaspoon of cold pimento cheese and wiener on dough and roll from wide end to skinny end of your triangle. 

Place seam-side down on baking sheet and brush melted butter on top

Bake for 15-20 minutes or until golden brown. 

Note: You can also cut your dough using a circular biscuit cutter that is 3 inches in diameter
SHOP THIS POST
Hot Little Tip
Make ahead of time and freeze for an easy reheat day of the event!