Smoked Tomato Remoulade Recipe – paired with Caroline's Cakes Crab Cakes!
From Carrie Morey's Hot Little Suppers cookbook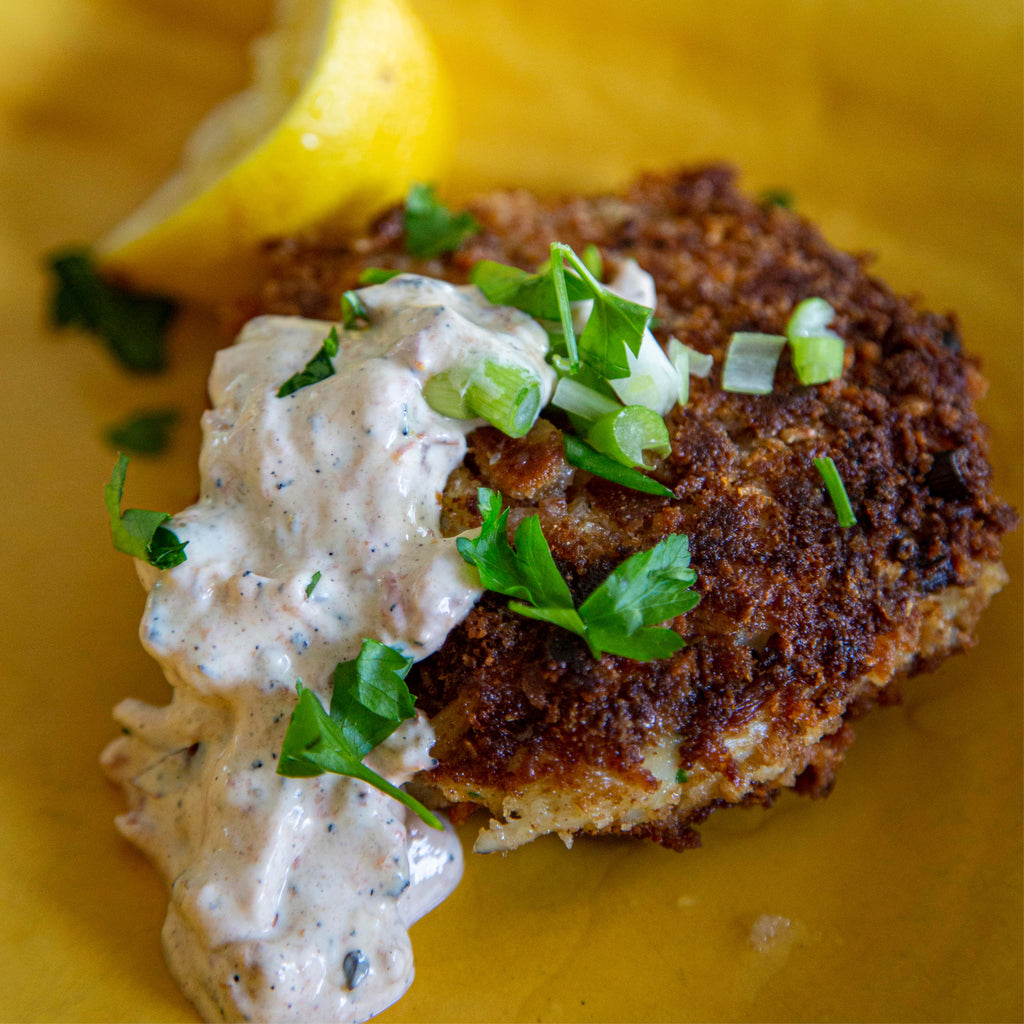 Ingredients
• 2 tomatoes (if not smoking, you can substitute 2 tomatoes from a can of fire-roasted tomatoes, drained)
• 2 teaspoons dried oregano
• Salt and freshly ground coarse black pepper to taste
• 4 teaspoons olive oil
• 2 cloves garlic, minced (about 2 teaspoons or add more to taste)
• 1/2 cup mayonnaise
• 1/2 cup sour cream
• 1 1/2 teaspoons capers
• 1 teaspoon hot sauce
Crab cakes are one of my and my father's favorite things, and my girls love to crab. We go to my mother's dock and tie chicken necks to long pieces of string. Then we toss them out in the water and wait to feel the tug and bump of a crab on the chicken neck. Slowly, patiently, we pull the line in, little by little, until we can just make out the body of the crab, and someone scoops it up from behind with a net. Luckily, it doesn't take a lot of crab to make crab cakes, so a day of crabbing provides plenty.
This tomato remoulade is one of my favorite things to pair with crab cakes. Don't let the smoking part of the remoulade recipe scare you off. It's super easy and so delicious. You don't have to have a smoker. You can smoke the tomatoes on a charcoal grill—the juices from the tomatoes landing on the coals will create smoke. You can even substitute two tomatoes from a can of fire-roasted tomatoes, but they won't have the same depth of smoky flavor.
This fall, we've paired this Hot Little Suppers recipe with Caroline's Cake's shipped Crab Cake bundle. In every order, you'll get out Callie's Hot Little Biscuit Buttermilk Biscuits and my recipe card for the Smoked Tomato Remoulade! 
Instructions
Heat a smoker to 200 degrees.
Slice the tomatoes in half. Sprinkle each half with oregano and salt and pepper. Drizzle olive oil on each tomato half. Place the tomato halves face down on the smoker. Smoke for 1 to 2 hours, or until tender and most of the liquid has drained out.
Roughly chop the smoked tomatoes and add them to a large bowl.
Add the garlic, mayonnaise, sour cream, capers, and hot sauce. Stir to combine.
Serve immediately with crab cakes or cover with plastic wrap an chill in the refrigerator until ready to use.
Shop this post
Callie's Hot Little Biscuit Buttermilk Biscuit
Hot Little Tip
A sneak peek into my new cookbook, Hot Little Suppers! This remoulade is great on crab cakes or even a spread or dip for a sandwich or crudite.