BBQ Chicken Salad Biscuits
From Carrie Morey's Hot Little Suppers cookbook
Add a slice of Grillo's Pickles and it's divine.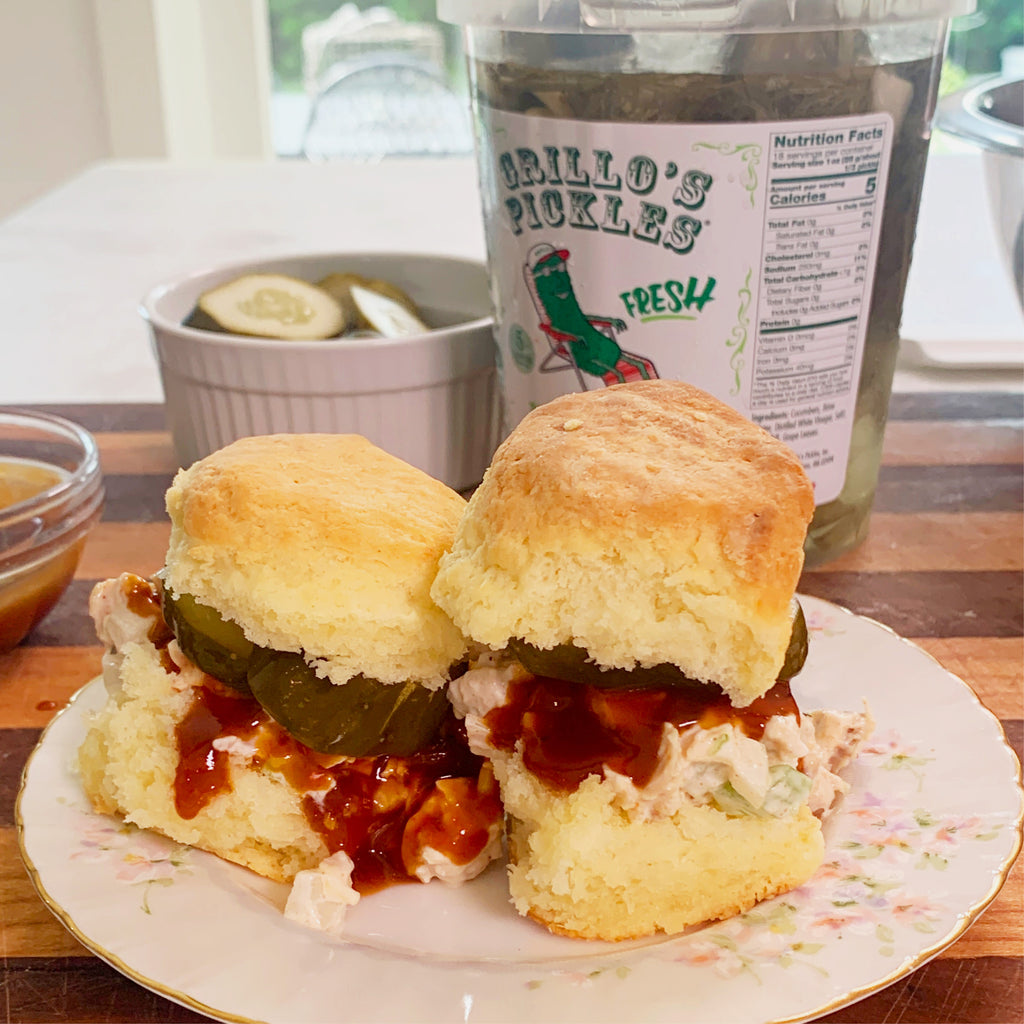 Ingredients
• 12 skin-on, bone-in chicken thighs
• 1 teaspoon kosher salt
• 1/2 teaspoon freshly ground black pepper
• 1/2 teaspoon smoked paprika
• 1/4 teaspoon dried thyme
Sauce
• 3/4 to 1 cup mayonnaise
• 2 stalks celery, finely diced
• 1 tablespoon mined onion
• 1 tablespoon whipping cream or milk
• kosher salt and freshly ground black pepper
• 12 biscuits, warm from the oven
• BBQ sauce (your favorite, or Brown Sugar-Bourbon BBQ Sauce)
• Optional: Grillo's Pickles
I develop many of my favorite recipes from happy accidents. When I first started Callie's, our team would come together for what we like to call "staff meals." Charleston summers are hot, humid, and downright oppressive at times, and the preferred escapes - beaching, boating, and napping in a cold dark room - do not include baking biscuits. So one steamy morning I wanted to make an off-the-cuff staff meal to give the bakers a little relief and appreciation.
I had leftover from a very moist and delicious BBQ chicken, so I decided to make chicken salad for sandwiches. When I got to the bakers, I realized I had forgotten the loaf of bread. So instead of sliced bread, we ate chicken salad on hot buttermilk biscuits right out of the oven. I'd never have put it together that way if we hadn't had to think on our feet, but the cold salad with the hot pillowy biscuits and a dab of cold BBQ sauce was a sweet, tangy, savory combination of flavors and textures I have since repeated countless times. Add a slice of Grillo's Pickles and it's divine. 
You can use your favorite brand of BBQ sauce or make you own using my Brown Sugar-Bourbon BBQ Sauce.
Instructions
Make the chicken: Preheat the oven to 375 F. Place the chicken thighs in a cast-iron skillet, skin side down. Mix the salt, pepper, paprika, and thyme and sprinkle over the thigs. Bake 30 to 40 minutes, until a digital thermometer inserted into the thigh registers 170 F.
Let the chicken cool. Remove the skin and bones and chop the meat into cubes.
Make the sauce: Combine the mayonnaise, celery, onion, and cream. Mix well and add the cooled chicken. taste and season with salt and pepper.
Serve on the biscuits with a smattering of BBQ sauce. Add a slice of Grillo's Pickles, if you like.
Shop This Post:
Hot Little Tip
If you don't want to cook the chicken fresh, you can use 6 cups leftover roasted or rotisserie chicken instead.