Savory Sausage Biscuit Casserole
From Carrie Morey's Hot Little Suppers cookbook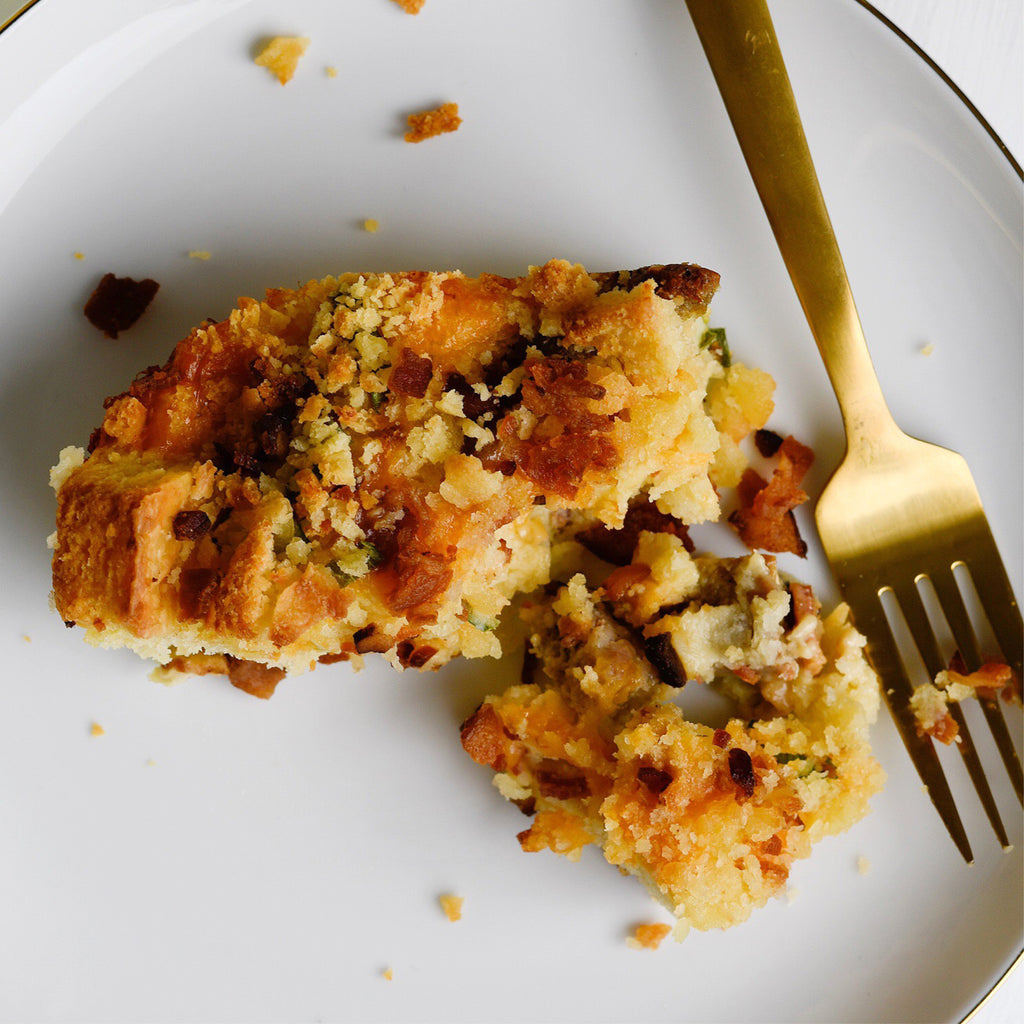 Ingredients
• 3 cups cubed leftover buttermilk biscuits, cut into 1/2-inch to 1-inch cubes (about 4 to 5 biscuits)
• 1 cup cooked ground sausage
• 1/4 cup finely chopped green onions (2 to 3 green onions)
• 1 cup shredded Cheddar cheese (4-ounce block)
• 1 1/2 cups whole milk
• 3 large eggs
Here at Callie's Hot Little Biscuit, we believe nothing should go to waste! Our eatery managers came up with the idea to make a savory biscuit casseroles as a way to use leftover biscuits that did not sell when we closed for the day.
These savory sausage biscuit casserole is perfect for a small get together and is the perfect "catch all" to your favorite breakfast foods! This sausage biscuit casserole will leave all of your savory cravings satisfied. 
Instructions
Preheat the oven to 300 degrees. Toast the cubed biscuits in the oven for 15 minutes, then let them cool.
Increase the oven temperature to 350 degrees. 
Grease a 9-inch cast-iron skillet or 8 x 8-inch casserole dish.
In a large bowl, toss together the toasted biscuit cubes, ground sausage, green onions, and Cheddar cheese. Transfer the mixture to the skillet or dish. 
In a small bowl, whisk together the milk, eggs, dry mustard, salt, and pepper. Pour the mixture over the biscuits in the skillet or dish, making sure all the pieces are coated.
Cover the skillet or dish with foil and let it sit for 30 minutes.
Bake, covered in foil, for 20 minutes, until the liquid is set. Remove the foil and bake 10 to 20 minutes longer, until the casserole is golden brown on top.
Hot Little Tip
Pre-shredded cheese contains anticlumping additives and preservatives that prevent the cheese from melting as it should. I buy my Cheddar and Monterey Jack in blocks, shred it in the food processor, and then keep it in plastic bags for a few days until I'm ready to use it. It's just better—and cheaper. One 8-ounce block yields 2 cups of shredded cheese.