Blueberry Shortcake Trifle
From Carrie Morey's Hot Little Suppers cookbook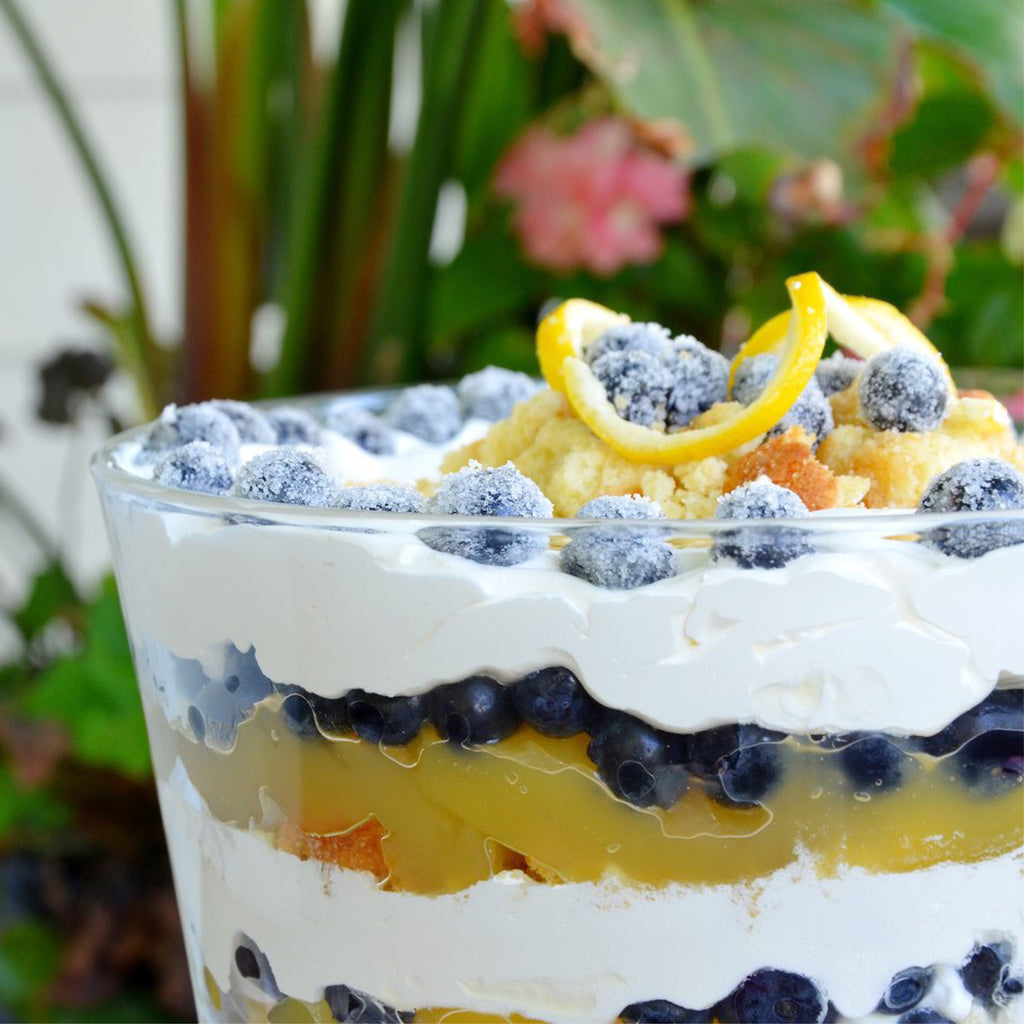 Ingredients
• 4 cups fresh blueberries, rinsed and drained
• 16 ounces whipped cream
• 20 ounces lemon curd
• 1 dozen shortcake biscuits
• 4 tablespoons butter, melted
• 1 tablespoon vanilla
• 1 tablespoon turbinado sugar
When the Atlanta Journal-Constitution calls and asks for a story and recipe, you say yes immediately. We were lucky enough to be featured in May talking all things biscuits. One of the questions they asked was what to do with extra biscuit dough and leftover biscuits. This, of course, is one of my favorite topics so I jumped at the chance to write a few recipes showing my go-to creations. You can find all three of our recipes at myajc.com but here is my family's new favorite summer dessert: Blueberry Shortcake Trifle With Lemon Curd, Whipped Cream and Shortcake Croutons. 
Instructions
Preheat oven to 350°.
Crumble the shortcakes onto a parchment paper lined baking sheet. Toss with the melted butter, vanilla and turbinado sugar.
Bake for 10-15 minutes or until lightly golden brown and crisp. Remove from oven and let cool completely. Reserving ¼ cup for garnish.
In a trifle bowl, layer 1/3 of the crumbled shortcakes, 1/3 of the lemon curd, 1/3 of the blueberries and 1/3 of the whipped cream. Repeat layers twice. Finishing with whipped cream.
Garnish with reserved crumbled shortcakes, sugared blueberries and lemon zest if desired. Cover and chill until ready to serve.
Add Sugared Blueberries: 
Gather 2 egg whites, ½ cup fresh blueberries, and ¼ cup sugar.
In a small bowl, beat egg whites with a fork until foamy.
Brush the blueberries with the egg whites.
Roll them in sugar and lay them on parchment paper to dry for at least 20 minutes.
Shop the Post
In the Atlanta Journal-Constitution article, you can find the recipe for strawberry shortcakes and our buttermilk biscuit bowls. Click here for the full article and enjoy!
Hot Little Tip
This dessert is a great way to get the kids involved in the meal. They can make this recipe from start to finish... less work for you more fun for them.