Lime Zest Grilled Shrimp
From Carrie Morey's Hot Little Suppers cookbook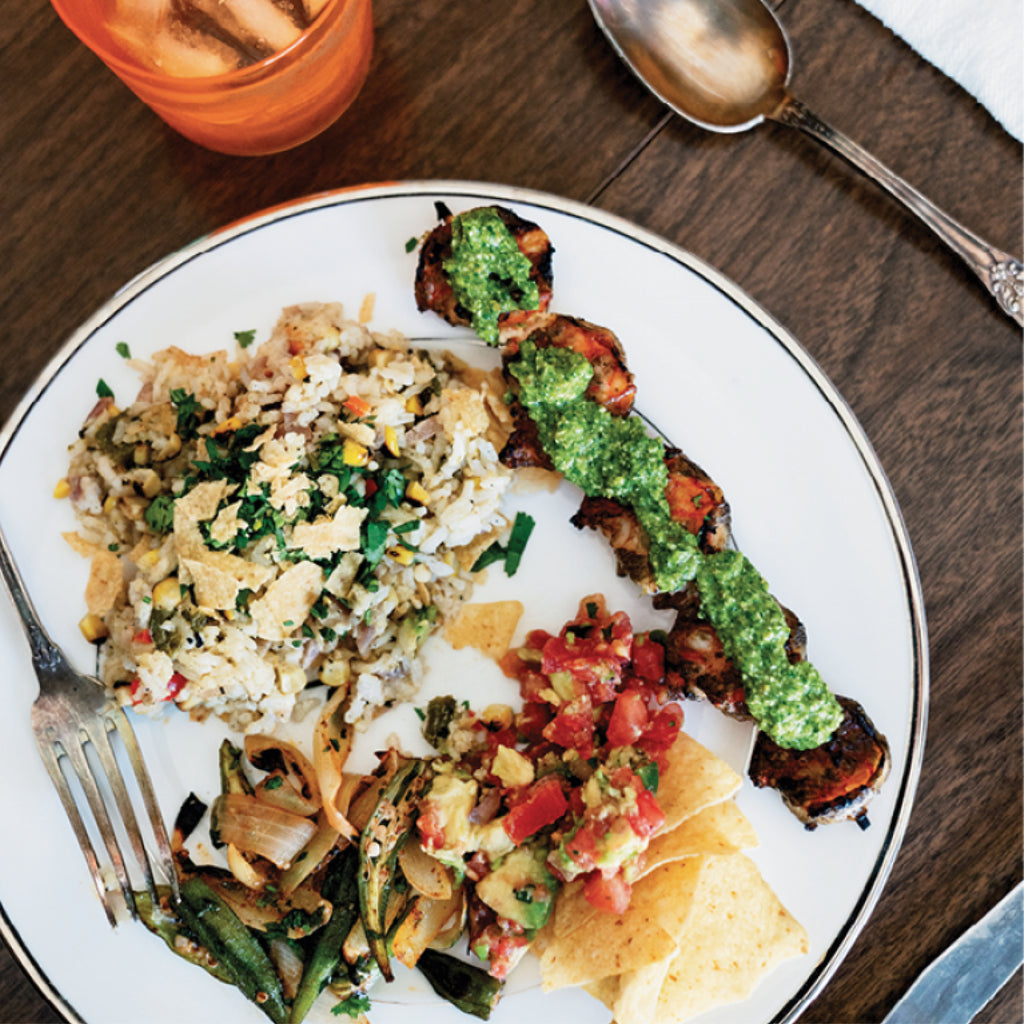 Ingredients
Cilantro Pesto Ingredients
• 1 bunch cilantro, washed and stems removed
• 2 cloves garlic, minced
• 1/4 cup of roasted salted pepitas
• 1/4 cup chopped white onion
• 1 Tbs. white wine vinegar
• 1 Tbs. fresh lime juice
• 1/8 cup crumbled Cotija cheese
• 1/4 tsp. cayenne pepper
• 1/4 cup olive oil
• Salt and pepper to taste

Shrimp Ingredients
• 1 Tbs. lime zest
• 1 Tbs. olive oil
• 1 tsp. salt
• 1 tsp. pepper
• 1½ lbs. shrimp, peeled and deveined
This May, Charleston Magazine featured my family and a handful of our favorite summer recipes in an article titled "Kneading Tradition." We touched on the importance of family bonding at the supper table and, of course, a good Southern meal. If there are fresh, local ingredients available then use them!
When we crave a shrimp dish, I'll send the girls up to the Magwood Dock to pick up a pound or two fresh off the shrimp boat. This lime zest grilled shrimp is a flavor-packed way to serve shrimp and the Charleston Magazine article has a few more recipes to make a perfect summer meal. Head over to the Charleston Magazine "Kneading Tradition" article for Cumin-Roasted Okra, Cheesy Poblano Corn and Rice Bake, and for dessert, a Biscuit Berry Nest. 
Cilantro Pesto Instructions
Combine the cilantro, garlic, pepitas, onion, vinegar, lime juice, Cotija cheese, and cayenne pepper in a food processor and process until fine.
With the motor running, slowly stream in the olive oil.
Remove to a bowl and season with the salt and pepper to taste.
Shrimp Instructions
Soak wooden skewers in water for 30 minutes.
Make a marinade by combining the lime zest, olive oil, salt, and pepper in a bowl. Add the shrimp and let marinate for 30 minutes at room temperature.
Heat your grill to 500ºF.
Skewer the shrimp and place it on the grill. Grill for one to two minutes per side, until the shrimp have turned pink and are lightly charred. Remove and serve with cilantro pesto and avocado salsa (peel, slice, and chop the avocados, then mix them into the fresh Pico de Gallo).
Hot Little Tip
Mealtimes aren't just about feeding yourself, but about feeding your soul! These beautiful pictures were captured by the late Christopher Shane. We are thankful for the time that we spent with this talented soul.