Cast Iron Roasted Oysters
From Carrie Morey's Hot Little Suppers cookbook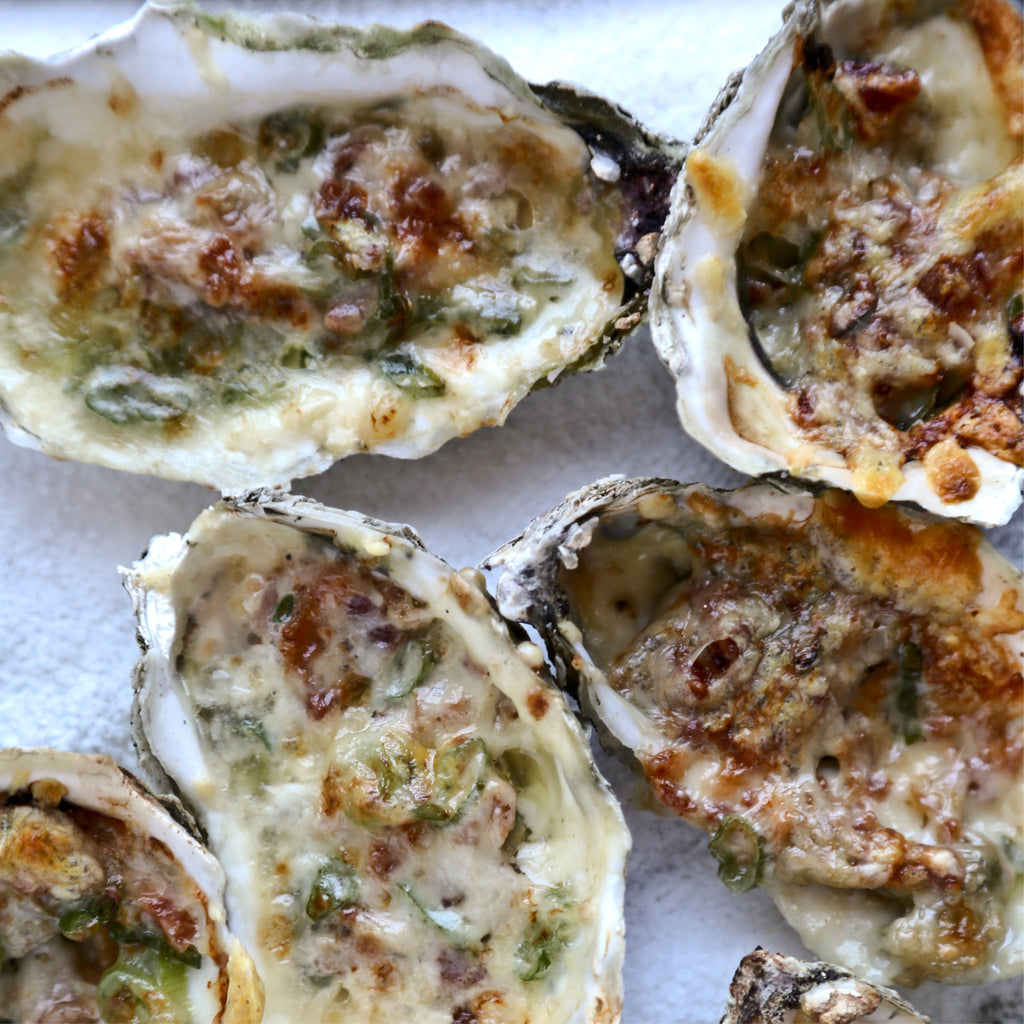 Ingredients
• 36 oyster shell halves, preferably the rounded cup half
• 1 teaspoon bacon
• 1 teaspoon green onion
• 2 teaspoons cheese
• Black Pepper
I LOVE a good oyster roast! Anytime I can entertain and eat some incredible seafood, I'm there. However, f
ull disclosure — growing up I always hated oysters!!
My job was to shuck all the oysters for all my family and friends. Thank goodness I've grown up and now truly appreciate how these delicacies are truly delicious and are so versatile! You can make these fellas for large or smaller gatherings, or just for your family.
Adding the cheese, bacon, green onions, and pepper makes it quick & easy to perfection. But whether you are shucking and eating raw, roasted, or inside a cast iron, here are some things I've learned along my oyster-eating journey.
My South Carolinian dad has a rule that oysters are in season during months with an "R". My friend, Trey at Lowcountry Oyster Co. taught me that the deeper the cups, the more mature the oysters are.
However, my all-time favorite tip is to have children who love shucking oysters!
It makes the process considerably easier and more enjoyable for everyone
involved.
Instructions
Preheat the oven to 425 degrees F

Pour a layer of salt into a cast-iron skillet. Nestle the oyster shells in the salt. You may have to do this in batches or use more than one skillet.

Divide the oysters among the shells. 2 oysters per shell. Top each with 1 teaspoon bacon, 1 teaspoon green onion, and 2 teaspoons cheese. Give each oyster a few grinds of black pepper.

Roast until the cheese melts and is bubbly and slightly browned, 8-10 minutes.
Hot Little Tip
The less transparent the oyster shell is, the more meat is in the oyster!!