Frito™ Pie with Fall's Favorite Chili
From Carrie Morey's Hot Little Suppers cookbook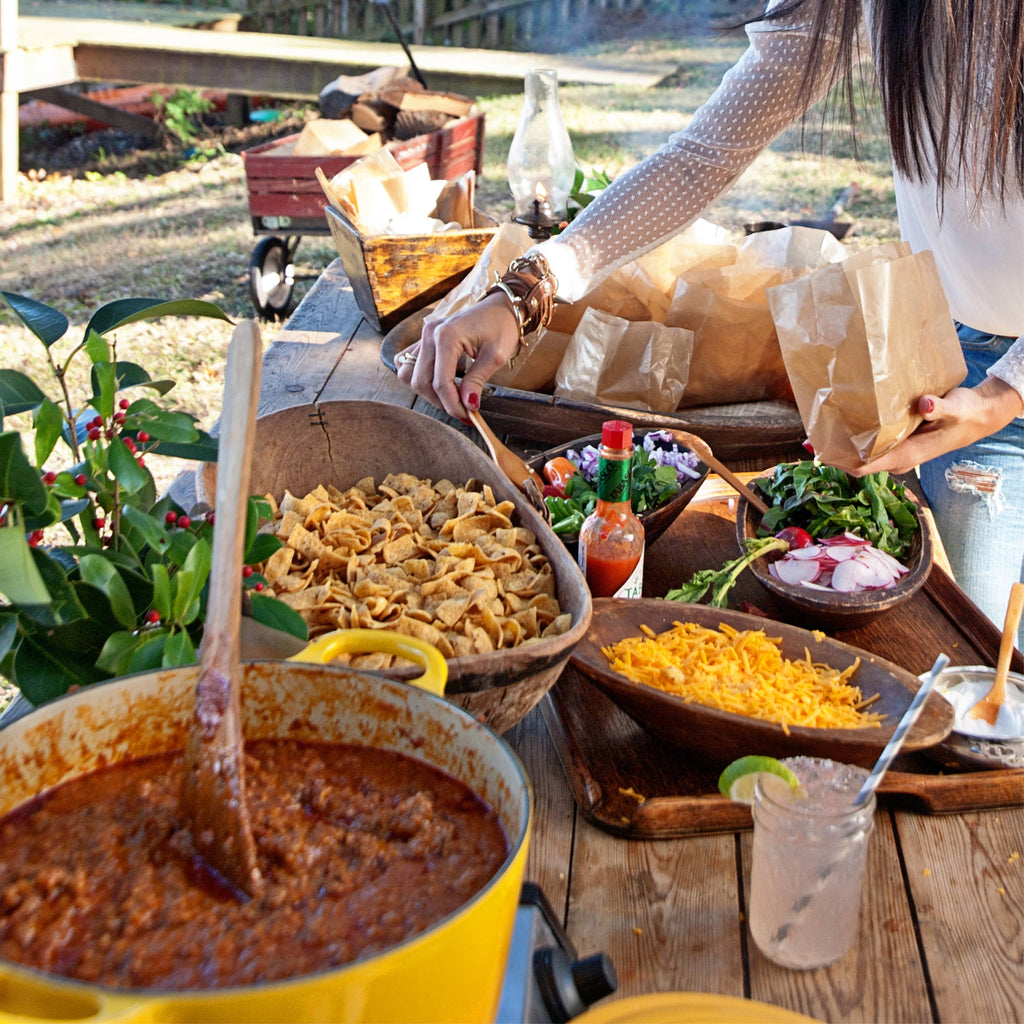 Ingredients
• 1 tablespoon vegetable oil
• 1 1/2 pounds ground beef
• 1 pound ground pork
• 2 tablespoons chili powder
• 2 tablespoons Worcestershire sauce
• 1 tablespoon hot sauce
• 2 teaspoons minced garlic
• 1 teaspoon dry mustard
• 1 teaspoon garlic powder
• 1 teaspoon onion powder
• 1 1/2 cups ketchup
• 3/4 cup yellow mustard
• 3 tablespoons water
This one pot meal with all the accouterments is festive, lick-smacking good, a crowd pleaser and a perfect segway into all the fall feels! Now that we don't have kiddos to dress for tick-or-treating, this is on my supper schedule for Halloween and beyond.
My friends and I came up with a creative way to make chili even better. We call it the Frito™ Pie. The kids love Frito™ Pie because they can serve themselves. If you use waxed paper bags there isn't much clean up.
 Find me around the chili pot with a large bag of Frito Lay, all the toppings, and sneaking the Twix and butterfingers from the trick-or-treater candy bowl!

        
Chili Instructions
Heat the oil on medium heat in a deep cast-iron skillet or large saucepan.
Brown the meat, using the back of the spoon to break it into little pieces.
Add the remaining ingredients and stir well.
Reduce the heat to low and simmer for 30 minutes, or until thickened.
Frito Pie Assembly
Combine: 
A bag of Fritos™ Original Corn Chips1/2 cup warm chili
1/2 cup shredded cheddar cheese
2 tablespoons chopped onion
1 tablespoon chopped jalapeños
Any toppings you and your guests might enjoy (tomatoes, sour cream, diced avocado, shredded lettuce, sliced radishes, and more!)
Grab a bowl or a waxed paper bag, and fill it with Fritos, chili, and the toppings you choose. Enjoy!
This recipe (and more) is in my first cookbook, Callie's Biscuits & Southern Traditions! 
Hot Little Tip
If you can't find individual bags of Fritos, buy in bulk and use parchment paper bags. You can even customize them with a stamp!