Cheddar Jalapeño Corn Dogs
From Carrie Morey's Hot Little Suppers cookbook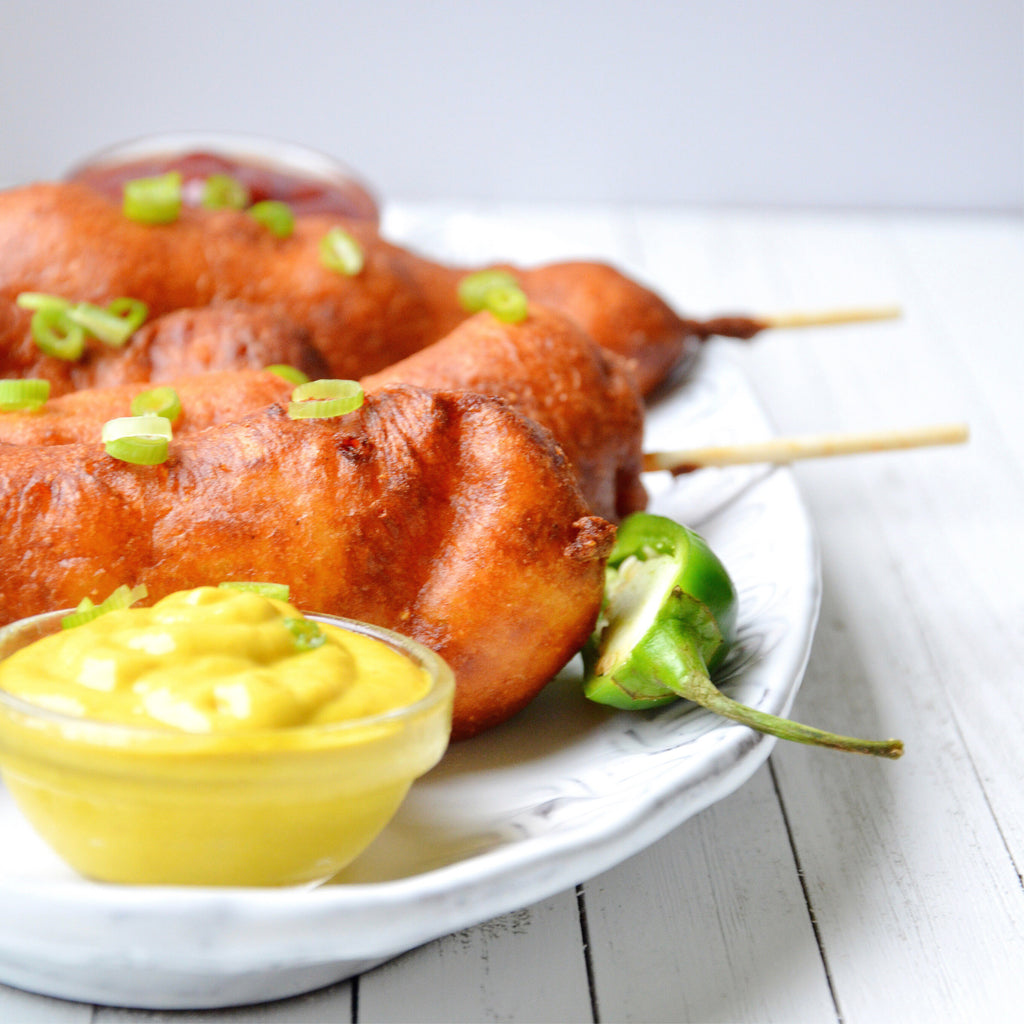 Ingredients
2 quarts vegetable oil
1 1/4 cups plus 2 teaspoons plus 1/2 cup cake flour, divided
3/4 cup finely ground yellow cornmeal
1/4 cup sugar
2 teaspoons baking powder
1 teaspoon salt
1/2 teaspoon freshly ground coarse black pepper
1 cup whole or low-fat buttermilk
1/3 cup heavy whipping cream
1 large egg, beaten
2 cups shredded sharp Cheddar cheese ( 8-ounce block)
1 jalapeno pepper, seeds removed, diced
4 green onions, chopped
10 hot dogs
Wooden skewers or candy sticks
We spend a lot of our summer in Idaho, where John is from and where we have property with an RV on it. John drives the girls out there, and I follow them as soon as I can. Then we all drive home together. There are several routes home, and I like planning which way we'll go and what sights we'll see. On my way there one summer, I saw all these signs for the Minnesota State Fair. I decided we had to visit on our way home. I could not get the Minnesota State Fair out of my head! In the meantime, my mind started wandering to fair food, of course, and before long I was determined to make corn dogs in our makeshift outdoor kitchen. I used Jiffy Corn Muffin Mix and dipped the dogs in a big plastic cup of the batter, then fried them in a Dutch oven over a propane flame. Sitting around the campfire eating those corn dogs with my family is one of my favorite summer memories. You can skip the cheese and jalapeño if you like, but what better way to get children used to a little spice than dressing it up in fried dough?
Instructions
In a large pot or Dutch oven, heat the oil to 250 degrees. Preheat the oven to 200 degrees and place a wire rack on a rimmed baking sheet in the oven.
While the oil is heating, make the batter. In a large bowl, whisk together 1 1/4 cups plus 2 teaspoons of the flour, cornmeal, sugar, baking powder, salt, and pepper.
In a small bowl, combine the buttermilk, heavy cream, and egg. Add the liquid mixture to the dry ingredients and mix well. Stir the Cheddar cheese, jalapeño, and green onions. If the mixture seems too thick, add a splash of buttermilk.
Pat the hot dogs dry and insert a skewer into each hot dog.
Place the remaining 1/2 cup of flour on a plate. Lightly roll each hot dog in the flour. This helps the batter stick to the hot dog. 
Pour the batter into a tall cup. Dip the hot dogs one at a time in the batter, making sure they are well coated, and drop them carefully into the hot oil, 1 or 2 corn dogs at a time. Let the corn dogs sink to the bottom of the pot and turn them with tongs so that they cook evenly on all sides and turn golden brown, about 2 to 3 minutes. As they finish, transfer the corn dogs to the wire rack in the oven to stay warm and crisp until they're all fried.
Hot Little Tip
You can always forgo the corn dog sticks. Cut the hot dogs in thirds before battering and make corn pups instead!