A Cup A Cup A Peach Cobbler
From Carrie Morey's Hot Little Suppers cookbook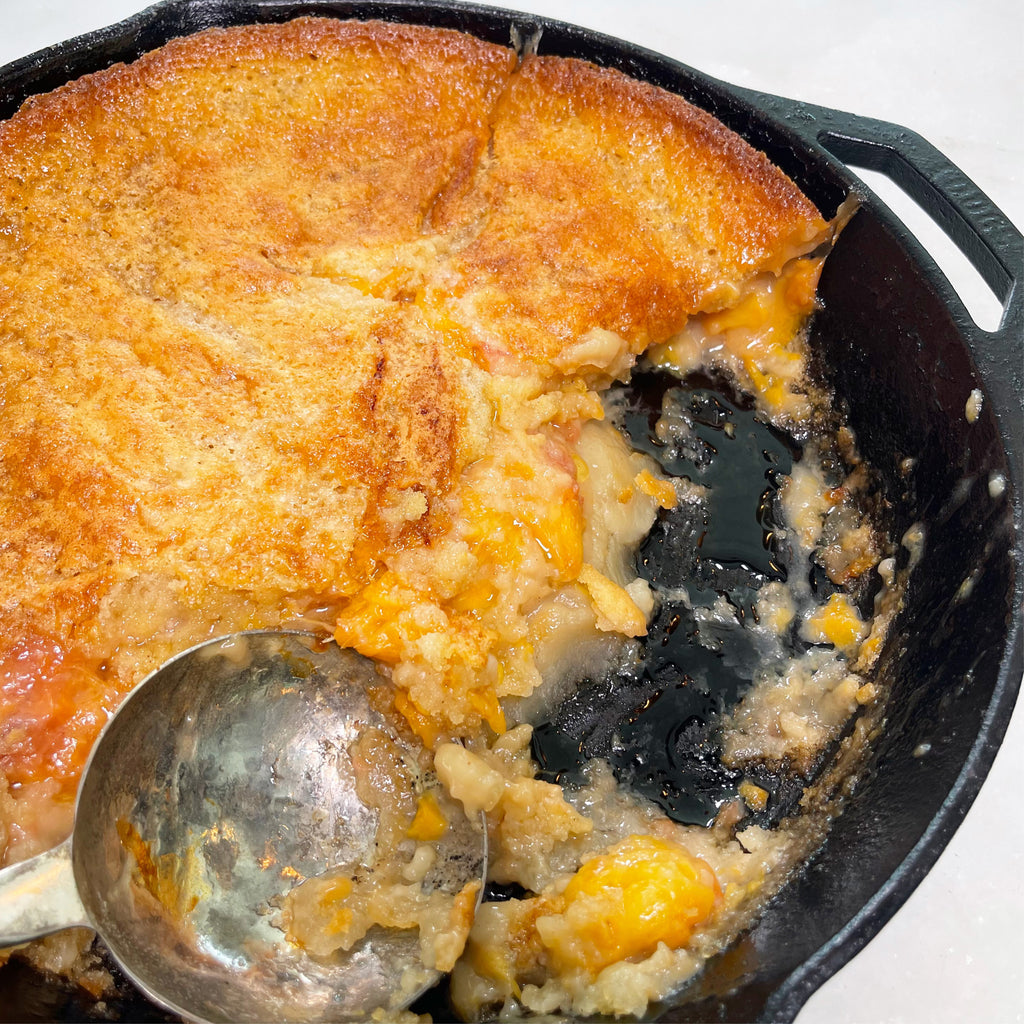 Ingredients
2 sticks butter
1 1/2 cup white sugar
1 bag Callie's Hot Little Biscuit Shortcake Biscuit Mix
4 tablespoons light brown sugar
1/4 teaspoon ground cinnamon
2 cups whole milk
2 teaspoons pure vanilla extract
4 cups diced peaches
1 lemon wedge
When I need a dessert to take somewhere, there is nothing simpler nor more universally loved by all than this "a cup, a cup, a cobbler". It really is as easy as a cup of this, and a cup of that. And it's incredibly versatile – you can experiment with different fruits and berries. We recently baked with McLeod Farms fresh and juicy peaches and let me tell you – it was delicious! 
While the kids are out of school for summer break, entertain them with getting their hands in the dough and learning about farm to table through this family favorite treat!
Instructions
Preheat the oven to 350 degrees F.
Melt the butter and pour into a 9-inch pie dish.
Combine the white sugar, flour, 1 tablespoon of the brown sugar, the cinnamon, milk, and vanilla in a bowl. Whisk just to combine. The better will be lumpy. Pour the batter into the pie dish. Pour the fruit over the batter and give the dish a shake to even out the distribution. 
Bake for 45 to 60 minutes, until golden brown.
Remove from the oven and sprinkle with the remaining 1 tablespoon brown sugar. Let cool. Spritz with the lemon just before serving. 
Loving cobblers right now? Check out all my versions of this cobbler: A Cup A Cup A Savory Cobbler, Fourth of July Strawberry Shortcake Cobbler Recipe, Chocolate Cherry Shortcake Cobbler!
Hot Little Tip
Serve warm from the oven with little ice cream on top!