Easy Valentine's Day Chocolate Chess Pie Recipe
From Carrie Morey's Hot Little Suppers cookbook
"I give Alex and her pie a good bit of credit for John's and my whirlwind romance." - Carrie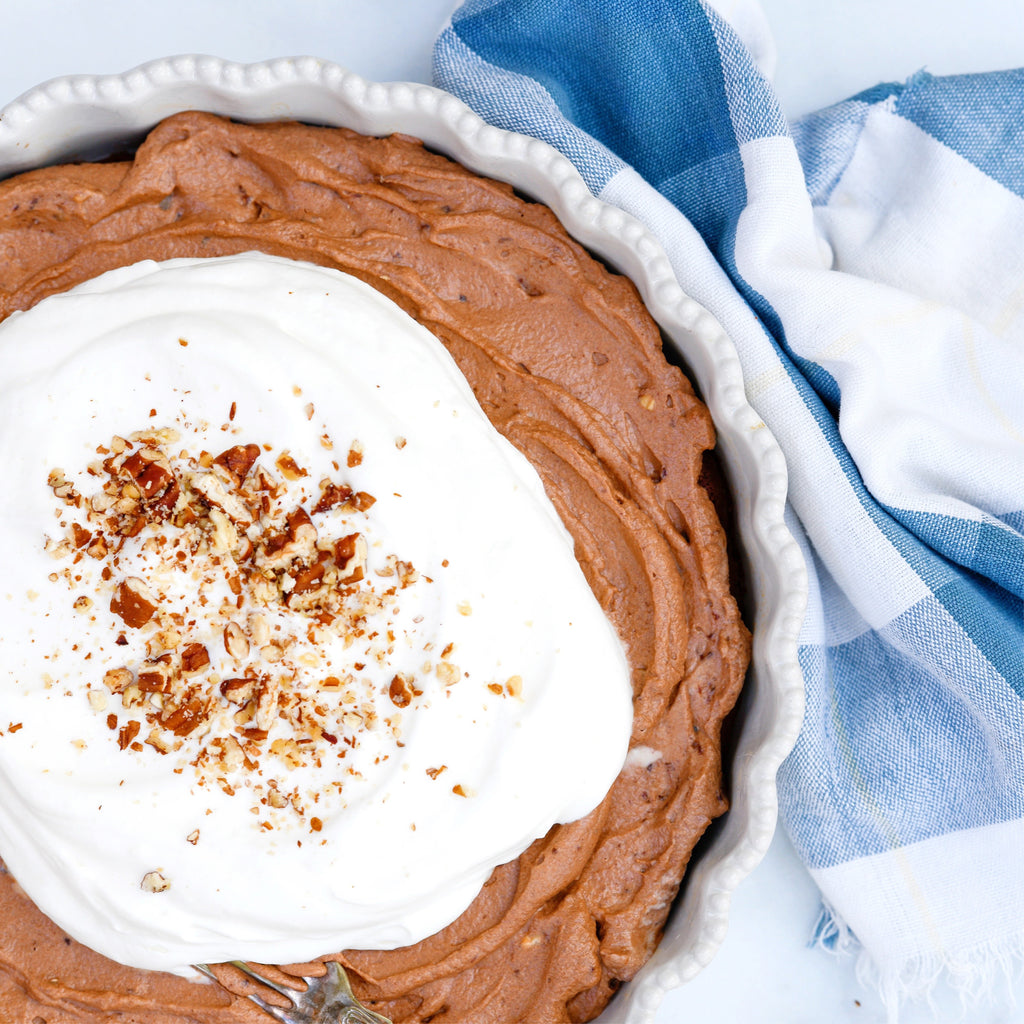 Ingredients
• 1 recipe Mama's Butter Pie Crust
• 1/2 pound (2 sticks) butter
• 2 cups sugar
• 1/2 cup unsweetened cocoa powder, sifted
• 1/2 cup all purpose flour
• 4 large eggs, well beaten
• 1 teaspoon pure vanilla extract
• Serving suggestion: whipped cream or ice cream
In honor of Valentine's Day, I want to feature the Chess Pie that I love so much but more importantly, plays a role in my favorite love story - mine and John's. This Valentine's Day dessert is now a family tradition that John wouldn't dare pass up and neither should you!
Alex and I were friends in college and then roommates in New York when I met my husband, John. After only two weeks of dating, I was ready for John to meet my friends. None of my friends in New York ever had anybody over to their apartments for supper, since we were all single and living in tiny cubbyholes—but I was determined to host a dinner party. I made roast chicken, fried okra, rice and gravy. Alex said she would make a chess pie. (There are many theories as to the origin of the name "chess pie," but my favorite is that it evolved from people calling it "jes pie," as in "just" a simple pie.)
As we sat finishing up the meal around the grandly set coffee table, Alex went and got the chess pie. When she asked John if he'd like a piece of pie, John said, "No thank you." Well, I wasted no time in kicking him pretty hard under the table. Alex had gone out of her way to make this pie for his visit, and he was being rude not accepting a piece! Later, John told me, "That's the day I knew you were going to be my wife." He didn't mind and was delighted by a strong-minded woman who would put him in his place when necessary and he does the same thing to me. We continue to kick each other under the table—when necessary.
Instructions
Make one recipe of 

Mama's Butter Pie Crust

and fit it into a 9-inch round x 2-inch deep pie dish
Fit the dough into a 9-inch deep dish pie dish. Trim and crimp the edges.
Preheat the oven to 350°F.
Melt the butter and pour into a bowl. Add the sugar and mix well. Stir in the cocoa and flour. Add the eggs, mixing well. Stir in the vanilla. Pour into the pie crust. Cover with aluminum foil and bake for 45 minutes.
Remove the foil and bake for 10 to 15 minutes more, until the top stops jiggling and the surface barely moves.
Let cool completely on a rack before serving with whipped cream or ice cream. 
Why do they call it chess pie?
The origin of the name "chess pie" is believed to have originated in the South. Some say the name comes from the term "pie chest," which was a pie safe used to store pies and other baked goods. Others believe it may have come from the British phrase "cheese pie," which was a pastry filled with cheese.
What does chess pie taste like?
Chess pie has a rich, custard-like flavor with notes of butter and a slight tanginess from the vinegar. It tastes like a cross between a butter tart and sweet lemon custard. This version of chocolate chess pie has cocoa powder, giving it a chocolatey flavor.
What state is known for chess pie?
The state most commonly associated with chess pie is Tennessee.
What is the difference between chess pie and custard pie?
Chess pie is a traditional Southern dessert made from a mixture of eggs, butter, sugar, cornmeal, and a splash of vinegar. The texture of chess pie is dense and thick, similar to a custard. Custard pie is a type of baked dessert pie made with egg, milk, and sugar. The texture of custard pie is smooth and creamy, and it is usually flavored with nutmeg.
Is chess pie supposed to be jiggly?
Yes, a classic chess pie should be slightly jiggly when done baking.
Hot Little Tip
This Chess Pie is now a family tradition that John wouldn't dare pass up. Look for ways to bring tradition to your table with your family's favorite dishes!