Valentine's Day Homemade Blackberry Jam "Pop-Tarts"
From Carrie Morey's Hot Little Suppers cookbook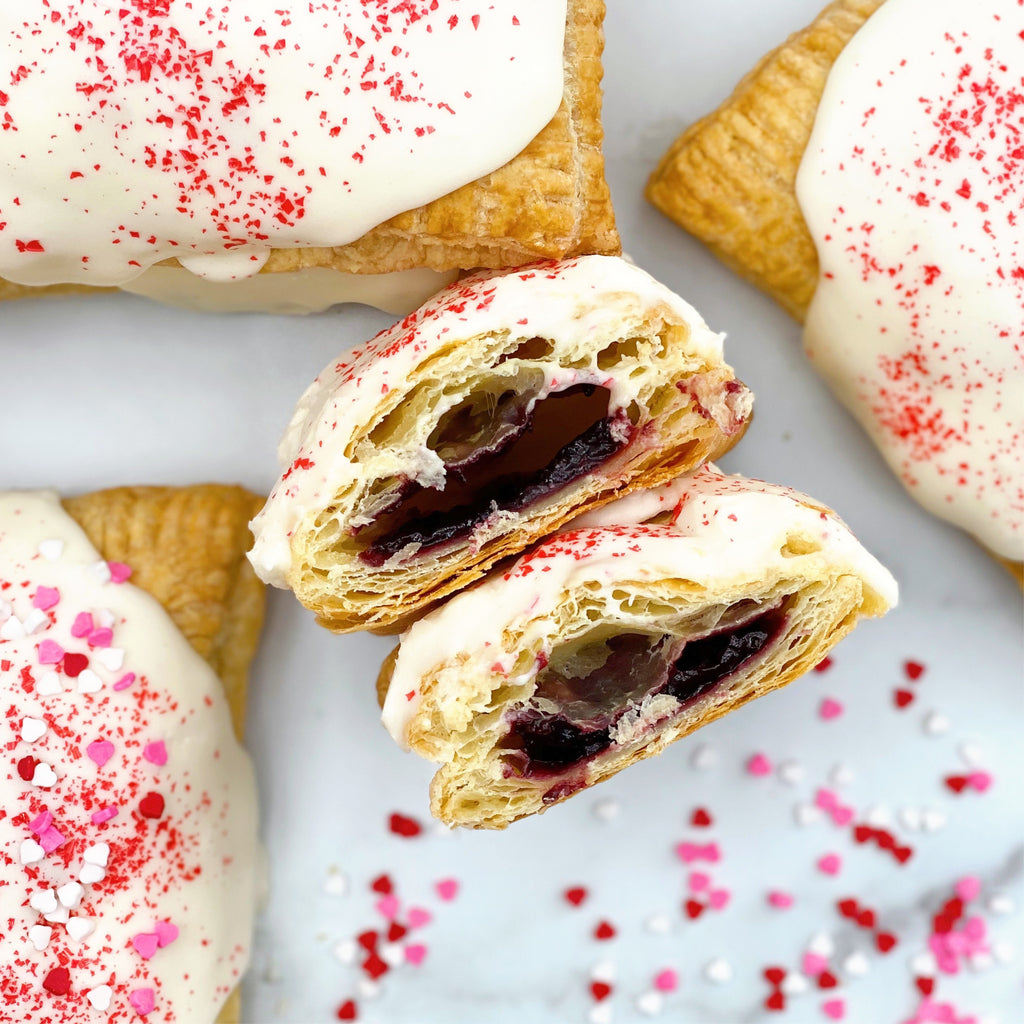 You'll Need
• 1 box (2 sheets) frozen puff pastry thawed according to package directions.
• Flour for dusting
• Callie's Blackberry Jam
• 1 egg white beaten

For the Glaze:
• 1 cup powdered sugar
• 2 to 3 tablespoons milk
• 1 teaspoon vanilla extract
A few years ago on Valentine's Day, I was inspired to change up our breakfast with a nostalgic favorite – Pop-Tarts! 
Pop-Tarts were one of my top 5 favorite kid foods. I would beg for them at the grocery store! There is something about the delicious fruit-filled pastry that I couldn't get enough of – especially when toasted! The crusts are so warm and buttery, with a bit of salt and a filling that is so sweet it makes your mouth water...
As much as I love the original Pop-Tarts, I refuse to buy them for my girls! I know, I know – that's not fair! My thought is that they are full of artificial sugar (and so addictive), that it is better that we don't have them in the house.
That being said – there is no boundaries on the occasional homemade Pop-Tart! This Valentine's Day we are going to make a super simple version of Pop-Tarts together! 
How To
Preheat oven to 350°F. Line a baking sheet with parchment paper and set aside.
Lightly flour your working space and cut each sheet into 6 rectangles.
Evenly fill half of the rectangles with a heaping tablespoon of jam. Carefully spread it around making sure to leave a ½ inch border (so the jam won't ooze out).
Gently use your finger and wet the edges of the pastry. Lay the remaining 6 rectangles over the filling and seal the edges by crimping with the back of a fork. *Dip the fork in water if it sticks to the dough*
Place on the parchment lined baking sheet. Don't overcrowd because these will puff up! Use two baking sheets if needed.
Brush each top with the egg white.
Bake for 15-20 minutes or until pop tarts are golden brown. Remove from oven and let cool slightly.
While the pop tarts are cooling make the glaze. In a small bowl whisk together the powdered sugar, milk and vanilla. Whisk until smooth. If it is too thick add a touch a milk, if too thin add more powdered sugar.
Drizzle the glaze all over the pop tarts. Top with sprinkles if desired. Allow to set at room temperature and Enjoy!
Shop the Post
Hot Little Tip
I am hoping that maybe my girls can whip up a batch and pamper me with breakfast and coffee in bed. Now that is true love!