Roasted Poblano White-Cheese Queso
From Carrie Morey's Hot Little Suppers cookbook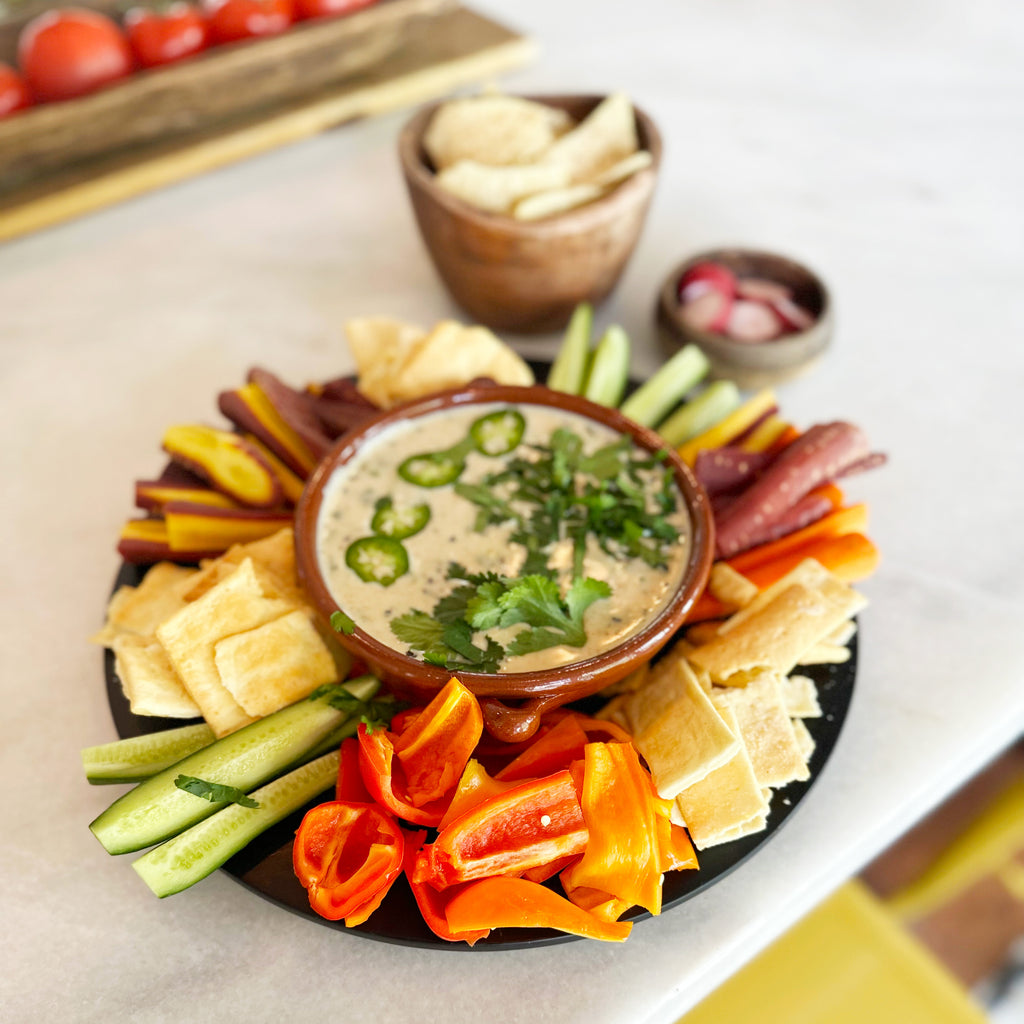 Ingredients
• 1 poblano pepper
• 1 cup half-and-half
• 1 teaspoon cornstarch
• 4 oz shredded Monterey Jack Cheese
• 4 oz shredded extra-sharp white cheddar
• 4 oz sliced white American cheese
• 1 teaspoon cumin
• 1 teaspoon coriander
• 1/2 teaspoon cayenne pepper
• 4 thin slices Jalapeño pepper
• Tostadas or chips to serve
I could drink this queso – it's that good! 
Like most people, I am a sucker for melted white cheese. It's easy to re-create the restaurant version at home, but it did take some testing to get it just right. One of my secrets is to add a little bit of American cheese!
Cinco de Mayo is one of my favorite excuses to roast a poblano pepper on the stove and mix up a batch of pomegranate margaritas! This queso is creamy and decadent. Though you might assume it's spicy, it is far from it! The trick to this recipe is in the poblano roasting process. 
Hot Little Tip: Once your poblano is charred, pop it into a brown paper bag and seal it for about 20 minutes. This process lets the pepper steam and gives off a beautiful smoky taste that I love! 
Not into poblanos? Try my Fiery Pimento Cheese Queso Ole recipe instead! 
Instructions
To roast the poblano: using tongs, hold the pepper right over the open flame of a gas stove burner. Turn it as it gets black. If you don't have a gas stove, put the pepper on a rimmed baking sheet and broil it in the oven. Once it's blistered, let it sit in a brown paper back for about 20 minutes to cool. Once it cools, remove the bubbled (blistered) skin. Cut the pepper open, remove the seeds, and chop. 
In a saucepan over medium-low heat, combine the half-and-half and cornstarch and whisk for one minute. Add the Monterey Jack, Cheddar, and American cheeses, cumin, coriander, and cayenne. Whisk until the cheeses have melted. Keep the heat low to keep the cheese from turning grainy. 
Reduce the heat to low. Add the chopped poblano and jalapeño slices. Stir for one minute, or until the queso is smooth. Remove from the heat and serve hot with tortilla chips, sea salt biscuit crackers, and an assortment of fresh vegetables like carrots, radishes, cucumbers, and bell peppers. 
Hot Little Tip
My mom taught me to place the hot, roasted poblano into a brown bag and let it steam for about 20 minutes – this brings out all of the delicious, smoky flavor!