White Bean Chicken Chili
From Carrie Morey's Hot Little Suppers cookbook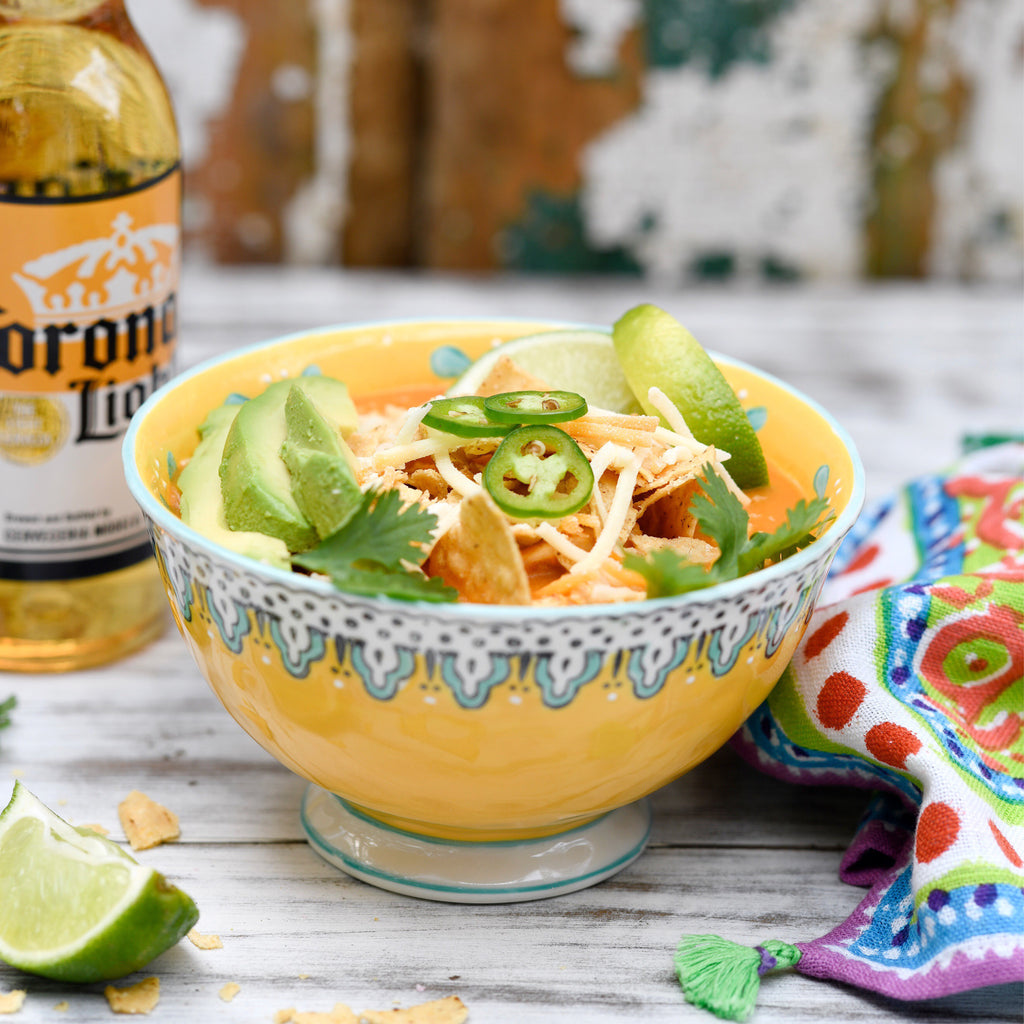 You'll Need
• 6 boneless, skinless chicken thighs, cut into bite sized pieces
• 3 celery stalks, chopped
• 1 yellow onion, chopped
• 4 carrots, chopped
• 1 red bell pepper, chopped
• 4 cloves garlic, minced
• 2 cans white beans, drained
• 3 cups chicken stock
• 5 cups water
• 1 bottle Mexican beer
• 5 tablespoons olive oil, divided
• 1 tablespoon cumin
• 1 tablespoon chipotle chili powder
• 2 teaspoons coriander
• Salt and pepper to taste
• Rice cooked according to package directions
This white bean chicken chili is a staple around our house.  It seems like the meal that has many variations depending on what I have on hand.  This is my latest rendition. Feel free to mix it up and spice it up with your favorite chili or bottle of hot sauce. Perfect appetizer to bring to a Cinco de Mayo celebration! I have compiled all my favorite recipes to bring, in my What to Serve at Cinco de Mayo Party blog.
Instructions
In a small bowl mix the cumin, chipotle chili powder and coriander together.
In another bowl add the chicken, 2 tablespoons olive oil and half of the spice mixture (reserving the other half). Add salt and pepper.
Turn the oven broiler to high. Line a baking sheet with foil and place a baking rack on top. Spray the baking rack with cooking spray. Place the chicken on the baking rack and broil for 8-10 minutes. Remove from oven. And set aside.
Start sautéing the vegetables while the chicken is cooking.
In a large dutch oven or large stock pot add the remaining 3 tablespoons olive oil. Add the celery, onions, carrots and bell pepper. Sauté vegetables for 10 minutes. Add the garlic and cook for another two minutes.
Add in the drained beans and the remaining seasonings. Stir well.
Add the beer, stock and water. Bring to a boil and then reduce heat to a low simmer. Let simmer for 20 minutes.
Remove the soup from heat. Using an immersion blender, blend the soup. If you don't have an immersion blender, carefully transfer to a blender and blend. Then add soup back to pot.
Put soup back on the stove, adding the chicken. Simmer on low heat while you prepare the accoutrements.
Serve along side or over rice with accoutrements and Enjoy!
Hot Little Tip
Accoutrements are my favorite! For this dish, I love to set out bowls of minced jalapeño, tortilla chips, cilantro, cheese, limes, and avocado.