Citrus Soy Chicken Skewers with Peanut Sauce
From Carrie Morey's Hot Little Suppers cookbook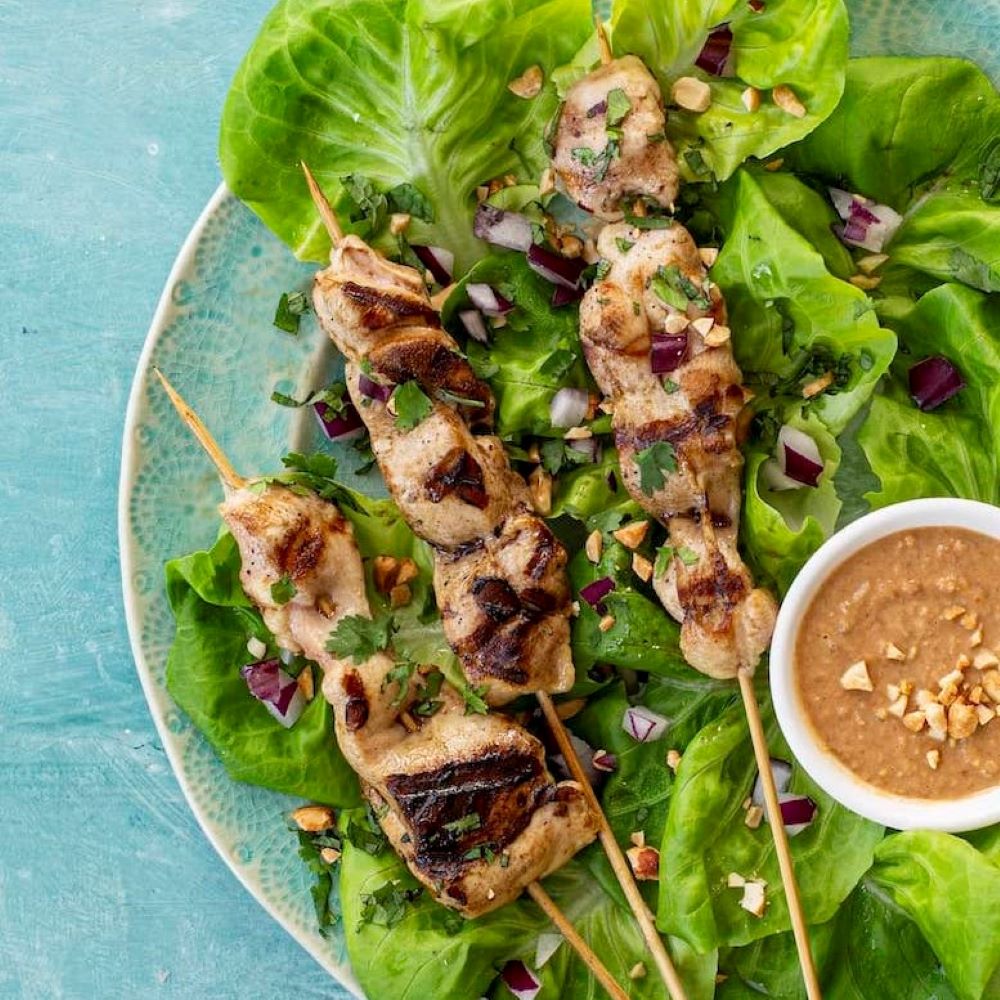 Ingredients
• 1 tablespoon minced garlic (about 6 cloves)
• 1 tablespoon minced fresh ginger (a 1 to 2 ince piece of ginger, peeled)
• 1 tablespoon minced lemongrass (a 4 inch piece of lemongrass about 1/4 inch wide)
• 1 tablespoon fish sauce
• 1 tablespoon soy sauce
• Zest and juice of 1 lime (about 1 teaspoon zest and 1 and 1/2 to 2 tablespoons juice)
• 1 and 1/2 pounds boneless, skinless chicken thighs (about 5 thighs)
• Metal or wooden skewers
• Vegetable or canola oil
• Butter lettuce or cooked rice to serve
To save time on weeknights, this peanut sauce skips the traditional steps of roasting and crushing the peanuts and uses peanut butter instead. You don't really need a side for this dish because with all the accoutrements for toppings, it makes a full plate. Still, I never make enough of it - my children always want more. This is a great way to use one of my favorite go-to meats: boneless, skinless chicken thighs. They cook quickly and have a little fat of them, so they get a great charred texture from the grill.
Toppings and what I call "accoutrements" make food more fun and flavorful. When I look at a dish, I ask myself "Does it have texture, color, a fresh appeal? Does it need salt, acid, or heat?" Fresh-minced herbs, chopped nuts, toasted bread crumbs, green onions, fresh lime juice, and jalapeno slices are just some ideas for toppings that each person can sprinkle on their plate and customize to their taste. And kids love toppings!
Peanut Sauce:
1/2 cup peanut butter
5 (1-inch) chunks of fresh pineapple
2 tablespoons soy sauce
2 tablespoons water
1 tablespoon fish sauce
1 tablespoon hoisin sauce
1 shallot, chopped (1 to 2 tablespoons)
1 tablespoon minced fresh ginger (a 1-2 inch piece of ginger, peeled)
1 teaspoon chili garlic paste
Zest and juice of 1 lime (about 1 teaspoon zest and 1 1/2 to 2 tablespoons juice
Instructions:
In a large resealable plastic bag, combine the garlic, ginger, lemongrass, fish sauce, soy sauce, lime zest, and lime juice. Cut the chicken thighs into strips and add them to the bag. Massage the chicken to make sure it is well coated. Place the bag in the refrigerator and marinate the chicken for 30 to 60 minutes, turning the chicken every 15 minutes. If you are using wooden skewers, put them in water to soak for 30 minutes.
While the chicken marinates, make the peanut sauce. In a food processor, combine the peanut butter, pineapple, soy sauce, water, fish sauce, hoisin sauce, shallot, ginger, chili garlic paste, lime zest, and lime juice. Pulse until combined and smooth.
Once the chicken finishes marinating, preheat the grill to 450 degrees. Then thread the chicken onto the skewers. Rub the grill grates with vegetable or canola oil.
Grill the chicken skewers until the internal temperature reaches 165 degrees, about 4 to 5 minutes per side.
Serve the skewers over lettuce or rice and top with the chopped peanuts, green onions, cilantro, basil, mint, red onions, and peanut sauce.
Hot Little Tip
Zest the citrus before cutting and juicing it.