Caviar Biscuit Sandwich
From Carrie Morey's Hot Little Suppers cookbook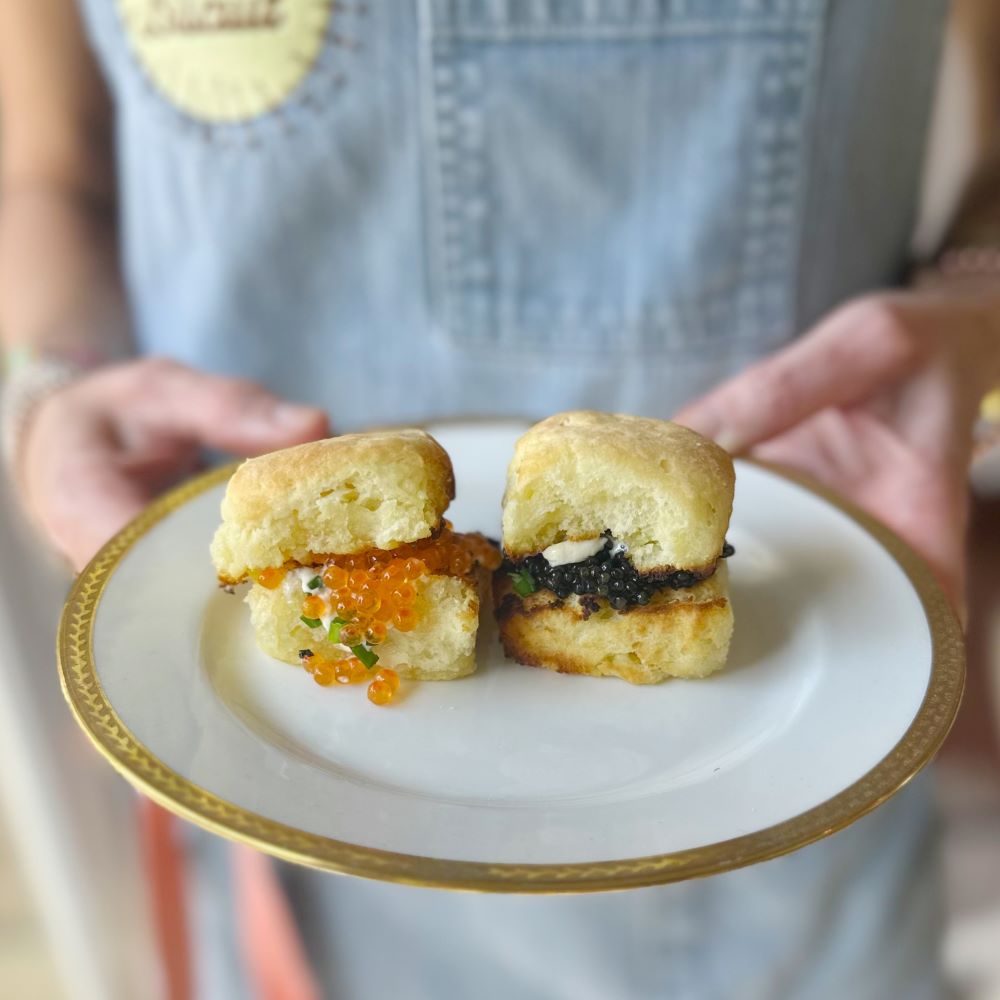 Ingredients
• Callie's Hot Little Biscuit Buttermilk Biscuits
• The Caviar Co. Siberian Sturgeon Caviar
• The Caviar Co. Smoked Trout Roe
• Savory Thyme Butter
Chubby Fish in Charleston, SC is one of my favorite restaurants! It always has a line out the door and is worth the wait every time. John and I go as often as we can to get their "Caviar Sammich". After eating the "sammich" multiple times, I wondered... would this be good on a biscuit?! Spoiler alert - it is!
This National Caviar Day, July 18th, I'm partnering with the amazing The Caviar Co. to recreate the "sammich" – Carrie style! 
I thought the combination of the two artisan companies of The Caviar Co. and Callie's Hot Little Biscuit would complement each other very nicely. I love how the sister-founded San Francisco-based purveyor of fine caviar company is committed to sourcing sustainable caviar that is of the highest quality and consistency.
When serving caviar, it is best as a dip or topper for your choice of vessel. I used Callie's Hot Little Biscuit cakey, savory Buttermilk Biscuit and a dollop of my Savory Thyme Butter to complement the delicious flavors of The Caviar Co.'s Siberian Sturgeon caviar and Smoked Trout Roe.
This incredibly simple dish to make is a perfect way to treat yourself and your guests with a high-quality, artisan appetizer that takes no time to prepare! Grab your ingredients from calliesbiscuits.com and thecaviarco.com using code CALLIESNCD for 15% off your shipment (offer valid through Labor Day 2023) to recreate this for yourself.
If you're looking for more Caviar recipes, you can find my Caviar & Pimento Cheese Fritters here.
Instructions:
Preheat your oven to 400 degrees.
Remove biscuits from plastic and wrap in aluminum foil. 
Bake approximately 20-25 minutes – oven times may vary.
Open the foil so the biscuit tops are exposed. Bake for five more minutes until golden brown. 

Fork open biscuits, sandwich-style, and add Savory Thyme Butter and

 your choice of The Caviar Co.'s delicious caviar. 

Enjoy!!
Shop this Post:
Hot Little Tip
As metal and wood have an effect on caviar, we recommend using a mother of pearl spoon.