Cocktail Hour Seared Salmon Biscuits
From Carrie Morey's Hot Little Suppers cookbook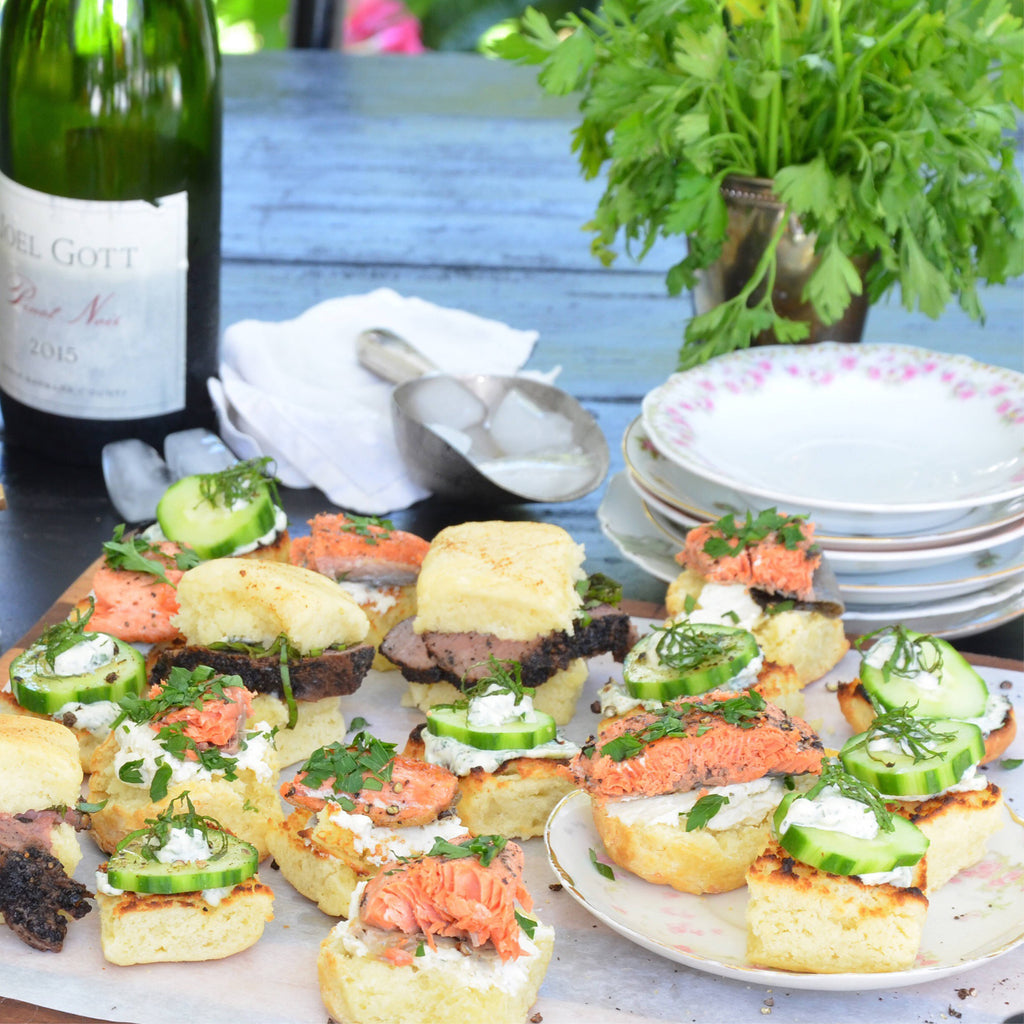 Ingredients
1 pound salmon filet
1 tablespoon olive oil
Salt and pepper to taste
Callie's Buttermilk Biscuits
Dill Dip
1 cucumber, sliced thin
Fresh mint or dill for garnish
Now that the sun is out, we are in full spring mode!  That means we enjoy lighter fare, open doors, and a lot of outdoor entertaining, especially before that summer heat hits. Our friends stop by all the time so it's nice to have a few recipes on hand to whip up. Thankfully, there are always biscuits in the freezer, a good protein in the fridge and my favorite skillet close by. This open-faced seared salmon biscuit is a crowd pleaser that is super easy. Try it alongside my dill-icious biscuits and coffee-rubbed beef tenderloin biscuit sandwiches for your next in a pinch cocktail party.
Instructions
Heat a large skillet on high heat for two minutes.
Add the olive oil. Season the salmon with salt and pepper.
Place salmon in skillet, flesh side down (if the filet has skin). Allow to sear for five minutes. Flip and sear the other side for five minutes or until center is cooked.
Turn off heat and allow salmon to rest in the skillet. It will continue to cook to desired doneness.
To serve, place the dill-icious dill dip on one half of a biscuit. Top with a cucumber slice or two and a piece of the salmon. Garnish with fresh herbs.
You can leave the biscuit open faced or top with the other half of the biscuit.
Serve immediately and Enjoy!
Shop the Post:
Callie's Hot Little Biscuit Buttermilk Biscuit
Hot Little Tip
We love a good cocktail party. This open-faced salmon biscuit is a game-changer for entertaining! Grab a box of buttermilk biscuits and you're halfway there.