Drunk and Toasty Myers Pecan Pie
From Carrie Morey's Hot Little Suppers cookbook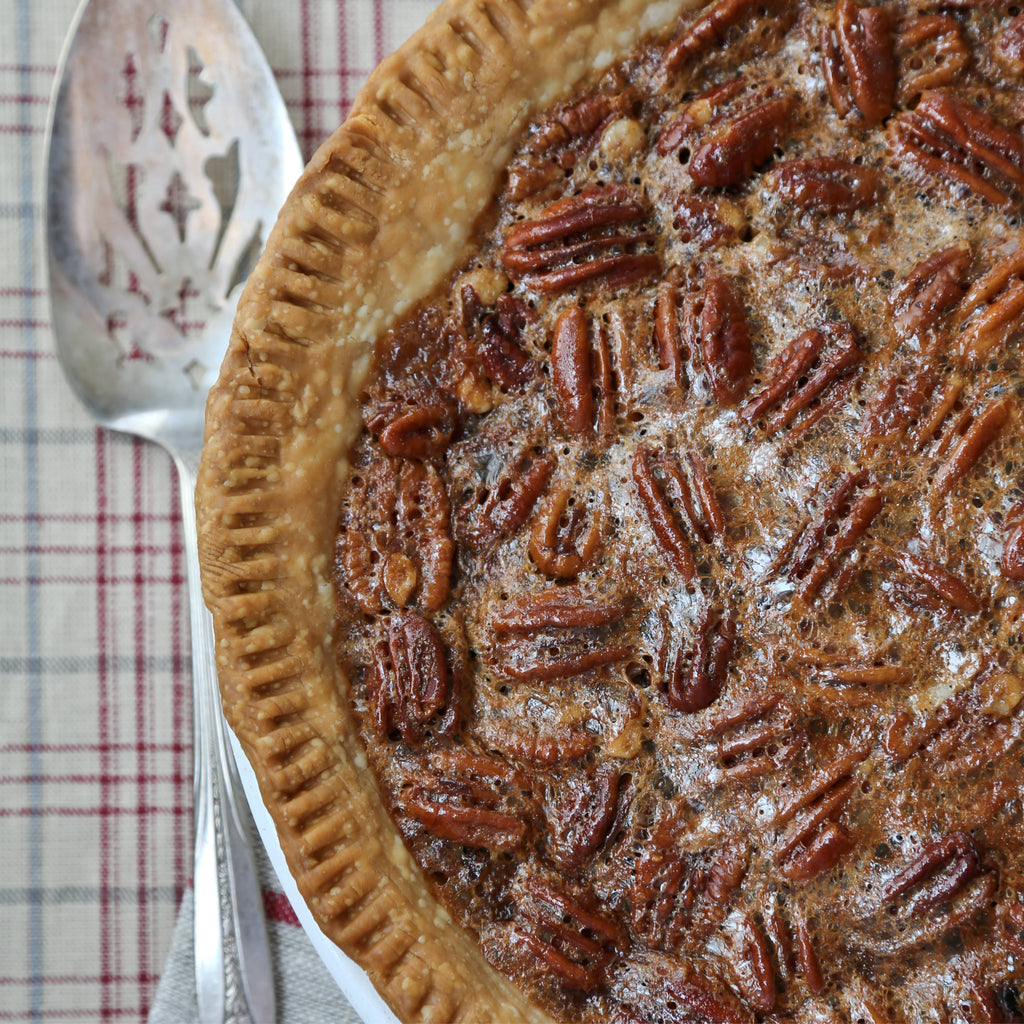 Ingredients
• Mama's Butter Pie Crust
• 1 cup pecan halves
• 2 tablespoons butter, melted
• 1/2 teaspoon kosher salt
• 1 cup sugar
• 1 cup dark corn syrup
• 1 tablespoon dark rum
• 1 teaspoon pure vanilla extract
• 3 large eggs, lightly beaten
• Optional: 6-ounces chocolate chips
Babbie Myers was my grandmother, Caroline's, mother. She always made a pecan pie for Christmas dinner, and Caroline has carried on that tradition. I added the rum (imagine that!) and made sure to use Myer's brand in honor of Babbie.
This pie is based on a recipe from Charleston Receipts, a classic cookbook compiled and published by the Junior League of Charleston in 1950. I highly recommend adding Charleston Receipts to your cookbook collection for classic Lowcountry favorites and for inspiration. 
This particular recipe has made the full evolution from the cookbook to Babbie to Caroline and to me. With the addition of the Myer's rum, using Mama's Butter Piecrust, and the step of toasting the pecans in butter and salt, this is the perfectly salty-sweet pie your family will beg you to bring to every holiday gathering!
Instructions
Fit the dough into a 9-inch pie dish. Trim and crimp the edges. Prebake according to the instructions. Remove to a cooling rack and reduce oven temperature to 350°F.
Combine the pecans with 1 tablespoon of the melted butter and the salt. Spread in a baking sheet and toast for 8 to 10 minutes, until fragrant. Set aside to cool.
Mix the sugar, corn syrup, the remaining 1 tablespoon butter, the rum, and vanilla. Stir in the eggs. add the pecans and the chocolate chips, if using. Pour into the cooled pie crust.
Place on a rack in the lower third of the oven. Bake 50 to 60 minutes, until the center feels like Jell-O when pressed.
Remove to a cooling rack.
Serve with whipped cream or ice cream, if you wish!
Hot Little Tip
As with every pie I make, I use Mama's Butter Piecrust recipe to make this pecan pie. I also serve it with homemade whipped cream.