Easy Weeknight Tuna Casserole
From Carrie Morey's Hot Little Suppers cookbook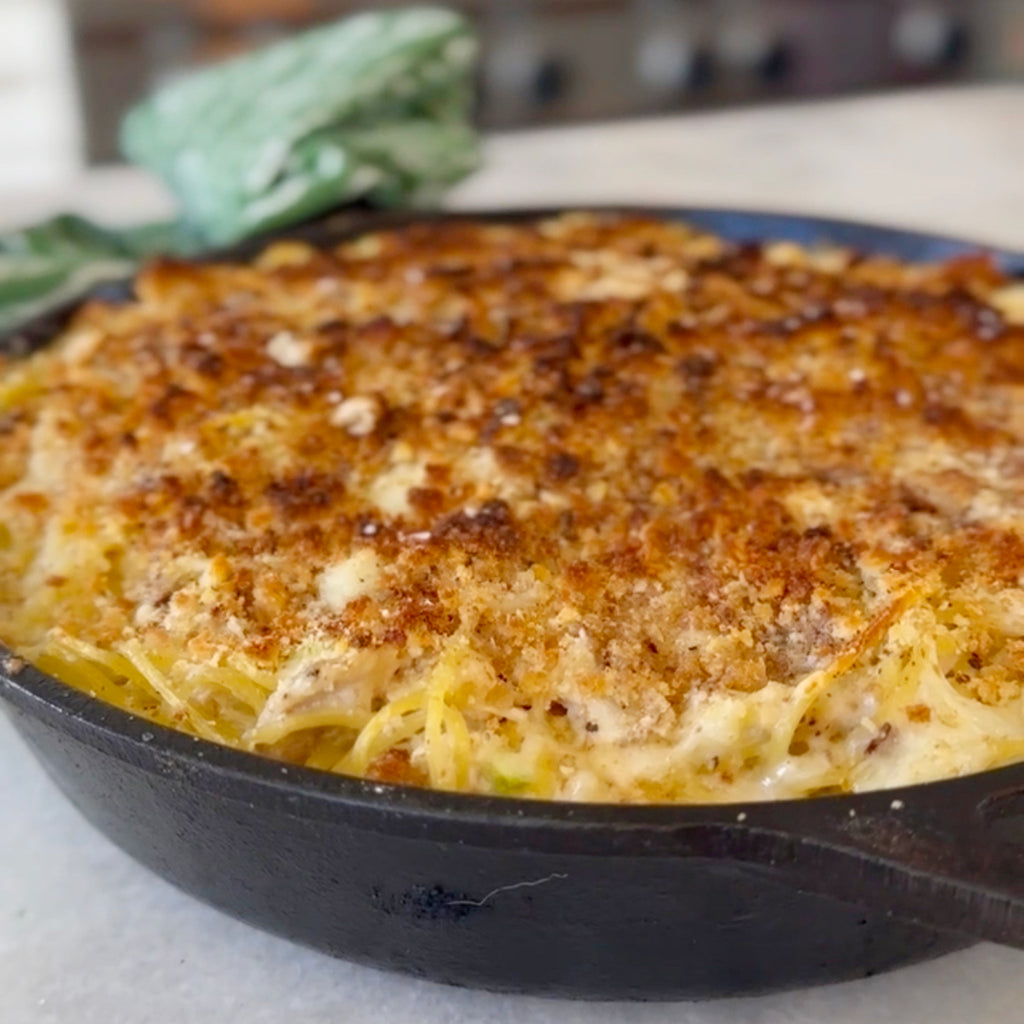 Ingredients
• 3 tablespoons butter
• 4 (5 oz) cans water-packed albacore tuna, drained
• 1 cup diced white onion
• 1 cup chopped celery
• 1 cup mayonnaise
• Kosher salt and black pepper
• 2 1⁄2 cups cooked, drained spaghetti
• 1 tablespoon all-purpose flour
• 1 cup milk, warmed
• 2 1⁄2 cup shredded Swiss cheese
• About 6 leftover biscuits, split
An easy recipe that you can throw together for a weekend lunch or weeknight dinner! You can top this casserole with leftover biscuits for a yummy buttery crust or you can top with breadcrumbs. My husband grew up with crushed potato chip topping, so when we don't have any leftover biscuits, I usually top half with crushed potato chips for him and half with breadcrumbs for me.
Four ounces of dried pasta will cook up to about 2 cups, so you'll need about 5 ounces for this. When you cook the spaghetti, boil it about 2 minutes less than the suggested time; it will cook more when you bake it.
Check out the full recipe and more in the Callie's Biscuits & Southern Traditions cookbook!
Instructions
Preheat the oven to 375ºF. Butter a 2-quart casserole dish with 1 tablespoon of the butter.

Combine the tuna, onion, celery, and mayonnaise. Season with salt and pepper. Add the spaghetti and mix well.

Melt the remaining 2 tablespoons butter in a large saucepan on low heat. Whisk in the flour and cook 5 minutes, until the starchy taste is gone. Do not allow the flour to brown.

Add the tuna-spaghetti mixture, followed by the milk, 2 cups of the cheese, ½ teaspoon salt, ½ teaspoon pepper. Mix well. Pour into the casserole.

Sprinkle the remaining ½ cup cheese on the casserole and top with the biscuits. Or combine the cheese and crumbs and sprinkle on top. (Or the crushed potato chips if that's what you're in the mood for!)

Bake 25 to 35 minutes, until the filling bubbles, the cheese is melted, and the biscuits or crumbs are toasted.
Shop the Post:
Callie's Biscuits & Southern Traditions Cookbook
Hot Little Tip
No leftover biscuits? Substitute for breadcrumbs or crushed up potato chips!