Bacon-Green Onion Savory Crisps for Holiday Entertaining
From Carrie Morey's Hot Little Suppers cookbook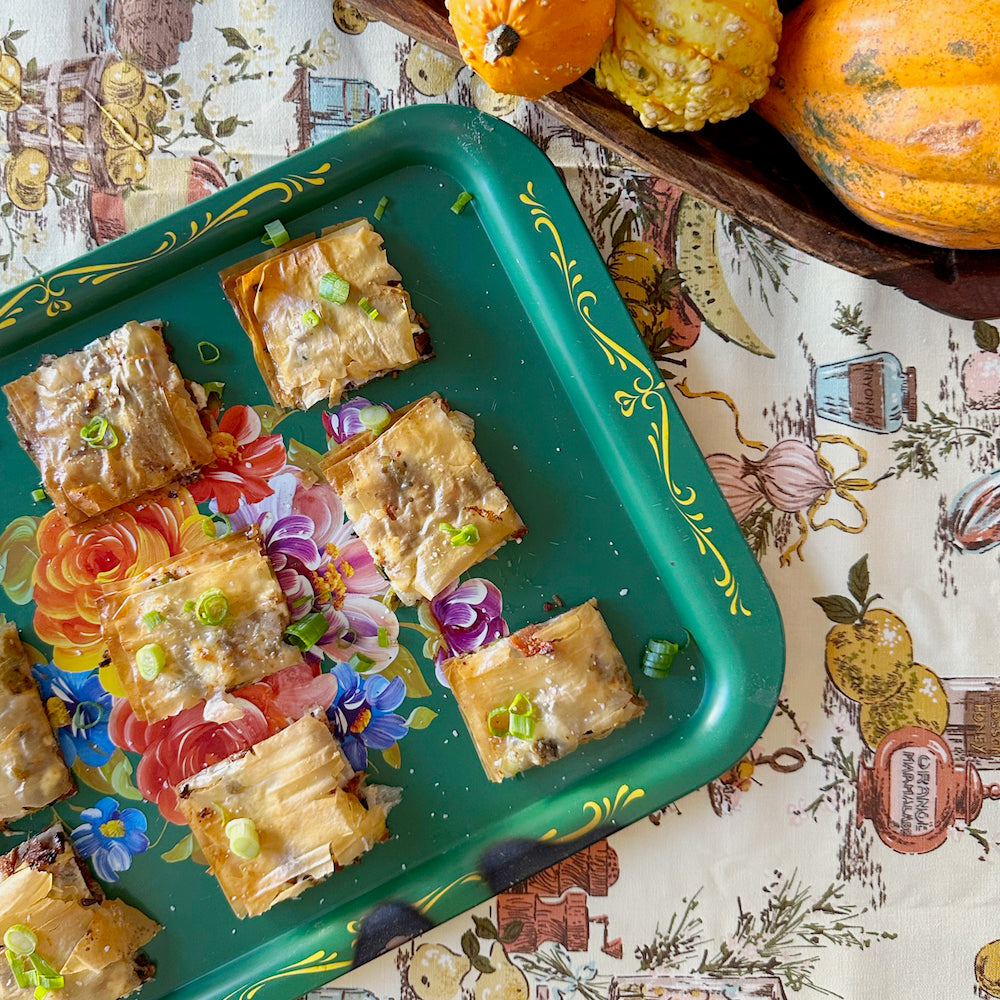 Ingredients
• 2 tablespoons butter, melted, plus more for the baking sheet
• 12 slices bacon
• 6 green onions, coarsely chopped
• 3⁄4 cup crumbled feta cheese
• 3⁄4 cup grated Parmesan cheese
• 4 (8 by 12-inch) sheets phyllo dough, thawed according to package directions
• Freshly ground black pepper
The holiday season approaching also means holiday parties filling your already busy schedule. And no one ever wants to show up to a party empty-handed... it simply isn't the Southern way! Take 30 minutes to throw together my Bacon-Green Onion Savory Crisps before heading out for a holiday party, or before hosting your own,  to create something all guests will enjoy.
Crispy and crunchy, these are perfect on their own, or enjoy them with a signature drink created for your own celebration! Serve warm or at room temperature, this snack is excellent for party season.
Check out the full recipe and more delicious dishes for cocktail celebrations in the Callie's Biscuits & Southern Traditions cookbook!
Instructions
Preheat the oven to 375ºF. Line a baking sheet with parchment and butter the parchment.

Cook the bacon until crispy. Remove the bacon to a paper bag to drain, leaving the drippins in the pan. When cool, crumble the bacon into a bowl.

Gently wilt the green onions in the bacon drippins. Drain on a paper bag, then add to the bacon. Mix in the feta and Parmesan to make the topping.

Lay a sheet of phyllo on the prepared baking sheet and brush with the melted butter. Sprinkle one-third of the topping on the sheet, all the way to the edges. Add a few grinds of pepper.

Top with another sheet of phyllo, brush with butter, sprinkle with half the remaining topping, and add pepper. Repeat once more with another phyllo sheet, butter, and the remaining topping. Cover with the last sheet of phyllo and brush with butter.

Bake 12 to 15 minutes, until browned and crisp. Let cool for a minute.

Remove to a cutting board. Using a pizza cutter or serrated knife, cut into four 2-inch wide strips. Then cut each strip into six 2-inch squares. Serve warm or at room temperature.
Shop the Post:
Callie's Biscuits & Southern Traditions Cookbook
Hot Little Tip
To keep your phyllo sheets from breaking, keep them moist with a damp paper towel laid over them!