Hannah's Special Caramel Apple Pie
From Carrie Morey's Hot Little Suppers cookbook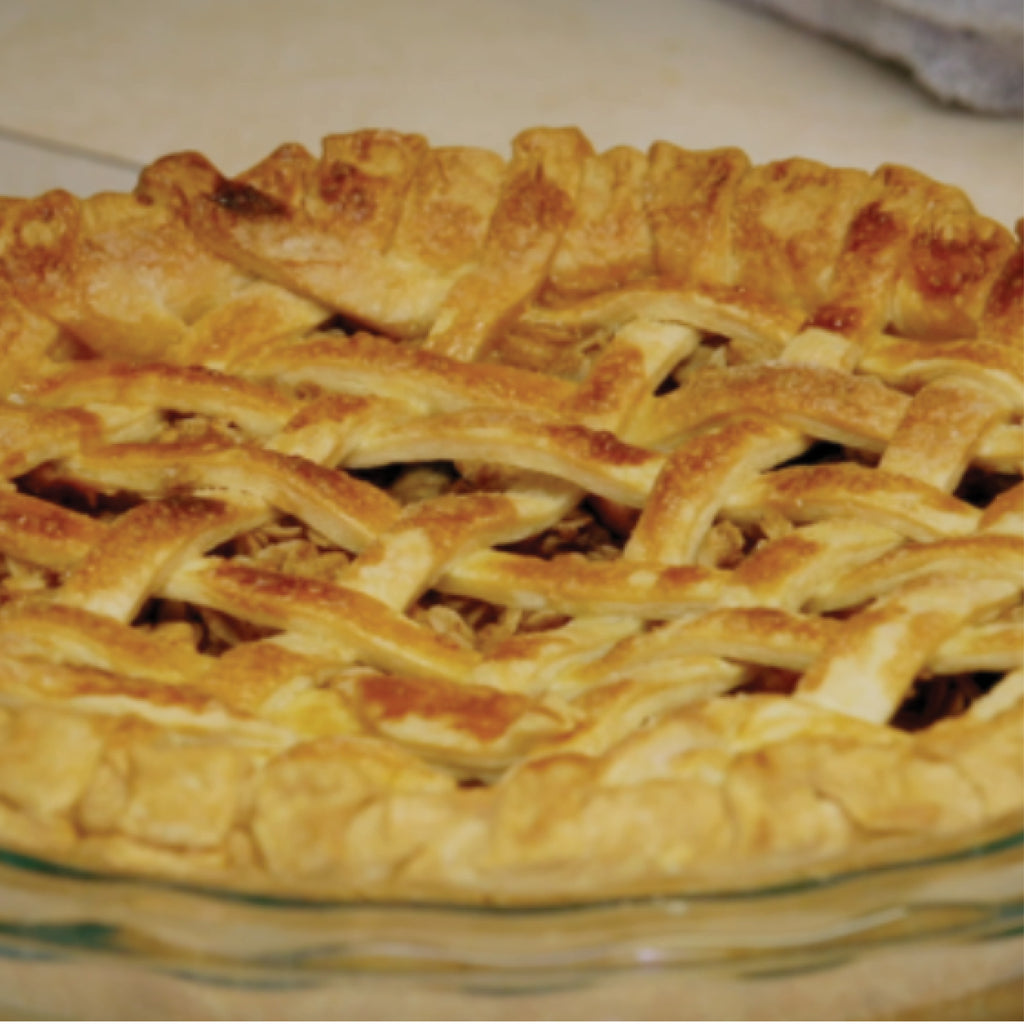 Ingredients
• Store bought or homemade pie crust
• 1/2 cup granulated sugar
• 3/4 cup brown sugar
• 2 tablespoons ground cinnamon
• 1 pinch of salt
• 3 tablespoons cornstarch (or 4 tablespoons all purpose flour)
• 6 to 8 apples, peeled, cored and cut into 1/2 inch slices
• 1/2 cup quick cooking rolled oats
• 4 tbsp melted butter
• 1 egg, beaten
• Store bought or homemade caramel sauce
Hannah's Special Caramel Apple Pie took the crown during the pie contest at our bakery. "I learned to have an appreciation for farm to table largely through my grandma Barbra who taught me how to make the apple pie. She lived on a farm, so she would go out and pick the apples for her apple pie. I always just hope I can do her justice." – Hannah, Callie's Hot Little Biscuit Production Baker 
Instructions
Preheat oven to 375 degrees F
In a large bowl combine sliced apples, 1/2 cup granulated sugar, 1/2 cup brown sugar, 2 tablespoons ground cinnamon, 3 tbsp cornstarch (or 4 tbsp AP flour) and a pinch of salt.
Toss everything together until all of the apples are completely coated. Set aside.
On a lightly floured surface, roll out first portion of pie crust into a circle 3 to 4 inches larger than your pie plate.
Gently transfer the crust to your pie plate, pressing the dough into the dish along the bottom and edges.
Pour the apple filling into the prepared crust and spread evenly.
In a bowl, stir together the oats, 1/4 cup of brown sugar, and melted butter until all the oats are coated. Sprinkle oat mixture in an even layer over the apples.
Roll out your second portion of pie crust into a circle 3 to 4 inches larger than your pie plate. Using a sharp knife or pizza cutter, cut crust into 1/2 inch wide strips. Weave over the top of the pie to form a lattice. Trim any excess crust overhanging your pie plate, then use your fingers to press and crimp the edges all the way around.
Before baking, brush the top of your pie with a thin layer of beaten egg.
Bake pie at 375 degrees F for 20 minutes.
Reduce temperature to 350 degrees F and bake for an additional 30-40 minutes.
When your pie is ready to come out, the interior should be bubbling and the crust should be golden brown. If the crust starts getting too dark before it's time for the pie to come out of the oven, cover with aluminum foil and continue baking.
Remove pie from oven and drizzle with lots of caramel sauce.
Let cool at room temperature, and serve!
Hot Little Tip
Apple Pie is nothing without cinnamon, so I really go all in on the cinnamon!