How to Wrap a Holiday Food Gift • From Shipment to Basket!
From Carrie Morey's Hot Little Suppers cookbook
We often get asked "how do I gift a frozen product?". Well, we are here to answer this question with a little tutorial on how our founder Carrie gifts these hot little biscuits!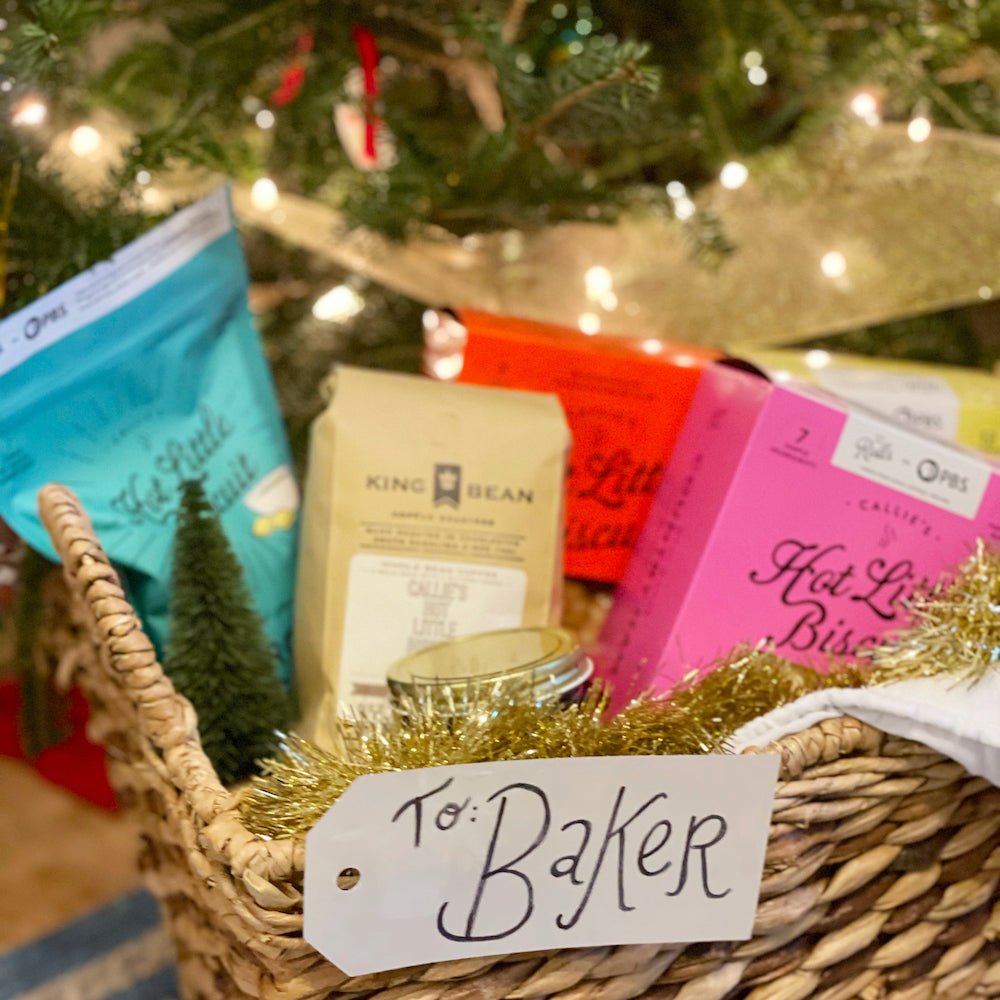 3 Tips for Gifting Perishable Products:
• Time it Right
• Keep those Gel Packs!
• Add Personal Touches
How do you gift a frozen product? 
Ah, our favorite question! We absolutely love that so many of our loyal customers use Callie's Hot Little Biscuit not only in their daily lives, but as their go-to gifting staples for the winter holidays, to Mother's Day, to Labor Day and more! 
There is an old saying that receiving a well-wrapped gift is like a present twice! The extra tender love and care put into the presentation of a gift goes a long way. While gift-givers sure do love to send shipment straight to their recipients' doors, we know that sometimes gifting in person makes all the difference. 
Let's set the scene: 
You ordered your Callie's Hot Little Biscuit shipment of biscuits, pimento cheese, coffee, and jams and are intending to give it to your friend at her holiday party this Friday. The question is – how do I give the host a gift without keeping the package cold? I know what is running through your head... Do I put it in a hot cold bag? Do I just bake everything now and gift it to her? Do I wrap the shipping box? 
The answer to all three of those questions is – sure! Any of those options will work but there is an even better way – create a gift basket with the products! This way, your host will see right away that the products are food and will need to be put away after her party (and it ensures she will open it right away!). 
3 tips to gift perishable food products: 
First: Time it right. 
We recommend putting together your perishable gift basket 1-hour (or right before) before you leave your home to go to the party. This will ensure that the perishable products stay in their cold or frozen environment for as long as possible. 
Second: Keep those gel packs! 
Each of our perishable shipments come with gel packs and packing paper. These two elements are key for keeping your perishable biscuits or pimento cheese chilled – without getting condensation on your beautiful wrapping! Simply wrap the gel packs in packing paper and slide them at the bottom of your gift basket, placed under where your perishable goods will be. The gels are designed to stay frozen for two days, so they will come in handing in keeping products cool during transit from your home to your gift-recipients home. 
Third: Add some holiday flare! 
We love dressing up a gift basket with ribbons and bows or using greenery from outside to add an extra bit of fun. Tip from Carrie: always include a gift note! A handwritten note goes a long way in saying how much you care.
Shop this Video
Hot Little Tip
Always include a gift note! A handwritten note goes a long way in saying how much you care. - Carrie