Autumn Breakfast Ideas
From Carrie Morey's Hot Little Suppers cookbook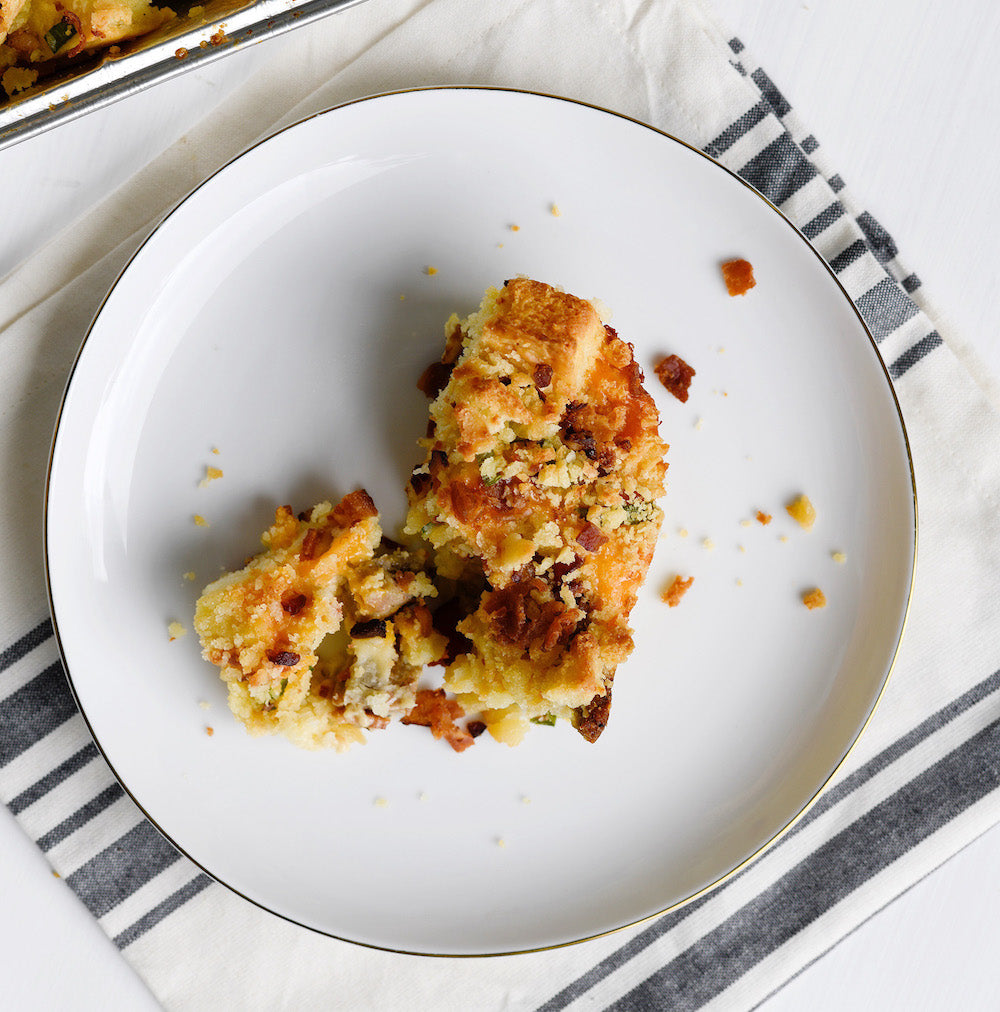 Fall Breakfast Favorites
Caroline's Breakfast Casserole
Sausage Biscuits
Crustless Quiche
Krysten's Collards & Brussels Sprout Salad
Slow Cooker Grits
Best Autumn Breakfasts
A breakfast made by hand doesn't have to be complicated. At Callie's Hot Little Biscuit, we know the finest ingredients are often simple. Enjoy these low-stress, tasty Southern staples for breakfast on the go or for relaxing and entertaining guests.
Caroline's Breakfast Casserole
The best part about simple, straightforward recipes is that it's usually easy to swap out ingredients for those that best suit your tastes. You can choose from white bread or biscuits to make this casserole just how you like it! Whip up this autumn breakfast recipe to share with the family or when you're entertaining guests - just remember to start this casserole the night before. You can serve it on its own or make it part of a breakfast buffet with fruit, yogurt and our biscuits to pair sweet and savory in one delicious meal. Get the casserole recipe.
Sausage Biscuits
When you need to grab and go first thing in the morning, these breakfast sandwiches will hit the spot. Ready in about 30 minutes, our Sausage Biscuits save you a lot of time compared to sit-down breakfasts - without giving up taste or quality. Because you get eight sandwiches in your online order, you can feed the whole family on a hectic day or get yourself through the week with this tried-and-true quick breakfast. And if you crave it on days when you have more time to spare, a Savory Sausage Biscuit Casserole will do the trick. Our eatery customers love to pair the sausage biscuit with our Blackberry Jam.

Crustless Quiche
Trust us, it tastes better with country bacon. For a hearty fall breakfast, pair this classic recipe with Cinnamon Biscuits and seasonal fruits such as apples or pears. Better yet, any leftover biscuits can become dessert later - eat them just how they are or add icing for extra sweetness. This autumn quiche recipe is another great option for when you have guests over. Friends or family members can also help out in the kitchen so you can make memories while you're making breakfast. Get the quiche recipe.
Krysten's Collards & Brussels Sprout Salad
If you can never get enough salad, use these seasonal veggies to make a delicious, green breakfast or brunch. Protein from bacon and pecans will help keep you full, no matter what your autumn days hold. Topped with mustard vinaigrette dressing, this fall salad is just the right mix of tangy and sweet. To warm yourself up and get an energy boost, make a cup of coffee too. Get the salad recipe.

Slow Cooker Grits
It wouldn't be a complete list of Southern breakfast recipes without grits. You can enjoy them any time of year, but there's just something about eating warm grits in cold weather. Using a slow cooker lets you sleep in a little, and it's fun to get together with family and top your own bowls of grits however you want. Our founder, Carrie Morey, likes to top grits with chopped cooked bacon, chopped green onions, cheese, smoked sausage or shrimp. Grits are good for more than breakfast too. Try out other autumn meals that use grits, including Pimento Cheese Shrimp and Grits. Get the Slow Cooker Grits recipe.
Hot Little Tip
Why stop with breakfast? Find crowd-pleasers for any mealtime with our Hot Little Suppers cookbook and Callie's Biscuits & Southern Traditions cookbook.