Cinnamon Stickies... with a Twist! My take on a Cinnamon Roll Recipe.
From Carrie Morey's Hot Little Suppers cookbook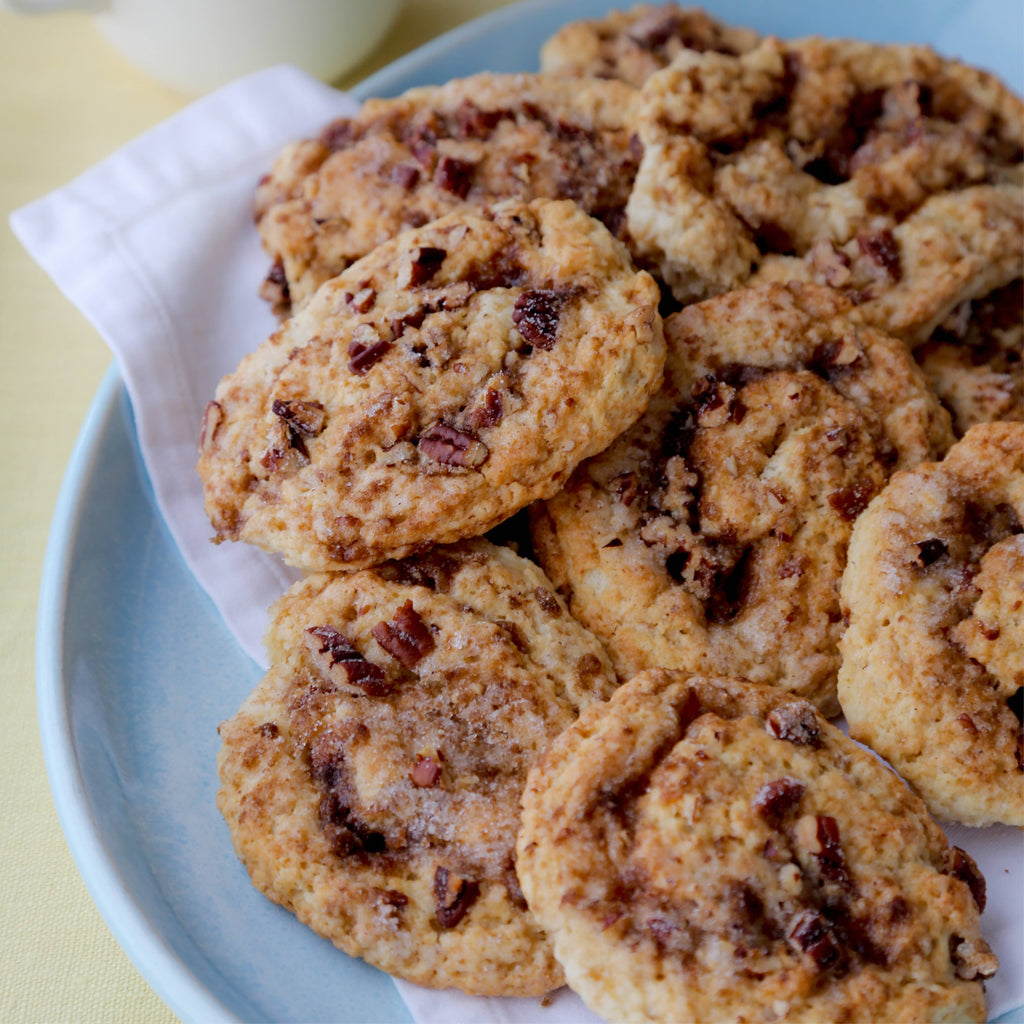 Ingredients
• 2 cups self-rising flour (White Lily preferred), plus more for dusting
• 1/3 cup white sugar
• 1/3 cup packed light brown sugar
• 14 tablespoons (1¾ sticks) butter: 8 tablespoons cut in cubes, at room temperature, and 6 tablespoons melted
• 1/4 cup cream cheese, at room temperature
• 3/4 cup whole buttermilk, plus 1 tablespoon if needed (may substitute low-fat buttermilk)
• 1 cup chopped pecans
• 1/3 cup white sugar
• 1/3 cup packed light brown sugar
• 1 tablespoon ground cinnamon
Sunday brunch at my mother's has always been a cherished if wonderfully harried tradition. These days there are usually nine or so people ranging in age from four to sixty-three, all of us in the kitchen, helping. My stepfather, Tom, has usually just come in from some kind of exercise adventure and is pulling out the Fritos, Cheez-Its, and peanut butter, frantically snacking as my mother stirs the grits. My brother Kinnon is making his perfectly crisp pancakes, and my girls are grating cheese for the grits. All of us have huge personalities, and we're all talking over one another until we finally come together and sit down to the beautiful table spread with grits, pancakes, tomato pie, and stickies. We're all silent for a moment as we take those first few bites of comfort, home, supreme deliciousness . . . and then it starts up again! Everyone talking over everyone else and explaining the escapades and misadventures of the night before. I love every chaotic minute of it.
 These stickies are one of my mother's many specialties and an essential element of our Sunday brunches. She never writes anything down, so this is my best interpretation of her recipe. Forget any notions of oversized shopping mall cinnamon rolls—these bites are sweet but not too sweet, with the texture of a biscuit. And on the rare occasion when I may have been overserved a cocktail or two, these stickies are what I crave when I wake up the next morning. They taste good any time of day for any occasion, but a little bit of Sunday morning family "conversation" does seem to bring out their sweetness even more.
Every fall, we serve a version of this recipe at our Callie's Hot Little Biscuit eateries as a seasonal special. I love seeing customers drop in for this yearly menu item. It reminds me that my family traditions can make an impact on others! 
Instructions
Line a baking sheet with parchment paper and flour the paper generously.
Measure the flour into a large bowl. Mix in the white and brown sugars. Incorporate the cubed butter and then the cream cheese into the flour, using your fingers to "cut in" the butter and cheese until the mixture resembles chunky cottage cheese.
Make a well in the center. Pour in the buttermilk and, using your hands or a small rubber spatula, mix the flour into the buttermilk. The dough will be wet and messy.
Sprinkle flour on the dough and turn the dough onto the parchment paper. Press into a rectangle. Flour the top generously and roll out to a ¼-inch thickness into a rectangle. Use a pastry brush to brush excess flour from the dough.
Brush the surface with 4 tablespoons of the melted butter.
Make the topping: Stir together the chopped pecans, white sugar, brown sugar, and ground cinnamon. Sprinkle two-thirds of the topping over the dough.
With well-floured hands, working from a long side, begin rolling the dough into a log, using the parchment paper to lift and roll the dough. Smooth the dough, and keeping it on the baking sheet, freeze for 45 minutes.
While the log is freezing, preheat the oven to 500°F. Put parchment paper on a baking sheet. If using a cast-iron skillet, no greasing or parchment paper is necessary.
Trim the ends of the log and cut in ½-inch-thick slices, using a serrated knife. (Flouring the knife will help cut through the dough.)
Lay the stickies flat on the prepared pan. Brush with the remaining 2 tablespoons melted butter and sprinkle with the remaining topping.
Place in the oven and immediately reduce the oven temperature to 400°F. Bake 16 to 18 minutes, rotating the pan once, until golden brown.
Serve warm.
Makes 10 to 12 stickies. Find this recipe and more in my cookbook, Callie's Biscuits & Southern Traditions. 
Hot Little Tip
These stickies are one of my mother's many specialties and an essential element of our Sunday brunches