Set the Perfect Table with Experts Ooh! EventHaus
From Carrie Morey's Hot Little Suppers cookbook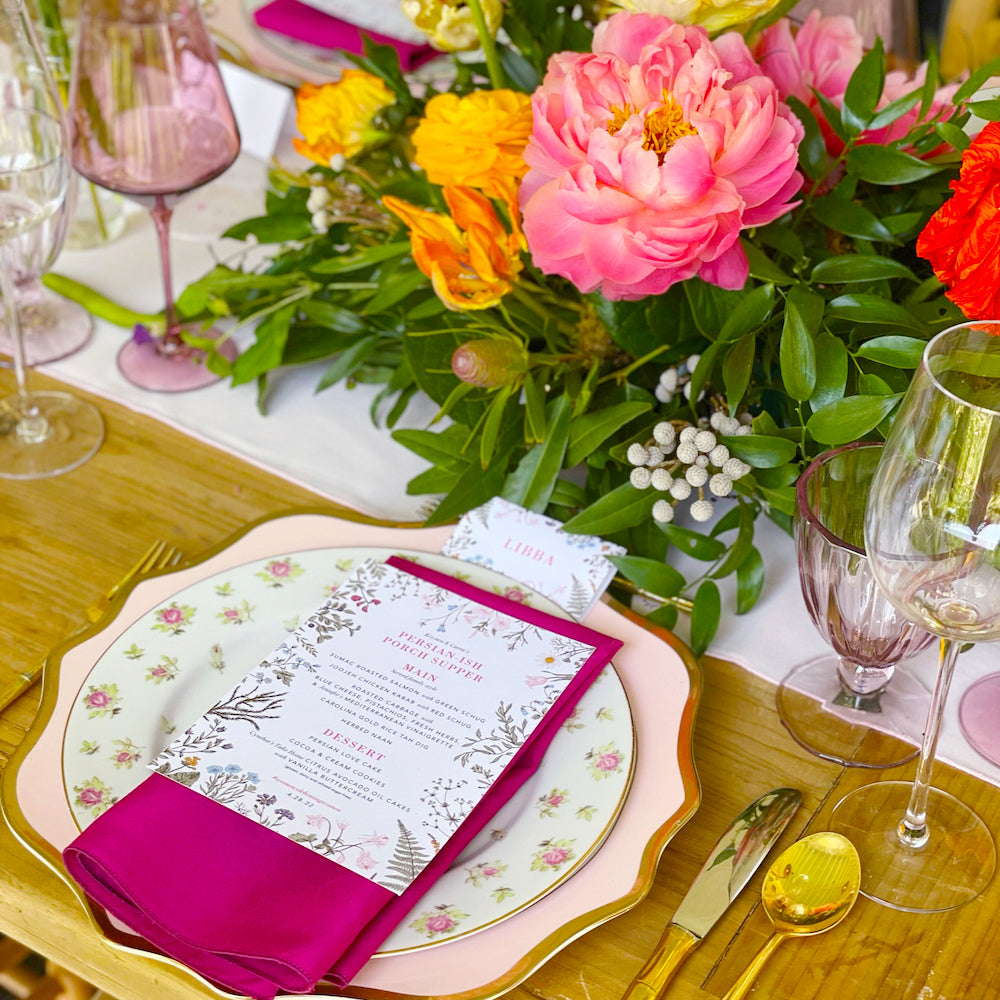 Setting the Table with Ooh! Event Haus
Mary Kathryn at Ooh! Event Haus walks us through setting the perfect table and creating continuity with color for our Persian-ish Porch Supper
I am an avid collector of vintage china. It is sort of my signature for events. This spring, my friend Krysten and I hosted a Persian-ish Porch Supper. It was an evening fueled by twenty female founders coming together over a meal. Every guest helped bring the event together – from tabletop, to conversation starters, to the delicious meal served.
When designing the Porch Supper in my head, I kept coming back to two things: my china and my Pomegranate Margaritas which I knew would be our signature cocktail... that's when the "pomegranate pink" vision started... but I kept asking myself "where do I go from here?"
Thankfully, Mary Kathryn of OOH EventHaus made my vision come to life, sourcing one grand table for the porch filled with pomegranate pink with yellow-gold accents and the most gorgeous florals. We used my backyard porch furniture to create a "lounge" for cocktails and dessert, letting all of our guests get cozy into conversation between servings. 
Working with Mary Kathryn and Ooh! EventHaus was so refreshing – we started with an initial conversation, then Mary Kathryn put together a mood board which helped bring the vision to life. Plus, their sister company, Out of the Garden, creates the most beautiful florals that effortlessly elevated with the tabletop decor.  
Their florals and taper candles brought so much color and texture to the table, but the showstopper at each place setting was my friend Stephanie's beautiful stemware.
I'm sure you've heard of Estelle Colored Glass – a trend setter in the hand blown glassware space. Stephanie and the Estelle Colored Glass team describe their glassware as "jewels for your table" and I couldn't agree more! I chose the Rosé stemware to complement the pomegranate pink theme! 
Mary Kathryn walked me through her tips and tricks to setting the perfect table, and I'm rounding them up for you here: 
Tips & Tricks for Setting the Perfect Table with Ooh! EventHaus
by Mary Kathryn of Ooh! EventHaus
Don't be afraid to use what you have. If you are like Carrie and love your china, glassware, or napkins, make those the inspiration behind the entire tablescape! 
Create continuity with color. We pulled the "pomegranate pink" hue from Carrie's china and her signature cocktail and splashed different shades of pink throughout the table through china, napkins, candles, and florals.
Ground your table with a charger, then layer! Chargers add a layered element to the table and make for easy to add additional color or a neutral border behind your main plate. 
Napkins can be displayed in many ways. Since Carrie was using a printed menu at the Porch Supper, we kept the napkins simple and folded them in a rectangle to highlight the shape and pull the color out of the menu design. 
Mix and match! Carrie had gorgeous Estelle Colored Glass rose stemware at each place setting. We added a vintage water goblet at a shorter size to the table to complement the Estelle Colored Glasses. 
When setting utensils, start from the outside and work your way in. Dessert fork or spoon can be placed at the top of the plate. 
Use the B and D trick – make an OK sign with both hands. Your left hand will look like a "b" which signifies that your bread plate should go on the left side of your plate. Your right hand will look like a "d" which signifies your drinks or glassware should go on the right side or your plate. 
Never be afraid to leave it to the pros! If setting a table is not your thing, ask a professional. Ooh! EventHaus is always happy to make your vision come to life! 
Hot Little Tip
Florals can tie the entire table together. If you are working with a lot or a little color in your tablescape (think plates, glassware, napkins), then create continuity with your choice in florals. They can add a punch of color by using bright shades or can be a grounding neutral. Out of the Garden helped us pick the perfect arrangements for our Persian-ish Porch Supper!