Guide to a Persian-ish Porch Supper
From Carrie Morey's Hot Little Suppers cookbook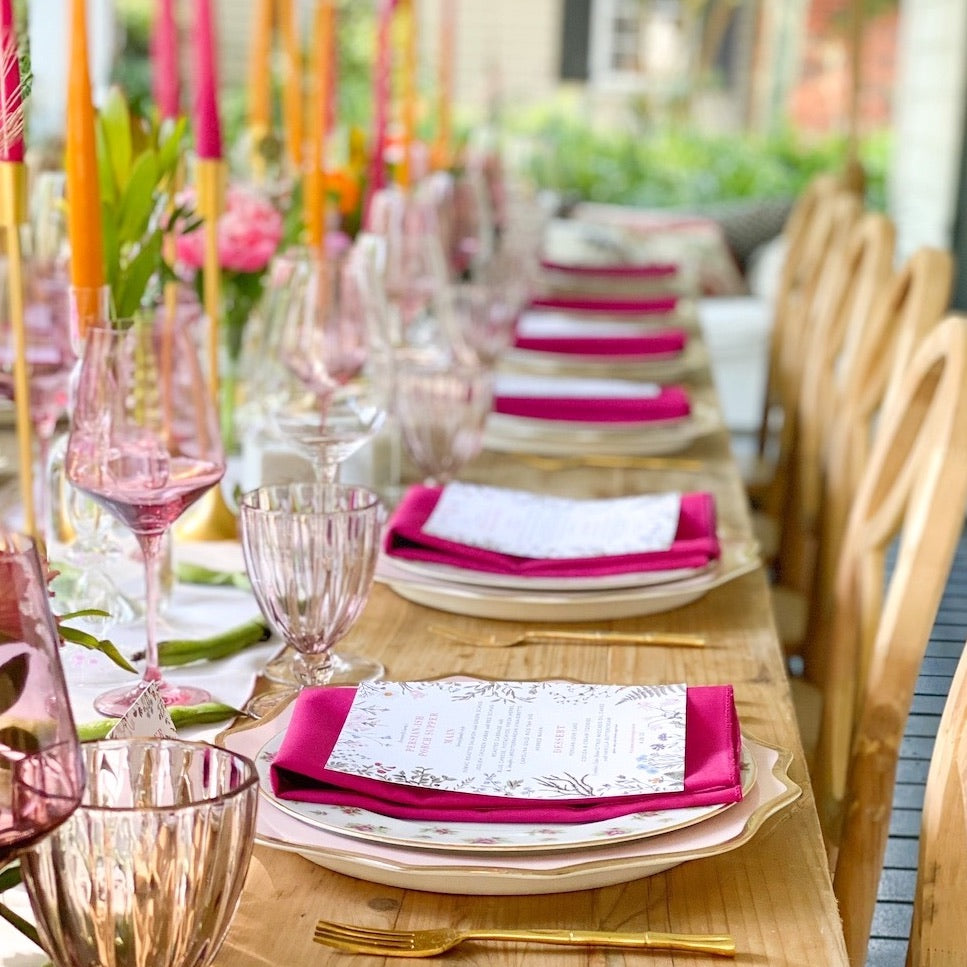 A collaborative supper celebrating women
Twenty female founders and friends come together to connect and collaborate over supper. This Persian-ish Porch Supper serves as a guide to entertaining, recipe creating, table setting, and gifting in a Southern fashion.
If I could name one activity that I truly cherish in life, it would be coming together for a memorable meal with a support system you love. I talk about how the supper table is my safe space – it's a resting zone for my family and me to share our days, make memories, and enjoy a delicious meal. I am a firm believer that you show love through food, and so is my friend Krysten. 
Krysten has been hosting a Persian New Year (traditionally celebrated in the spring) at her home for years. It is one of my favorite events of the year and I always ask if I can help (and learn to) bring the meal together. The recipes stem from her husband Perry's Persian traditions and the flavors meld together like a symphony on your plate! 
Every year on International Women's Day (March 8th), I love watching and celebrating women supporting other women by shopping their products, social media shoutouts, and notes to friends. This year, I wanted to bring some of the women I love and admire together around the supper table. Well, in fast-moving fashion, I was a little late on the date... so we celebrated International Women's Day with a table of twenty, powerful ladies in April for a "Persian-ish" Porch Supper I will never forget! 
THE MENU
There's a reason we called this the Persian-ish Porch Supper. Krysten and I came up with a menu based on her Persian supper signature recipes, but I had to add my Southern flavor flare! Additionally, our talented guests contributed to the menu to make for a truly collaborative evening in the kitchen and around the table. 
Starters:
Pomegranate Margaritas with Persian limes and Red Clay Spicy Margarita Salt. (View Recipe)
Crab Hushpuppies with Sumas Smoked Tomato Remoulade. My friend and crabbing expert, Tia Clark of Casual Crabbing with Tia, shared her secret for how to clean a fresh-caught, South Carolina blue crab for an easy way to get all the meat! P.S. – Have you seen Tia in People Magazine?! Hello, rockstar! 
Steamed Pork Dumplings were served in mini steam baskets. The recipe comes from my dear friend Janice of Little Miss Ha. Janice's Vietnamese cuisine is one of my favorites in Charleston. Janice showed me how to make and fold dumplings like a pro (recipe coming soon!), but this wasn't our first time in the kitchen together. You can find her Lemongrass Pork Skewers and Spring Rolls on our recipe blog. 
Sabazi Platter with local Boiled Peanut Hummus, French Feta Dip, and Shallot Yogurt paired with a slew of fresh vegetables and herbs. 
Family Style Supper:
Sumac Roasted Salmon with Green Schug
JooJeh Chicken Kabab with Red Schug
Roasted Cabbage with Blue Cheese, Pistachios, Fresh Herbs, and Jennifer's Balsamic Vinaigrette. My friend Jennifer started the most perfect grab-and-go business for those of us who hate to run through the fast food line. Verde is a green-forward salad, wraps, and bowls restaurant that focuses on being "Verde" inside and out through their whole ingredients, compostable containers, and bicycle delivery services. Verde's balsamic vinaigrette is one of my favorites and I was lucky enough to learn the secret behind this signature sauce! (View Recipe)
Carolina Gold Rice Tah Dig – this is my absolutely favorite part of Krysten's Persian suppers. Not only is it bright and colorful, but it's "fun to flip"! I put my Southern spin on this traditional dish by using a cast iron skillet, Carolina Gold Rice, bacon fat, and mayonnaise.  (View Recipe)
Herbed Naan – This recipe is in my Hot Little Suppers cookbook! 
Dessert:
Persian Love Cake
Cocoa & Cream Cookies (Callie's classic, of course!)
Citrus Avocado Oil Cakes with Vanilla Buttercream – A sweet treat from Cynthia Groseclose, a talented chef and food artist whose approach to creative food is combining her culinary experience, passion for plant-based foods, and unique artful aesthetic into each and every recipe. These cakes were gluten-, dairy-, and refined sugar-free. We served one large cake at the dessert lounge and each guest took home individually wrapped mini cakes to enjoy at home! 
THE TABLE
If you've read my cookbooks or this blog, you know that I am a collector of vintage china. It is sort of my signature for events, and so I knew I had to incorporate it into the Persian-ish Porch Supper. When designing the event in my head, I kept coming back to my china and those dang good Pomegranate Margaritas... that's when the "pomegranate pink" vision started... but I kept asking myself "Where do I go from here?"
Thankfully, Mary Kathryn of OOH EventHaus made my vision come to life, sourcing one grand table for the porch filled with pomegranate pink with yellow-gold accents and the most gorgeous florals. We used my backyard porch furniture to create a "lounge" for cocktails and dessert, letting all of our guests get cozy into a conversation between servings. 
Working with Mary Kathryn and Ooh! EventHaus was so refreshing – we started with an initial conversation, and then Mary Kathryn put together a mood board that helped bring the vision to life. 
Their florals by sister company, Out of the Garden, and taper candles brought so much color and texture to the table, but the showstopper at each place setting was my friend Stephanie's beautiful stemware.
I'm sure you've heard of Estelle Colored Glass – a trendsetter in the hand-blown glassware space. Stephanie and the Estelle Colored Glass team describe their glassware as "jewels for your table" and I couldn't agree more! I chose the Rosé stemware to complement the pomegranate pink theme! 
Once the table was set, Krysten and I added Persian fava beans, a mainstay in Persian culture that is shelled in groups. Persian culture and food are very similar to that of the South – it is all about family and friends and love and sharing and spending time together, especially in the kitchen. 
Mary Kathryn's tips for setting the perfect table are all available here.
THE CONVERSATIONS 
I am such a fan of the game Table Topics! We keep it on our dining room table so if there is ever a lull in conversation (or perhaps a grumpy teen...), I can pull a card and start the conversation. One day, I want to create my own Table Topics cards, curating topics from inspirational people that I meet along my entrepreneurial journey.
One of these inspirational friends is Carolyn Murray, host of Charleston's WCBD News 2. I asked Carolyn to come up with conversation starters for the table that we could print on cards and hide under the guests' plates. Carolyn graciously accepted, and we spent the evening conversing about our must-read books, preserving natural resources, experiencing discrimination, and how we create beauty in our own lives. You can download Carolyn's set of Conversation Cards here. 

THE SOUTHERN SURCIES
We rise when we stand together – that's what our Be a Biscuit motto says anyway! I am a true believer that supporting other small businesses and each other helps us all rise tall. When we sent out invitations to this celebratory supper, I was not expecting our guests to be showered in goodies – but when women come together, we want to share our gratitude in the best way we know how... through our art! 
Each one of our guests went home with goodies from creators at the table. My dear friend Neely Powell, founder of Charleston Shoe Company, gifted each guest a pair of her signature shoes. Charleston Shoe Company started in the Lowcountry and has expanded nationally. Neely and her team have truly reimagined women's footwear with versatile, comfortable, and stylish shoes for every occasion... oh, AND they're machine washable! I was personally gifted her Bermuda Platforms which I haven't taken off since... they are the most comfortable platform in my closet. 
Surcies for the supper table included colorful and festive handmade earrings and bracelets by The Tiny Tassel. Founder Mimi Striplin has taken her e-commerce business by storm in the last few years (hello TODAY Show, People Magazine, PopSugar, and more!) and we are so proud to work with her to release our Rise Tall tee which supports our Be a Biscuit program! 
One of the charities that the Be a Biscuit program supports is Just Be You, a nonprofit striving to build confidence in youths through self-compassion started by my friend Beth. Everyone went home with their LOVE hat to help spread their mission. 
Last but more certainly not least were beauty and fashion goodies from our friends at Out of Hand Boutique  – the sister company to OOH Event Works – and of course, we couldn't let guests leave without Callie's Hot Little Biscuit's summer favorite: Shortcake Biscuit Mix! 
IT'S HOW WE ROLL
Celebrating women is so important, but it's even more important to start conversations, collaborate, and cultivate a life you love. I was honored to have these female founders join me for a fantastic evening. The night was captured by my talented friend, Lindsay Narcisso, a photographer and founder of Lindsay's Sweets and Eats. We were also lucky enough to film the evening for season two of my PBS docu-series, How She Rolls. I can't wait to share more behind-the-scenes from the evening with you when season two airs this fall! 
SHOP THE POST
2-Hour Crabbing Experience with Casual Crabbing with Tia
Custom gluten-, dairy-, and refined sugar-free cakes by Cynthia Groseclose
The Tiny Tassel Jewelry
Charleston Shoe Company's Bermuda Platforms
Estelle Colored Glass Rose Stemware 
Just Be You Trucker Hat
Out of Hand Boutique gifts  
Hot Little Tip
Recreate your own porch supper – at any scale! You don't need a room full of founders to turn an evening into something great. Grab your friends and create a menu. Designate who will contribute to the food, the table setting, and share a fun surcie at the end of the evening. Don't forget to print your own conversation cards!