Mocha Shortbread Biscuit Recipe
From Carrie Morey's Hot Little Suppers cookbook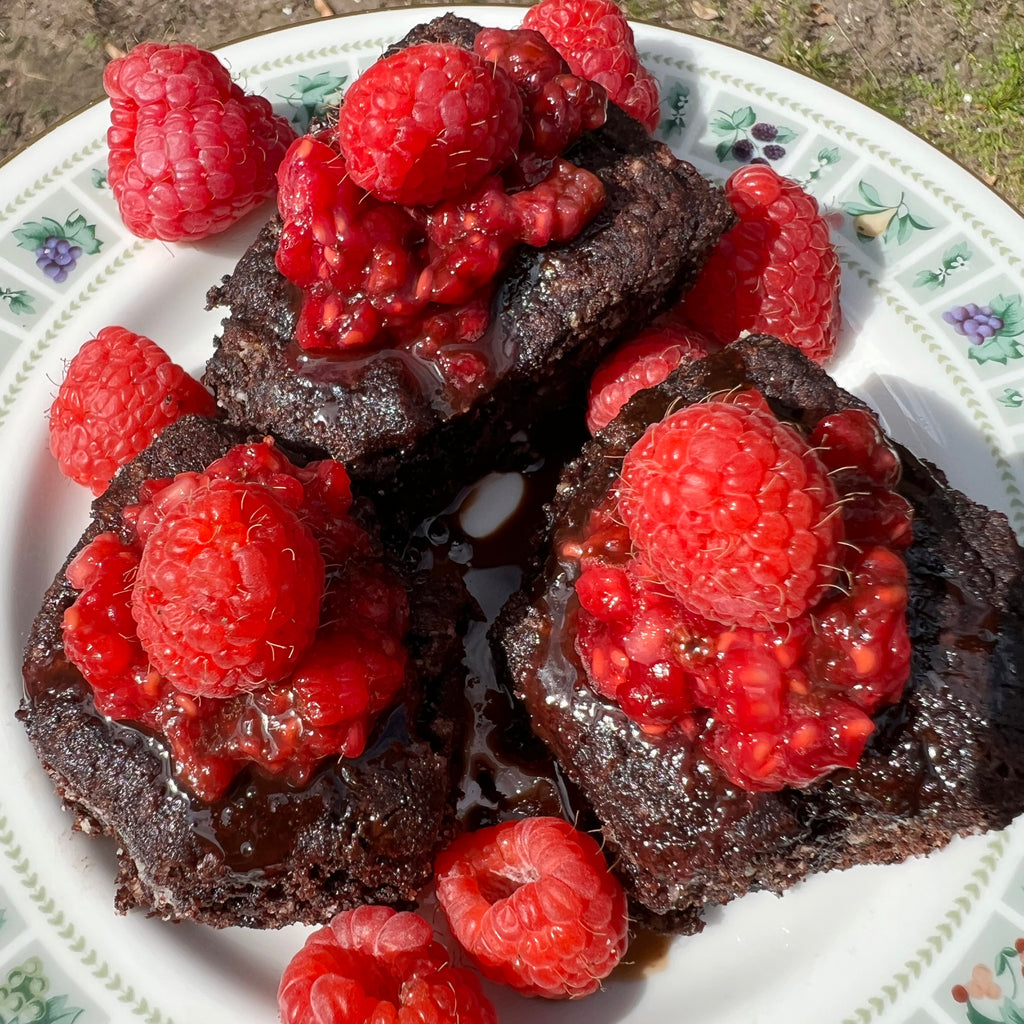 Ingredients
• 2 cups flour
• 2 cups cocoa mix
• ½ cup white sugar
• 5 oz butter (10 tbsp)
• ½- ¾ cups whole milk
• 1 tsp vanilla
• Macerated raspberries
• Chocolate syrup
We are often asked if we'd ever consider adding a chocolate biscuit to our line of Southern staples. After all, our
Cinnamon Biscuits
and
Shortcake Biscuit Mix
are sweet treats that Callie's fans across the country rave about! This holiday season, our artisan bakers got to "play" with the idea of adding chocolate to our award-winning recipe, and what they came up with is quite simply divine. 
These rich and decadent Mocha Shortbread biscuits will be the talk of the dessert table this holiday season. We topped them with macerated raspberries and Hersey's chocolate syrup, but there are so many options to discover! 
Instructions:
Preheat oven to 400 degrees F.
Mix flour, cocoa mix, and white sugar in a large bowl.
Add butter and work into the mix in a snapping motion with your fingers. Once your mix is the consistency of grated Parmesan cheese.
Make a well in the center of the dough.
In a separate container, mix whole milk and vanilla. Add whole milk and vanilla mixture to the flour mixture and combine until the dough is wet and sticky. Be careful not to overwork the dough.
Liberally dust the dough, rolling surface, rolling pin, and cutter with the remaining biscuit mix. Flip the dough onto a dusted surface. Roll the dough using a rolling pin until it's 2 inches thick.
As you cut the biscuits, place them on a parchment-lined, rimmed baking sheet. The biscuits should touch. Bring the remaining dough back together into a mound. Roll, cut, and place the biscuits in the same manner.
Melt the remaining butter and brush onto the biscuits.
Bake for 16-18 minutes, rotating the pan halfway through.
Serve warm with macerated raspberries and chocolate syrup!
Hot Little Tip
Get this recipe started by using our Shortcake Biscuit Mix. Pair with Carrie's Hot Cocoa for the perfect chocolatey treat!