Carrie's Holiday Hot Chocolate
From Carrie Morey's Hot Little Suppers cookbook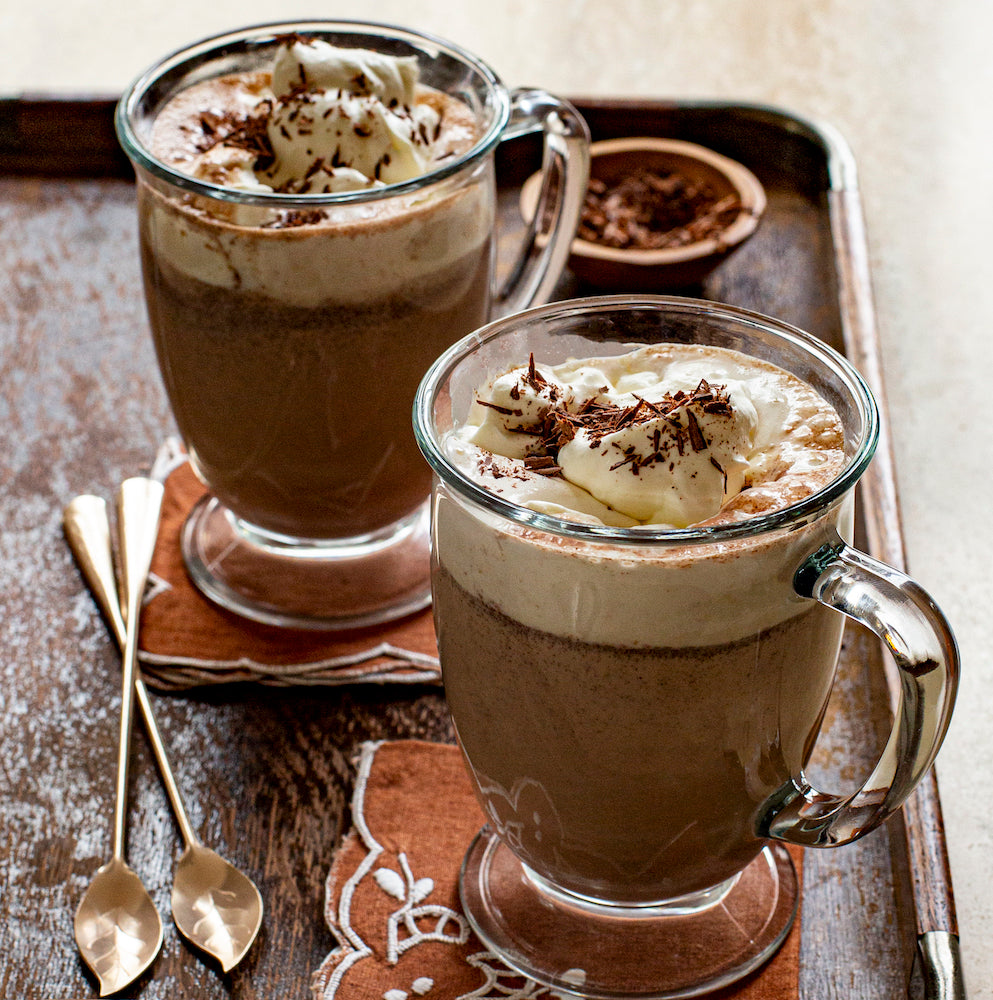 Ingredients
• 1/2 cup sugar
• 1/2 cup cocoa
• 1 tablespoon cornstarch
• 1 1/2 ounces semisweet chocolate, roughly chopped
• 1 1/2 ounces bittersweet chocolate, roughly chopped
• 1/4 teaspoon salt
• Milk (16 ounces per serving)
• Vanilla (1/4 teaspoon per serving)
• Whipped Cream for garnish
• Shaved Chocolate for garnish
We started making hot chocolate at Callie's Hot Little Biscuit as a wintertime alternative to coffee, and it was an immediate success. Really, who doesn't love hot chocolate with a dollop of whipped cream on top? My recipe goes a step further than the boxed brands and makes for the ultimate indulgent! 
The best part about this recipe is it can be made ahead AND made for a crowd. 
To make ahead: Combine all the dry ingredients into mason jars and keep in your pantry for whenever you are craving a warm cup of chocolate cheer. Add a cute ribbon and a tag with instructions (below) for an easy holiday hostess gift! 
To make for a crowd: Fill a 4-quart slow cooker with milk and set it to high heat. Once the milk is warm, add 1/2 up dry mixture and 1 teaspoon of vanilla. The longer it sits, the better it tastes! 
Instructions: 
In a small bowl, combine the sugar, cocoa, cornstarch, semisweet chocolate, bittersweet chocolate, and salt. 
In a sauce pan, warm the. milk and stir in the vanilla.
Stir in the dry mix (2 tablespoons per serving)
Transfer to a mug and top with whipped cream and shaved chocolate. 
Is hot chocolate a Christmas tradition?
Yes, hot chocolate is a popular Christmas tradition in many countries around the world.
Is hot chocolate better with milk or water?
Hot chocolate is usually better with milk, as it gives a creamier, richer taste.
How do you make hot chocolate taste better?
A few ideas when making hot chocolate:
1. Add a pinch of salt or a dash of sea salt.
2. Add a teaspoon of brown sugar or honey.
3. Add a tablespoon of peanut butter or almond butter.
4. Add a shot of espresso or a splash of coffee.
5. Add a splash of vanilla extract.
6. Add a pinch of cinnamon or nutmeg.
7. Add a dollop of whipped cream.
8. Top it with marshmallows or chocolate chips.
9. Add a splash of almond, coconut, or oat milk.
10. Add a scoop of ice cream.
11. Serve alongside a cinnamon biscuit.
What milk is best for hot chocolate?
Whole milk is the best choice for making hot chocolate, as it will create the creamiest and most luxurious texture. You can also use unsweetened coconut or almond milk as non-dairy options.
How long to boil milk for hot chocolate?
It depends on the type of milk you are using. Generally speaking, for regular cow's milk, the average time to bring it to a gentle boil is about 5 minutes on the stovetop, and around 2-3 minutes in the microwave. For higher fat milks, it could take a bit longer.
Hot Little Tip
To use as a holiday hostess gift, put the dry mix into mason jars and tie a homemade recipe card to the jar with a ribbon.