Moroccan Chicken
From Carrie Morey's Hot Little Suppers cookbook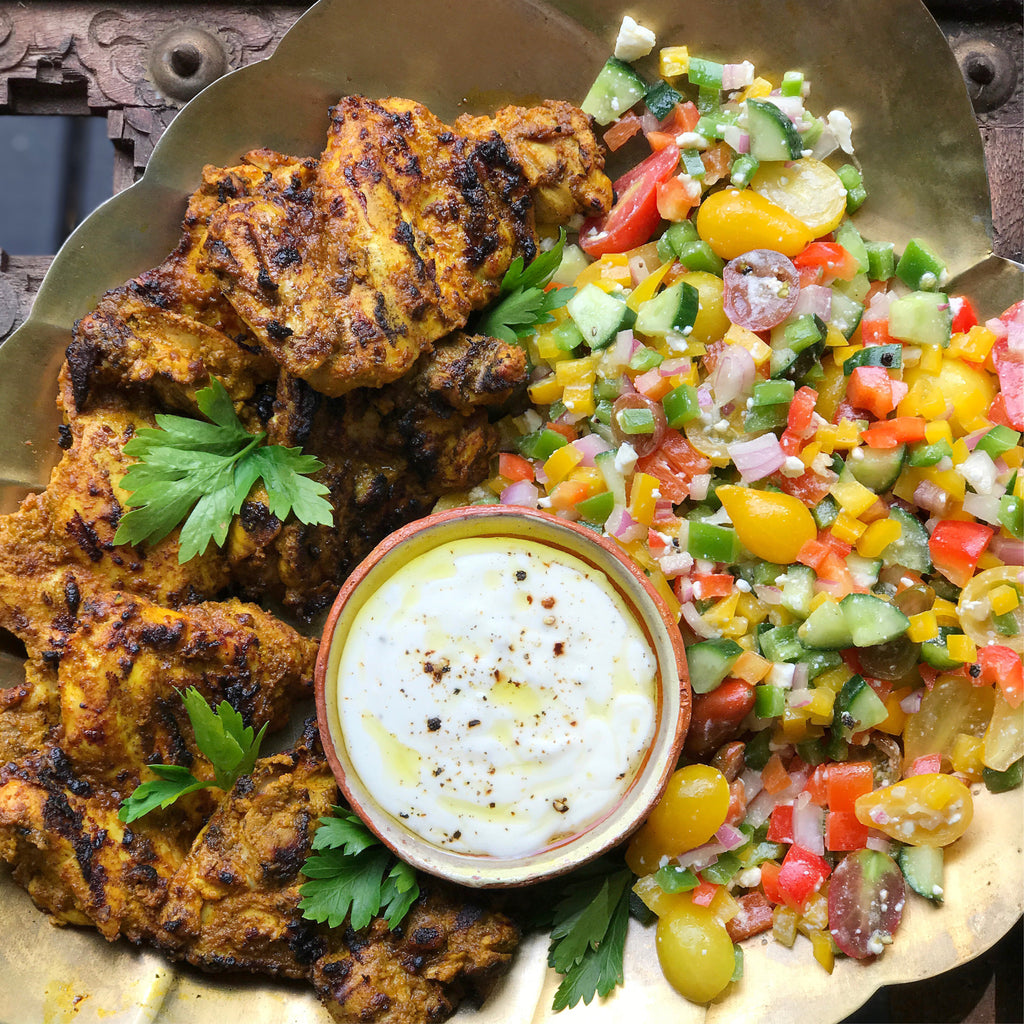 Ingredients
• 1 ½ pounds boneless, skinless chicken thighs
• 1 tablespoon turmeric
• 1 tablespoon cumin
• 1 tablespoon coriander
• 1 teaspoon garam masala
• 1 teaspoon chili powder
• 1 teaspoon paprika
• 1 teaspoon all spice
• 1 teaspoon ginger
• ½ teaspoon cayenne
• 4 cloves garlic, minced
• ½ white onion, diced
• Juice of 1 lemon
• 4 to 5 tablespoons olive oil
• 1 large cucumber, diced
• 1 pint of mixed medley cherry tomatoes
• ½ red onion, diced
• 1 red bell pepper, diced
• 1 yellow bell pepper, diced
• 3 to 4 tablespoons lemon vinaigrette (recommend making Carrie's!)
• Salt and pepper to taste
• Shallot yogurt sauce (recommend making Carrie's!)

Lemon Vinaigrette
• 2 tablespoons Dijon mustard
• 1 clove garlic, minced
• 1 teaspoon onion, minced
• Juice of ½ lemon
• 1/3 cup white wine vinegar
• 1 cup olive oil
• Salt and pepper to taste
• Simply combine ingredients into a mason jar, shake, and serve!
I think I love chicken so much because you can prepare it an infinite number of ways. You don't ever have to be bored with the same old weeknight meal! 
This week we were transported to Morroco with Moroccan Chicken. I paired the chicken with a fresh veggie "salad," homemade lemon vinaigrette, and shallot yogurt sauce. The smell completely took over our home in the most delicious way. I hope you enjoy it as much as we did! 
Instructions
Using a food processor or blender; pulse together the garlic, onion, lemon juice and olive oil to make a paste. Place in a large bowl. Add the turmeric, cumin, coriander, garam masala, chili powder, paprika, all spice, ginger and cayenne. Stir until combined.
Add the chicken to the spice mixture, making sure the chicken is coated. Let marinate in the refrigerator for at least one hour or overnight.
Preheat your grill to a medium high heat. You want your grill hot.
Cook chicken on both sides for 4-5 minutes or until cooked through; flipping once.
In a large bowl mix together the cucumbers, tomatoes, onions and bell peppers. Add the lemon vinaigrette, salt and pepper.
Serve the chicken and crisp summer vegetable salad on a large platter.
Serve with shallot yogurt dipping sauce.
Shallot Yogurt Sauce 
- 1 cup plain Greek yogurt
- ½ medium sized shallot, minced
- Salt and Pepper to taste
- 2 tablespoons olive oil; divided
In a small bowl mix together the yogurt, minced shallot, 1 tablespoon olive oil, salt and pepper to taste. Let sit on the counter and allow the flavors to marinate until ready to serve.
Once ready to serve, drizzle the additional tablespoon of olive oil on top. Sprinkle with salt and pepper.
Hot Little Tip
This is one of my favorite ways to cook chicken. The aroma is simply mesmerizing