Nutter Butters
From Carrie Morey's Hot Little Suppers cookbook
"I highly recommend this trip for a family vacation. Look up Salmon River Rafting and ask for Wayne. The experience was beyond any of our expectations!" ~ Carrie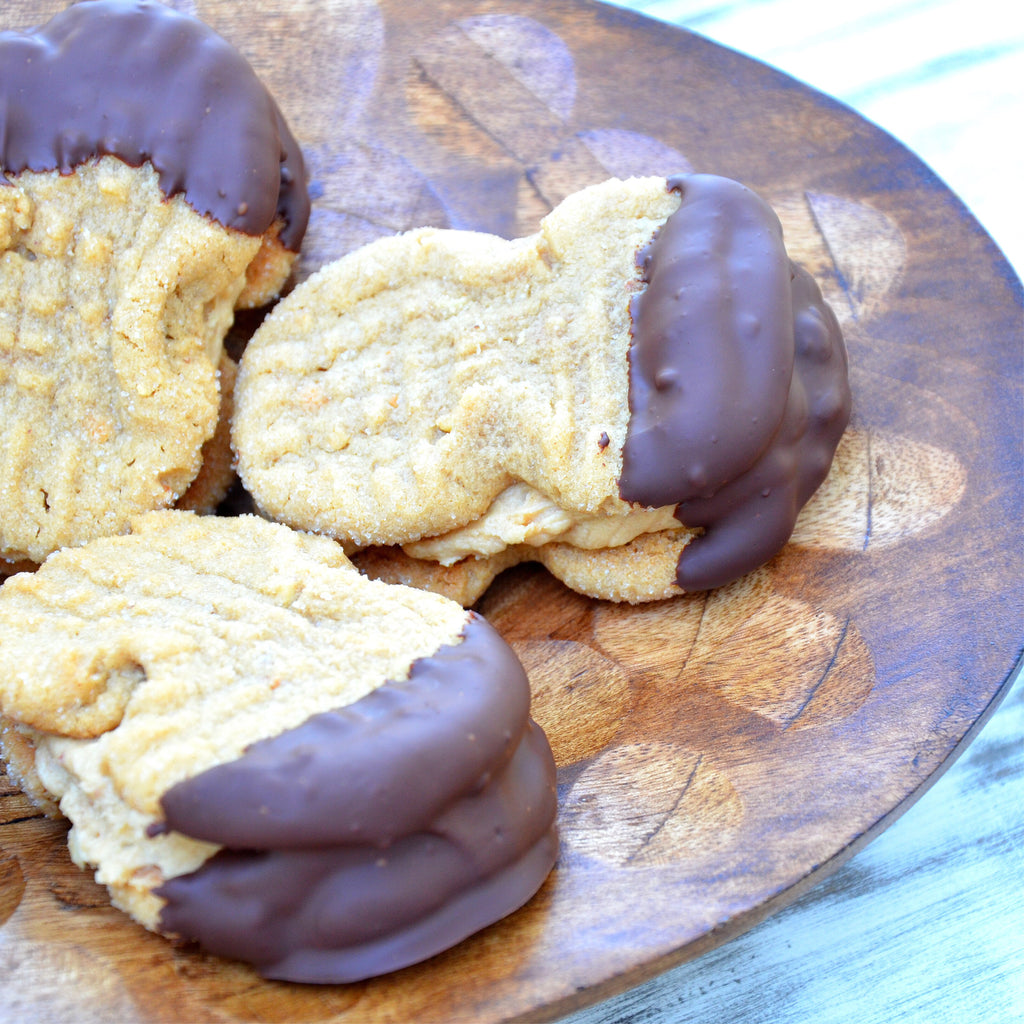 Ingredients
• 1 ½ cups King Arthur Flour
• ¾ teaspoon baking soda
• ¼ teaspoon salt
• 1 stick salted butter, room temperature
• 1 cup light brown sugar
• 1 egg
• ½ teaspoon vanilla
• ¾ cup chunky peanut butter
• ½ cup sugar for rolling dough in
Peanut Butter Cream Filling Ingredients
• 4 tablespoons salted butter
• ½ cup chunky peanut butter
• 1 cup powdered sugar
• 2 tablespoons whole milk
• ½ teaspoon vanilla
• 8 ounces dark chocolate, melted
This summer our family took an adventure down the Salmon River on a five day overnight rafting trip. What a challenge this was on many levels for us all– but an amazing unforgettable family journey! Everyday we floated down the river working together as a team trying not to let the rapids take us down. What it really did in the end was make us a stronger unit, overcoming our fears and working together to accomplish our goals. The meals on this trip were the reward! Each day our guides would pull over halfway through the trip and make us lunch and dinner. What a treat that was, and if I do say so a true vacation for me. Not many people cook for me, so this was an indulgence.
Of course at the end of the trip the one thing my girls said was their favorite were the nutter butter cookies that were served everyday at the end of lunch. What?! Out of all that amazing homemade food made in the middle of an electricity barren homestead and you want the packaged cookies from the grocery store?  
I decided immediately we had to make homemade versions when we came home! And so we did. We borrowed the recipe from our friends at Food 52 and they were divine. We added a few things to make it our own but all in all I think the nutter butters will always remind us about our best family vacation to date!  
 Instructions:
In a small bow whisk together the King Arthur Flour, baking soda and salt. Set aside.
Using a stand mixer or hand held; beat the butter and brown sugar together for 2 minutes or until light and fluffy.
Add in the egg and vanilla. Mix until combined.
Add in the peanut butter and mix until combined.
Slowly add the flour mixture and mix until just combined. Cover and chill dough for at least one hour or overnight.
Preheat oven to 350.
Roll 1 tablespoon of dough into logs that are 1 inch long. Roll each log into the sugar until coated. Place dough 2 inches apart on a parchment lined baking sheet.
Using a fork, make a criss-cross pattern in the dough. Pinch the middle to make the dough resemble a peanut. Place dough in freezer for 15 minutes.
Bake for 9-11 minutes or until cookies are lightly golden. They will still be soft to the touch and that is ok. Let the cookies set on the baking sheet for 5 minutes. Transfer to a cooling rack and let cool completely.
Make the peanut butter cream filling. Using a stand mixer or hand held; mix the peanut butter, butter, powdered sugar, milk and vanilla until combined.
Spread a thick layer of the cream onto one cookie and then sandwich another on top.
Dip half of each sandwich into the melted chocolate and place onto wax paper. Place in the refrigerator and chill until chocolate has hardened.
Enjoy!
Hot Little Tip
"I highly recommend this trip for a family vacation. Look up Salmon River Rafting and ask for Wayne. The experience was beyond any of our expectations!" ~ Carrie