Recipes to Try with the Grandkids This Holiday Season
From Carrie Morey's Hot Little Suppers cookbook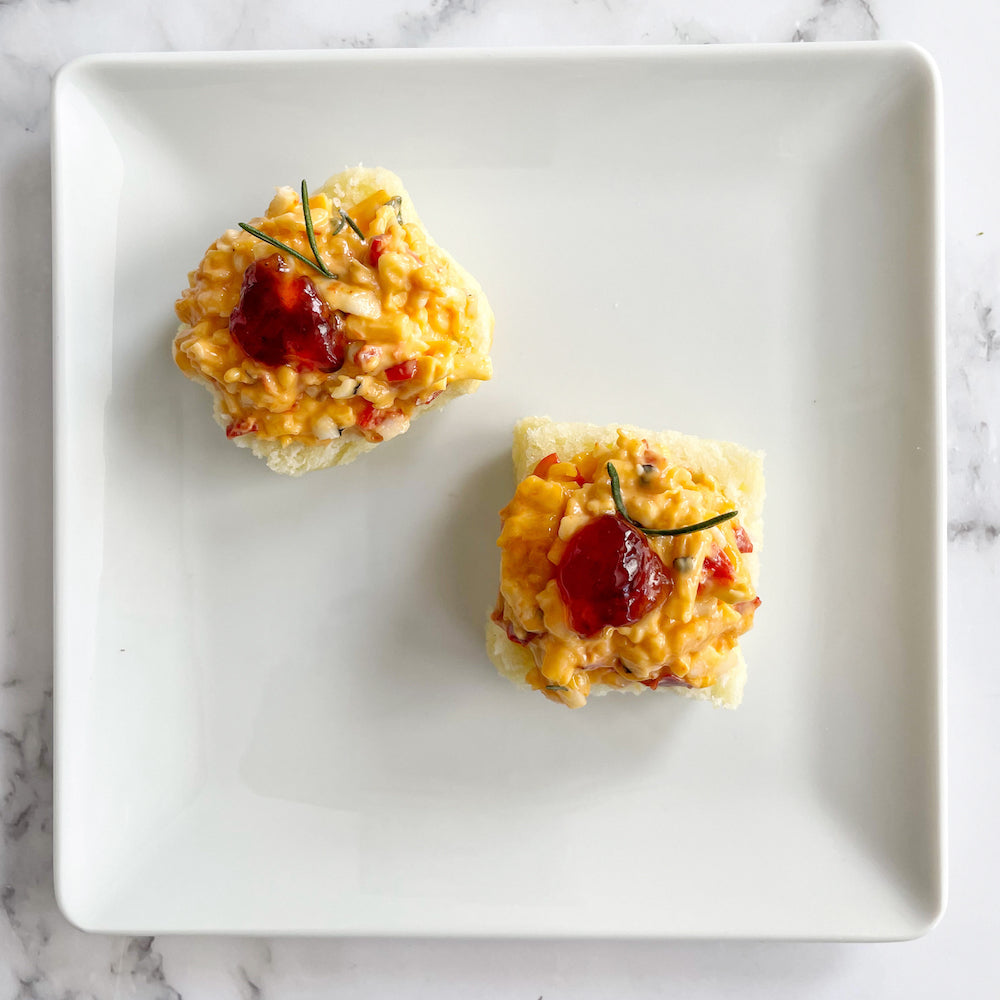 Ingredients
• Buttermilk Biscuits
• Fiery Pimento Cheese (or substitute Traditional Pimento Cheese - less heat for little taste buds)
• Strawberry fig jam
• Sprig of rosemary (optional)
Holidays are a great time to make memories with kids, and what's more memorable than working with your kids or grandkids on a delicious creation that starts with Southern biscuits? Make these easy kid-friendly recipes for a holiday gathering, or just enjoy them together!
Kenton's Holiday "Cheese & Crackers" Biscuit Appetizer
It will take just a little help from a grownup to bake this impressive appetizer. Then kids can run wild with the toppings for the biscuits!
Ingredients:
• Fiery Pimento Cheese (or substitute Traditional Pimento Cheese - less heat for little taste buds)
• Sprig of rosemary (optional)
Instructions:
Preheat the oven to 400 degrees.
Remove the biscuits from the plastic, wrap them in foil and bake for 20-25 minutes.
Open the foil to bake for five more minutes until golden brown.
Add a dollop of pimento cheese and strawberry fig jam.
Top with a sprig of rosemary to make it festive (optional).
Cast Iron Spinach Artichoke Dip
Enjoy this warm, creamy recipe on a cold day. It's easy to mix up the ingredients, and most kids love the chance to use the mixer.
Ingredients:
1 pound (16 ounces) frozen spinach, thawed and squeezed dry
2 cans artichoke hearts, drained and chopped
1 small onion, chopped
2 cloves garlic, minced
1 cup mayonnaise
1 block cream cheese, room temperature
1 cup shredded parmesan, plus 2 tablespoons for topping
1 teaspoon crushed red pepper
Juice of half a lemon
¼ cup fresh parsley, chopped
10 to 12 Buttermilk Biscuits
Instructions:
Preheat the oven to 375 degrees.
Using a mixer, add the cream cheese and beat until smooth, scraping down the sides.
Add in the spinach, artichokes, onion, garlic, mayonnaise, parmesan, crushed red pepper, lemon juice and parsley. Mix until just combined.
Using a 10- or 12-inch cast iron skillet, place the dip in the middle of the skillet.
Place the biscuits all around the edges of the dip. Top with the remaining 2 tablespoons of parmesan and ¼ cup of breadcrumbs.
Bake for 30 minutes, covered with foil. Remove the foil the last 10 minutes. Cook until the biscuits are golden brown and the dip is bubbling. Let sit 10 minutes before serving.
Find more...
Festive recipes on our blog, or order our cookbooks, Callie's Biscuits & Southern Traditions and Hot Little Suppers!
Hot Little Tip
Get the whole family involved in the cooking this holiday season to make amazing memories together!