Rosé-Spiked Berry Crostata
From Carrie Morey's Hot Little Suppers cookbook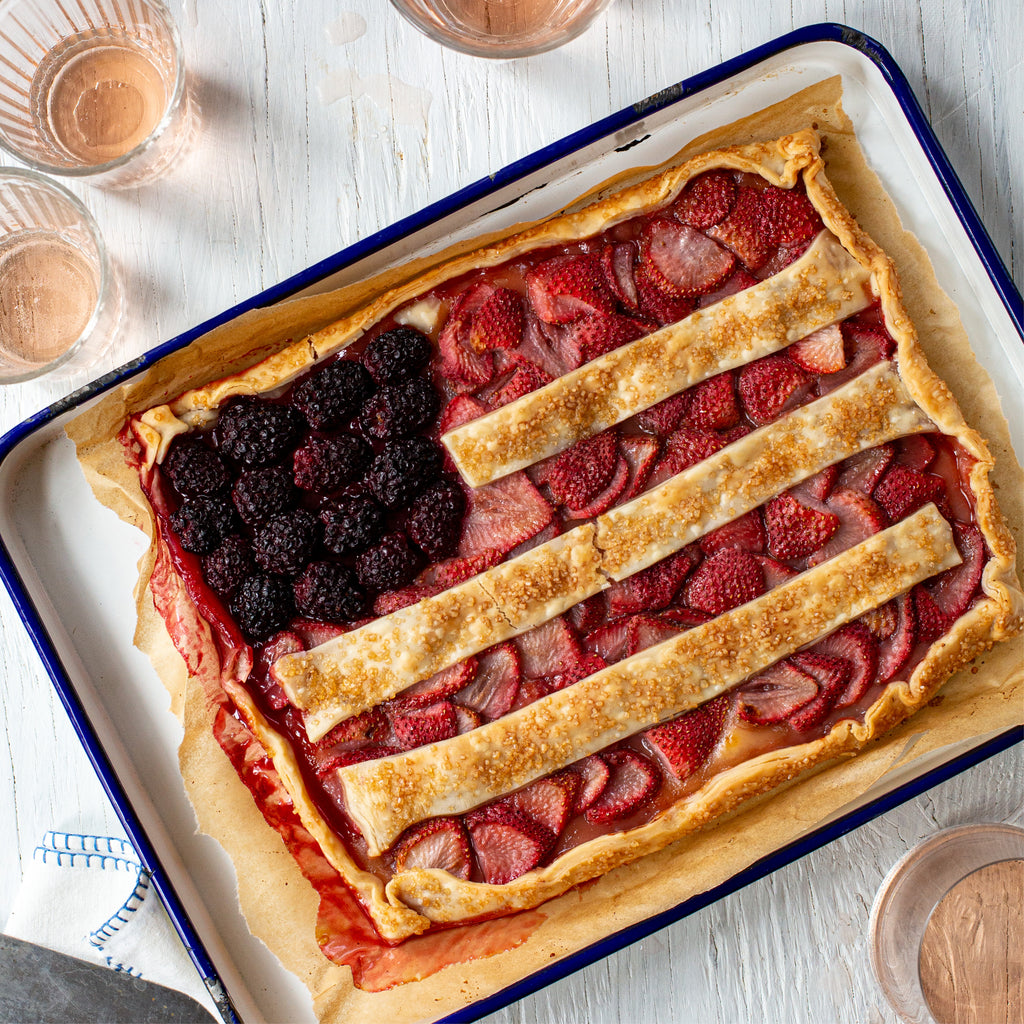 Ingredients
• 2 cups self rising flour
• 1/3 cup plus 2 tablespoons white sugar, divided
• 10 tablespoons saltedbutter, divided (8 tablespoons at room temperature and 2tablespoons melted)
• 1/3 cup plus 2 tablespoons whole milk
• 1 teaspoon vanilla extract
• 6 ounces fresh blackberries
• 16 ounces fresh strawberries, sliced
• 1/3 cup rosé
• 3 tablespoons turbinado sugar
• Vanilla ice cream to serve
This recipe combines beautiful Fourth of July–themed colors with rosé wine, which had just hit the summer party scene when I first made this and continues to be popular. My mother-in-law always makes our wonderful meal for the Fourth and I bring dessert, so it's always a chance for me to experiment with red, white, and blue sweets! The beauty of the ros
é
-spiked berry crostata is very adjustable with whatever berries are in season, or whichever are your favorite! 
Instructions
Preheat the oven to 350 degrees. Line a rimmed baking sheet with parchment paper.
In a large bowl, combine the flour, 1/3 cup of the white sugar, and the 8 tablespoons of room temperature butter. Mix together quickly, working the mixture with your hands until it resembles coarse crumbs.
In a small bowl, combine the milk and vanilla. Add it to the flour mixture and mix it together with your hands. If the mixture seems too dry, add another tablespoon of milk. Work the dough into a ball. Wrap the dough in plastic wrap and refrigerate for 30 minutes.
While the dough is chilling, macerate the berries. In a small bowl, combine the blackberries, strawberries, rosé, and the remaining 2 tablespoons of white sugar. Let the berries sit for 30 minutes.
Lightly flour a working surface. Pinch off a small piece of dough about the size of a golf ball and set it aside. Roll out the rest of the dough to a rough square 10 to 12 inches across and 1/8 inch thick.
Roll out the small piece of reserved dough to a 1/8-inch thick rectangle. Using a pasta cutter or knife, cut it into 3 ribbons lengthwise and set them aside.
Carefully transfer the square of dough onto the parchment-lined baking sheet.
Drain the berries. To create an American flag design, place the black- berries in the upper left corner of the dough square. Then place the sliced strawberries on the rest of the dough, leaving about an inch or so around the edge.
Gently fold the edges of the dough up over the berries, pinching together any open seams. Add the 3 reserved ribbons of dough across the exposed berries to resemble the stripes of the flag. Brush the 2 tablespoons of melted butter all over the dough and sprinkle with the turbinado sugar
Bake for 30 to 35 minutes, or until the dough is golden brown. Serve with vanilla ice cream.
Note: I recommend Hogwash rosé. 
Hot Little Tip
Crostata Crust Options You can use any piecrust recipe for this crostata. Or save some time and use a store- bought piecrust. Roll it out the same way and reserve a pinch of dough to make the ribbons for the stripes on the flag. It's summertime and this recipe is adaptable, so do whatever is most fun and most convenient for you!