Sausage & Peppers Cocktail Biscuits
From Carrie Morey's Hot Little Suppers cookbook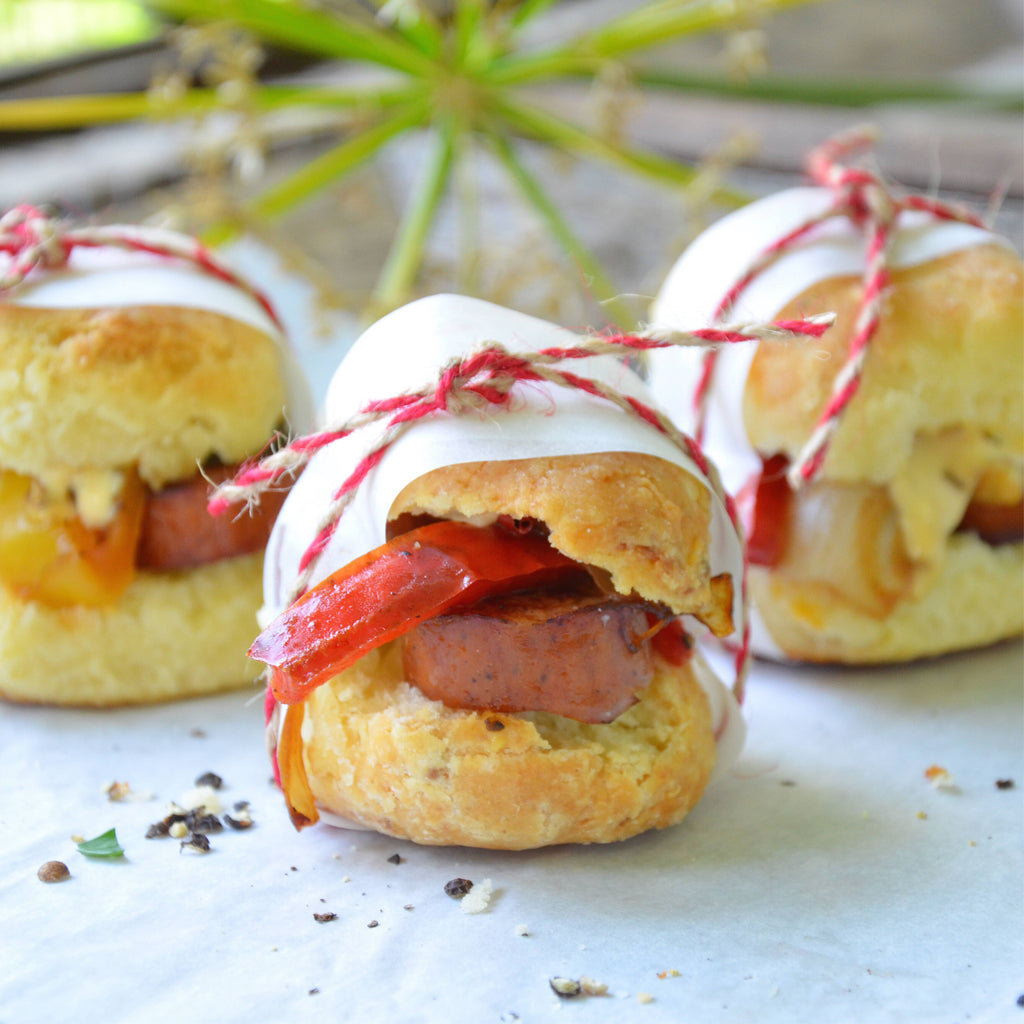 Ingredients
• 1 large white onion, sliced
• 1 red bell pepper, stemmed, seeded and sliced
• 1 green bell pepper, stemmed, seeded and sliced
• 2 cloves garlic, minced
• 1 tablespoon olive oil
• 1 pound kielbasa sausage, cut into ½ inch slices
• Splash of white wine
• Callie's Buttermilk Biscuits, cooked according to package directions
• ¼ cup mayo
• 1 tablespoon Dijon mustard
• Salt and pepper to taste
The smell of someone cooking on the grill always ignites my urge to entertain. One of our favorite quick cocktail hour hors d'oeuvres is smoked kielbasa sausage with saut
é
ed onions and peppers sandwiched between a
buttermilk biscuit
. It's quick to prepare and smells mesmerizing!
In the midst of the holiday chaos, it's great to be able to reach in your repertoire (and freezer) for an easy and delicious dish. I turn to my trusty cast iron and when it's warm enough, our big green egg and create any hot little biscuit sandwich perfect for entertaining!
Instructions
Heat a large skillet to medium high heat.
Add the olive oil, onions and peppers. Cook until tender; about ten minutes. Once tender add the garlic and cook for another two minutes.
Remove onions and peppers and place on a plate. Set aside.
Using the same pan, add a splash of wine to deglaze the pan. Add the sliced sausage and cook for another ten minutes.
Return the onions and peppers back to into the skillet with the sausage. Turn off heat.
Mix together the mayonnaise, Dijon mustard, salt and pepper.
To serve, spread the mayonnaise mixture on one half of a biscuit. Top with onions, peppers and sausage.
Serve immediately and enjoy!
Hot Little Tip
"This is another great recipe for your spur of the moment guests! We'll be sharing a handful of cocktail hour biscuits on the blog. My coffee-rubbed beef tenderloin and dillicious cucumber sandwiches can be found here already. Enjoy!" - Carrie