Slow Cooker Grits
From Carrie Morey's Hot Little Suppers cookbook
"This serves as a one-pot meal we can eat at our leisure without requiring any to-do."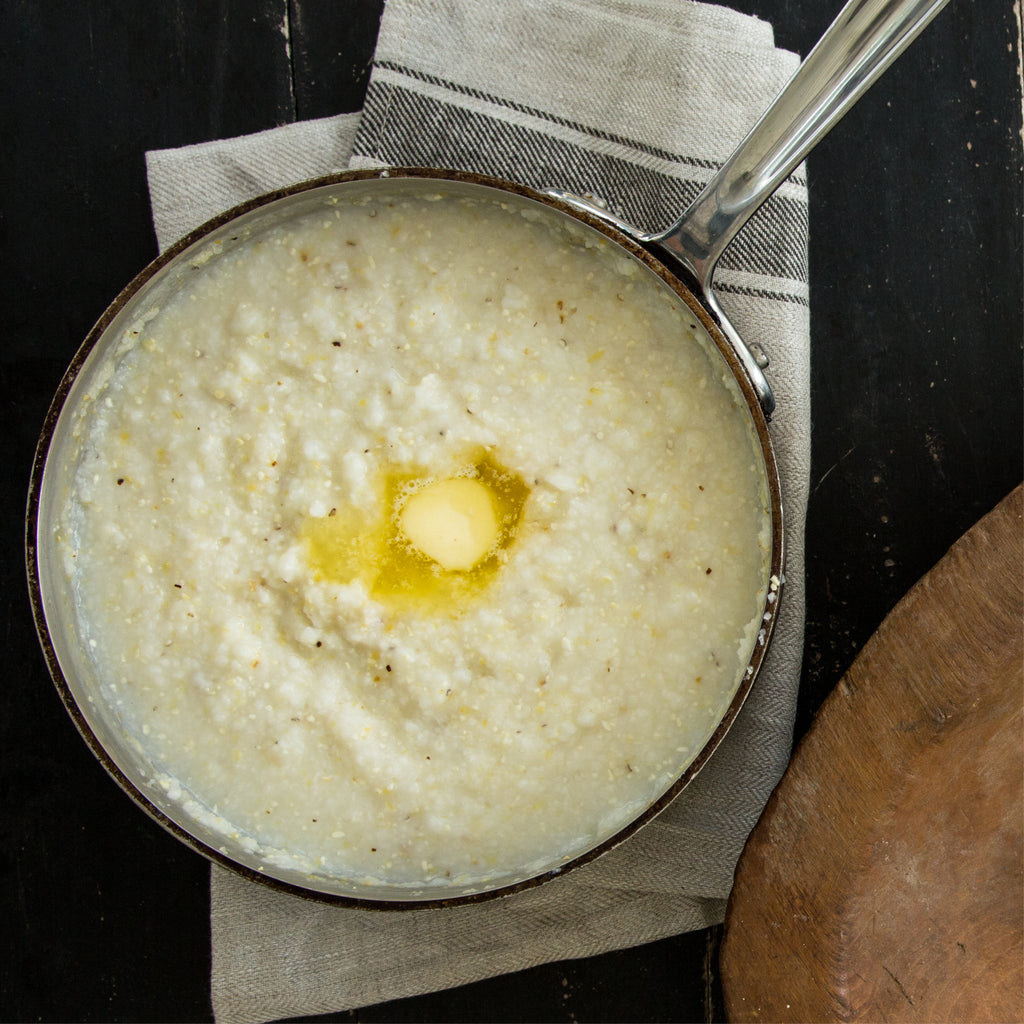 Ingredients
• 4 tablespoons (1/2 stick) butter
• 2 cups coarse-grind grits (not instant or quick-cooking!)
• 10 cups water or stock
• Kosher salt and freshly ground black pepper
• Optional: 1 cup milk, warmed
Dominate the mornings by starting your breakfast the night before. My family does this on Christmas as a tradition but it is so delicious, we can't limit it to just one night a year!! We put grits in the slow cooker at night right before going to sleep. When we wake up, the grits are done! I serve them with chopped bacon, chopped green onions, and grated cheese. Make this dish even more Southern by adding a side of biscuits! Grab some frozen Callie's Hot Little Biscuits to pop in the oven for 20 minutes for a delicious biscuits and grits breakfast!
Shop our grits
online
or at an eatery near you!
Instructions
Use 2 tablespoons of the butter to coat the inside of the slow cooker, coming halfway up the sides.
Add the grits, the remaining butter, and the water or stock, and give it a good stir. Cover. Set on low for 8 to 10 hours.
When the grits are cooked, stir in salt and pepper to taste. Loosen with the milk if too thick.
If you wish, serve with one or more of the toppings.
Carrie's Favorite Toppings
Chopped cooked bacon
Chopped green onions
Shredded sharp cheddar cheese
Fiery Pimento Cheese
Smoked Sausage
Shrimp
Shop the Post
Hot Little Tip
It's best to accept that when cooking grits, they will stick to the bottom of the pot. Try and leave the "stuck-on" layer alone until after the pot has been emptied. At which point you may need to let that baby soak before you can peel the layer away! Also, be sure to add liquid as needed so the grits don't dry out as they cook. Don't be stingy with the butter and salt either!