Summer Crab Salad With Green "Princesses" Dressing
From Carrie Morey's Hot Little Suppers cookbook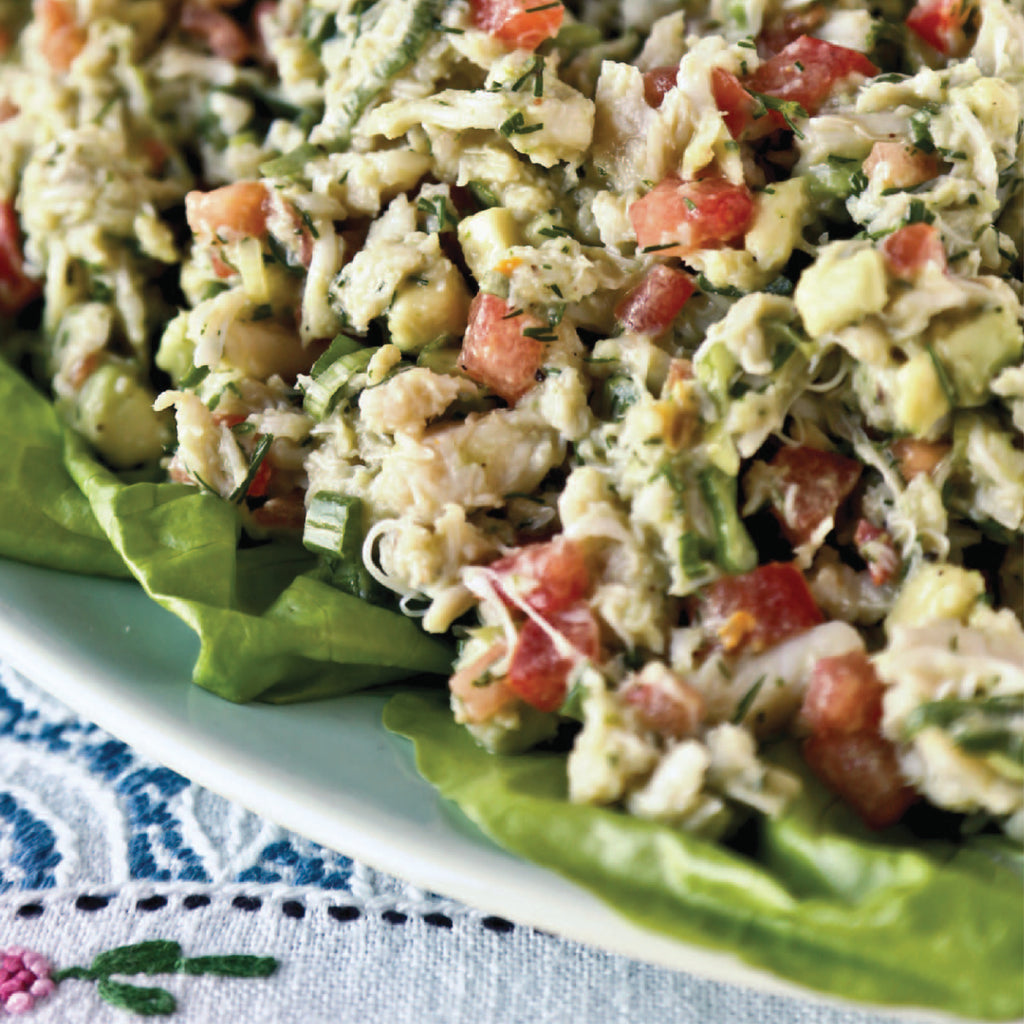 Ingredients
Crab Salad:
• 1 pound freshly caught and picked crabmeat, or 1 (16-ounce) container fresh lump crabmeat
• 1 teaspoon fresh lemon juice
• 2 large avocados, pitted, peeled, and diced
• 2 tomatoes, cored, seeded, and diced
• 2 green onions, thinly sliced (white and green parts)
• 1⁄3 cup fresh chives snipped with kitchen shears
• 1⁄3 cup fresh dill snipped with kitchen shears
• Green "Princesses" dressing (recipe follows)
• Kosher salt and freshly ground black pepper

Optional: Green "Princesses" Dressing:
• 1 cup mayonnaise
• 1 small cucumber, peeled, seeded, and chopped (I prefer the seedless english variety, but any variety is fine)
• 2 green onions, chopped (white and green parts)
• 2 cups coarsely chopped mixed fresh herbs (chives, dill, flat-leaf parsley, cilantro)
• 3 or 4 small cloves garlic, coarsely chopped
• 2 tablespoons olive oil
• 2 teaspoons white wine vinegar 3⁄4 to 1 teaspoon anchovy paste Kosher salt and freshly ground black pepper
Crabbing is one of our favorite summertime activities, and I put together this recipe after introducing crabbing to my friend Claire and her family, who live in London and come to Charleston twice a year. Claire has two girls, Isla and Maisie, very close in age to my three, and the five girls make quite the crabbing team. Our crab lines consist of string wrapped around whatever kind of stick we happen to have or find. We tie a raw chicken neck (the further past the sell-by date, the better!) to the end of the string as bait. We toss the necks off a dock (usually my mother's) into a saltwater creek, holding on to the sticks or tying them off on a dock cleat. Then we check each line for the twitching and tugging of a crab biting on the chicken neck. (And that day a crab on the line was announced by Isla's and Maisie's beautiful accents exclaiming, "Brilliant! I've got one! I've got one!") One person pulls in the line inch by inch, super slowly so the crab comes up with the chicken neck and doesn't let go. Another person stands ready with the net to scoop up the crab from behind before the crab notices anything and lets go. When we have enough, we clean the crabs, steam them, put down plenty of newspaper on the table, and pick the crabs of all their meat, sneaking bites of fresh crab meat every now and then.
I was craving something cool and creamy that day to put on the salad, but I didn't have all the ingredients for a traditional green goddess dressing, so I improvised and found I liked the outcome better than the original. I usually end up using whatever herbs I happen to have on hand— in fact, this dressing is probably a little different every time I make it. Since it's not exactly a classic green goddess, I call it green "princesses" after my girls, who love it!
Shown here served with biscuit bread crumbs and hot buttermilk biscuits
Instructions
Gently go through the crab meat with your fingers, feeling for and removing any hard shell or cartilage pieces.
Place the crabmeat in a chilled bowl and sprinkle with the lemon juice. Add the avocados, tomatoes, green onions, chives, and dill and toss gently to combine.
Fold in the dressing to taste and season with salt and pepper. Cover and chill before serving.
Optional: Green Princesses Dressing
Place the ingredients in a mini food processor or blender and puree. Taste and adjust the salt and pepper. Any leftover dress- ing can be stored in the fridge in a covered container for up to 3 days.
Hot Little Tip
And if you catch your own crab, you know nothing tastes better than the fruit of your own "labor."