Smoked Sausage with Spicy Mustard Mayo
From Carrie Morey's Hot Little Suppers cookbook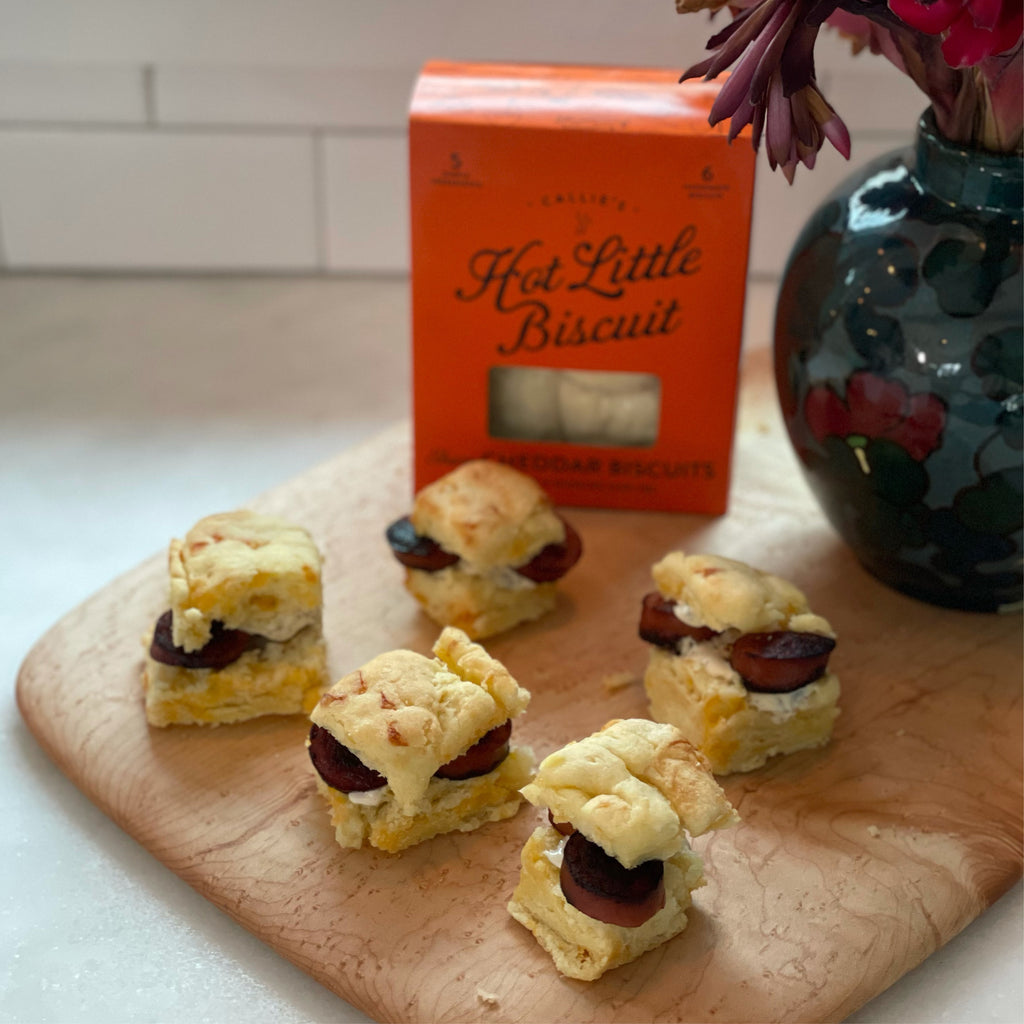 Ingredients
Spicy Mayo:
• 1 cup mayonnaise
• 1/3 cup sour cream
• 1/4 cup Dijon mustard
• 1/4 cup chopped green onions (about 2 onions, white and green parts)
• 2 tablespoons chopped fresh flat leaf parsley
• 4 to 6 dashes hot sauce
• Freshly ground black pepper

Smoked Sausage:
• 1 (13 ounce) link high quality kielbasa or other smoked sausage
•1/2 teaspoon vegetable oil
A biscuit bar is a great idea for a party— guests love to pick and choose their own toppings. I use this same guest participation tactic for soup parties and Bloody Mary bars as well. Set up a biscuit bar for a brunch or any daytime get-together. Or think of the topping ideas as even more ways to enjoy your biscuits any day, such as this smoked sausage and spicy mustard mayo combo! When you include meat on your biscuit bar, be sure to cut it into small enough bits to fit the biscuit properly. Learn all my tips and tricks to a biscuit bar here.
Instructions
Make the spicy mustard mayo: Combine the mayonnaise, sour cream, mustard, green onions, and parsley.
Let the flavors marry for about 30 minutes.
Add the hot sauce and black pepper.
Prepare the sausage: Slice the sausage into 24 rounds.
Heat the vegetable oil in a cast iron skillet. Cook the sausage rounds until well browned, 3 to 4 minutes per side. Cook in two batches to avoid overcrowding.
Drain the rounds on a paper bag. To serve, slice the biscuits, spread the spicy mustard mayo on the inside of the tops and bottoms, put the sausage rounds on the bottoms, and add the tops (sandwich style).
Shop the Post
Hot Little Tip
I always have smoked sausage in my freezer or refrigerator as a last minute entertaining item to tuck inside biscuits or to fold into pasta with peppers!