Asparagus Bacon Roll Ups
From Carrie Morey's Hot Little Suppers cookbook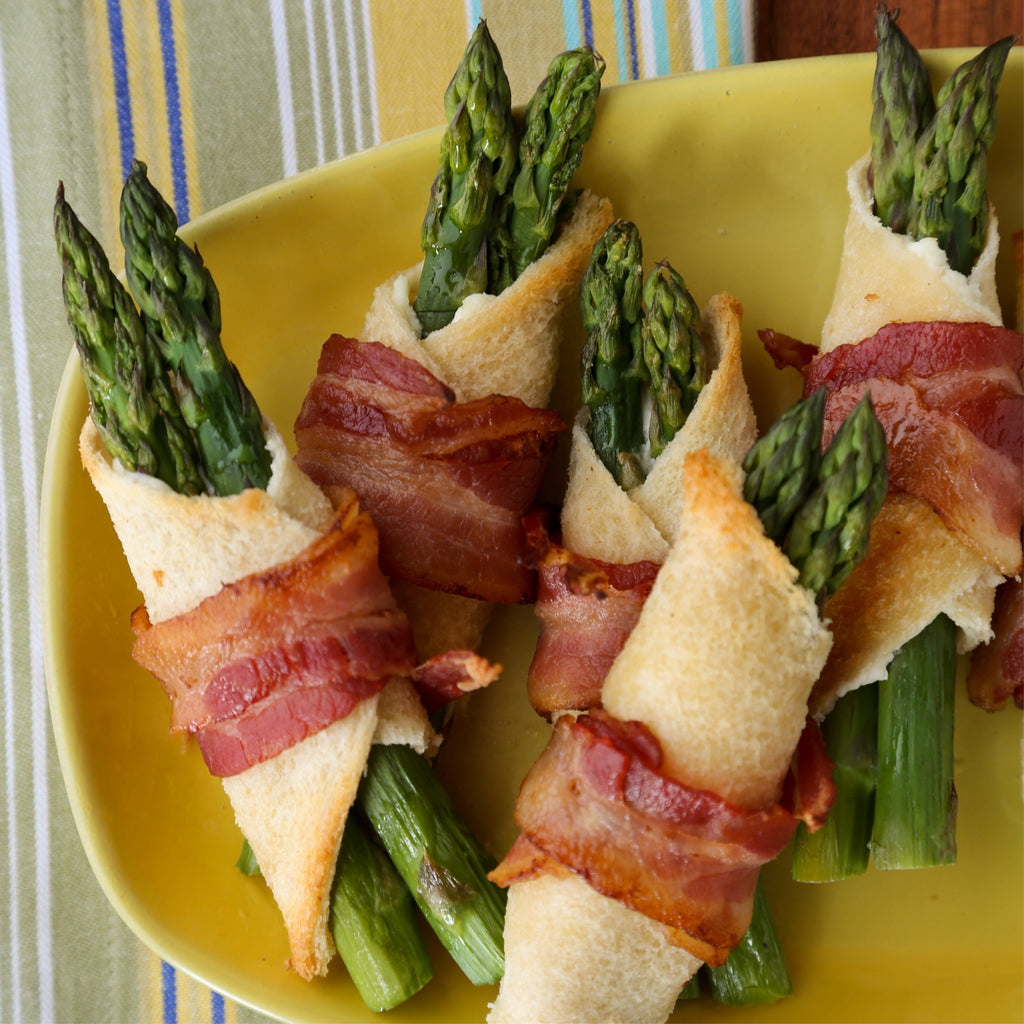 Ingredients
• 8 oz cream cheese, at room temperature
• 1/2 cup grated Parmesan cheese
• 3 teaspoons finely minced garlic
• 1 1/2 tablespoons fresh lemon juice
• 1/4 teaspoon kosher salt
• 1/8 teaspoon ground black pepper
• 32 spears asparagus, trimmed
• 16 slices bacon
• 16 slices white bread
• 4 tablespoons butter, melted
It's a little hard to believe we're so close to the holidays... this time of year, all I can think about is entertaining (even if it it looks a little different from years past). These Asparagus Bacon Roll-Ups are great for tailgates or dinner parties. Plus, who doesn't love veggies wrapped in bacon?! 
Instructions
Beat together cream cheese, Parmesan, garlic, lemon juice, salt, and pepper.
Preheat the oven to 400 degrees F.
Bring a large pot of salted water to a boil. Blanch the asparagus in boiling water for 1 minute. Drain and place in a bowl of ice water until cold. Drain the asparagus well and dry each spear.
Partially cook the bacon, keeping it limber, as you will wrap the bread with it. Remove to a paper bag to drain.
Use a serrated knife to remove the crusts from the bread. Flatten each bread slice with a rolling pin. Spread each slice of bread with cream cheese mixture. Place 2 asparagus spears in the center of the bread, from one corner to another. Pick up a free corner and roll. Wrap each roll-up with a piece of bacon and secure with a toothpick.
Place the roll-ups on a baking sheet. Use pastry brush to brush the bread with melted butter.
Bake until golden brown, 12-15 minutes. Serve warm.
Hot Little Tip
To make these vegetarian, simply skip the bacon!