How to make our Biscuit Dressing Kit
From Carrie Morey's Hot Little Suppers cookbook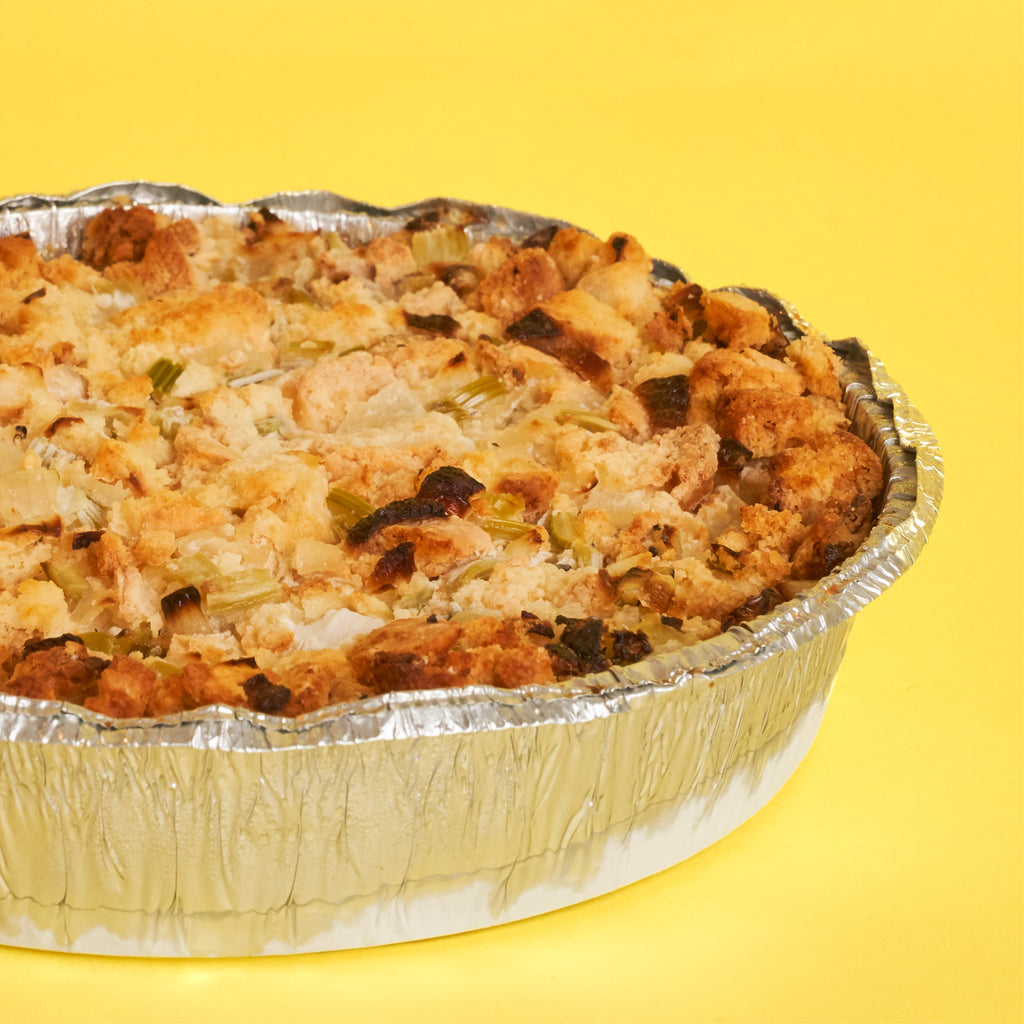 Ingredients
• 4 tablespoons butter, divided
• 1 1/2 cups diced onion
• 1 cup diced celery
• Salt and freshly ground coarse black pepper to taste
• Biscuit Croutons from you Biscuit Dressing Kit
• 1 tablespoon minced fresh sage
• 2 cups chicken or vegetable broth
Around Thanksgiving time, Callie's Hot Little Biscuit sales a savory biscuit dressing kit (or "stuffing" for those outside the South). Made from day-old buttermilk biscuits, ensures that no biscuit goes to waste! In this Biscuit Dressing Kit, you would have received our biscuit croutons and a recipe card for this recipe to make your own savory biscuit dressing. Since we only offer this kit for a limited time, we wanted to give you the biscuit dressing recipe so that you can make it year around - not just at Thanksgiving!!
Inspired by Carrie Morey's Hot Little Suppers cookbook Cornbread Dressing recipe, Carrie incorporates butter, onion, celery, sage, broth, and biscuits (of course!).
Instructions:
1. In a medium-sized skillet, heat 1 tablespoon of the butter over medium heat.
2. Add the onions, celery, and salt and pepper. Sauté until the vegetables are slightly softened, about 5 minutes. Transfer the vegetables to a large bowl.
3. Break up the biscuit croutons and add them to the bowl with sage. Mix well to combine.
4. Grease the bottom of the tin pan left over form the biscuit croutons using 1 tablespoon of butter. Add the dressing mixture.
5. Add the broth and stir to moisten the dressing.
6. Dot the dressing with the remaining 2 tablespoons of butter and season with salt and pepper.
9. Bake for 30 minutes, or until golden brown and crispy on top. Serve warm. 
Hot Little Tip
Follow the dressing/stuffing recipe or use as croutons atop a salad or french onion soup!