How to Build a Fabulous Biscuit Board • A Family Savvy Guest Feature
From Carrie Morey's Hot Little Suppers cookbook
If you are looking for a beautiful, easy way to feed a crowd or a small group, consider a biscuit board! Guests can personalize their biscuits with a variety of toppings and have so much fun in the process. This is sure to be a hit for all your entertaining needs! - Jamie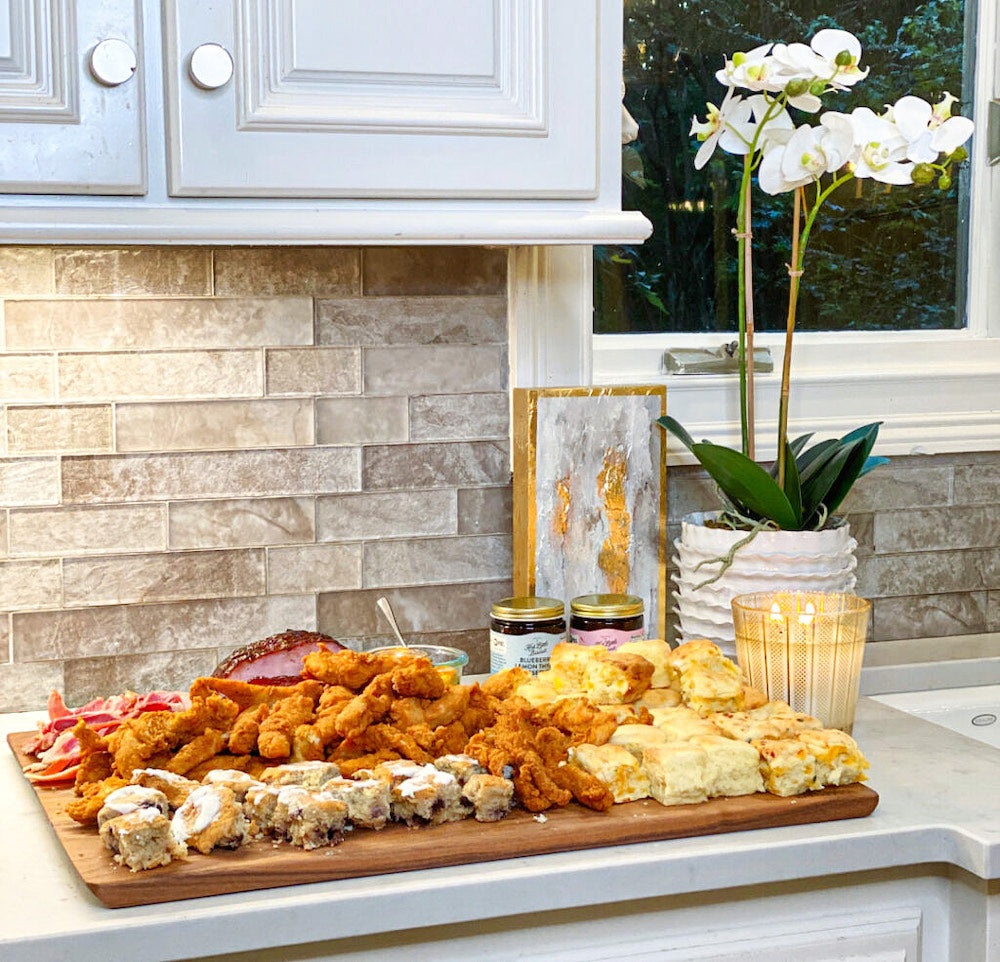 Build a Biscuit Board
Join guest blogger, Jamie Tarence, as she shares her favorite way to entertain from her home in Birmingham – a savory and sweet biscuit board!
Hi, I'm Jamie of Family Savvy!
My blog is a how-to guide for modern women who want to create a welcoming home, cook fabulous meals, and stay fit and chic at any age. Grab a cup of coffee and join me today as a guest blogger on Callie's Hot Little Biscuit's blog, as I continue the journey to stay savvy! 
Whether it is a charcuterie board or a simple snack spread, I have found that a beautiful presentation does not have to be complicated! A biscuit board is no different, and there are endless options for toppings and fillings. Whether they prefer savory or sweet, any guest is sure to rave over this unexpected biscuit bar! 
What kind of biscuits work best? 
The foundation for any biscuit board is fabulous biscuits! The BEST biscuits, in my opinion, are Southern~and homemade.  I cut my teeth on homemade biscuits, having two grandmothers who were fabulous Southern cooks. Although I adored my grandmothers and adopted many of their cooking skills, making biscuits is not one of them. Thankfully, there are several excellent frozen biscuit options, and at the top of my list is Callie's Hot Little Biscuit! My freezer is never without several boxes of them. My favorites are the cheese and chive, classic buttermilk, iced blueberry, and cinnamon. Having biscuits from Callie's Hot Little Biscuit on hand makes pulling together a biscuit board as easy as can be. Look at how beautiful and scrumptious my biscuit board is below! Thanks to Callie's Hot Little Biscuit, all I had to do was bake the biscuits and add the accompaniments.
How do I assemble the biscuit board?
If the idea of a breakfast board or cheese plate is intimidating to you, do not worry here! A biscuit board is truly so straightforward and can be as simple or as grand as you want it to be. Biscuits are so versatile and can be made sweet or savory. After you have decided on your biscuits, it is time to pick some toppings and fillings to accompany them! I like to offer a variety of sweet and savory accompaniments. The last step is to lay your biscuits and toppings out so that your guests can help themselves! It truly does not get easier than this! 

What are some savory biscuit accompaniments? 
For savory biscuits, the cheese and chive or buttermilk biscuits from Callie's Hot Little Biscuit serve as the perfect base. Savory biscuits tend to be more filling and are more suited for a meal, so I make sure to offer some hearty accompaniments! The options are endless, but some of my favorites are:
What are some sweet biscuit accompaniments?  
No meal is complete without dessert! In addition to savory, hearty biscuits, I love offering a sweet dessert option as well. While classic buttermilk biscuits work well as a base for dessert biscuits, I love serving the cinnamon or iced blueberry biscuits from Callie's Hot Little Biscuit for a special touch. Some of my favorite sweet toppings include:
Sliced fresh fruit or fruit compote
Jams, jellies, and honey (Any from Callie's Hot Little Biscuit are outstanding)
Whipped topping
Look at this biscuit board we served at our small gathering: 
We feed 14-20 people each week at our church small group. The video below is an Instagram story of the biscuit board we served for our small group. Everyone loved it; not a bite was left. It was a hit!
SHOP THE POST
Blueberry Lemon Thyme Preserves
For more entertaining tips and tricks for serving a crowd, be sure to check out How To Make A Party Charcuterie And Cheese Board or How To Easily Seat and Serve 24 Guests.
If you try this creative biscuit board, please let me know your favorite toppings in the comments below!  As always, thanks so much for stopping by. Be blessed, and stay savvy!!
- Jamie Tarence, Family Savvy
Hot Little Tip
If you are looking for a beautiful, easy way to feed a crowd or a small group, consider a biscuit board! Guests can personalize their biscuits with a variety of toppings and have so much fun in the process. This is sure to be a hit for all your entertaining needs! - Jamie