Buffalo Cauliflower Dip
From Carrie Morey's Hot Little Suppers cookbook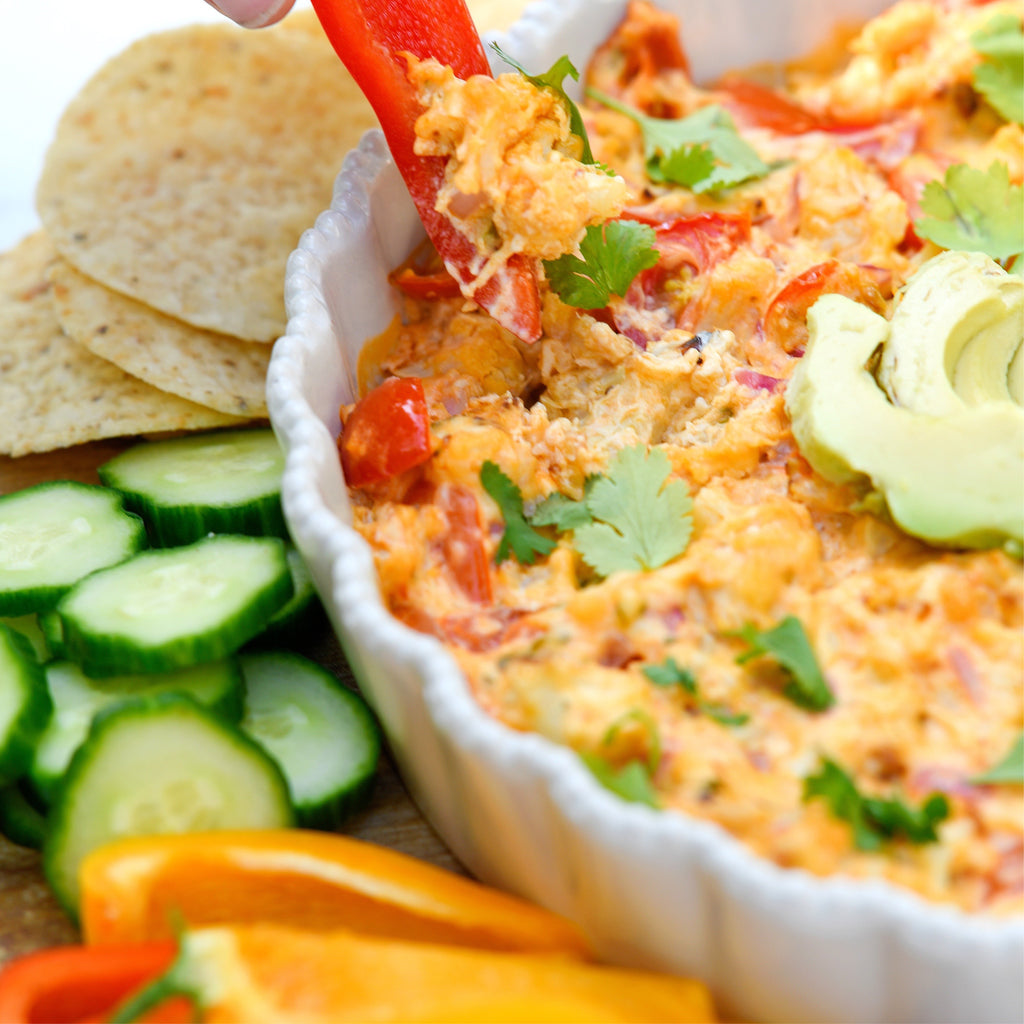 Ingredients
• 1 head of cauliflower, broken into small pieces
• 4 cloves garlic, minced
• 3 tablespoons olive oil
• 1 (8 ounce) package cream cheese
• ½ pint cherry tomatoes, cut into quarters
• ½ red onion, diced
• ¼ cup Frank's hot sauce
• 1 ½ cups grated Monterey Jack cheese
• 1 bunch cilantro
• Avocado, sliced
• Tortilla chips
• Radishes, sliced
• Sweet peppers, sliced
• Cucumbers, sliced
In quarantine, we're spending a lot of time in the kitchen! We're doing all the things to eat really delicious food. Of course, with a good bit of time on our hands, our goal is to put a healthy spin on our favorite dishes. 
One of our most recent experiments was trying to figure out a healthier version of a buffalo chicken dip.  This one happens to be keto-friendly if you swap chips for veggies! Not to mention it is delicious. 
Since we're having our own Cinco de Mayo fiesta at home, I thought this would be a perfect recipe to add to our spread. Some other recipes for Cinco de Mayo are Mexican Chicken, Lime Zest Grilled Shrimp, Pimento Cheese Queso Olé, and of course, Frozen Pomegranate Margaritas! I have compiled these and more for the perfect Cinco de Mayo menu on my blog, here.
Instructions
Preheat oven to 400°F.
Line a baking sheet with parchment paper. Toss the cauliflower, garlic, and olive oil until coated. Roast for 20 minutes. Remove from oven.
Reduce the oven temperature to 350°F.
Add the roasted cauliflower to a saucepan on low heat along with the cream cheese. Stir until the cream cheese has melted. Next add in the tomatoes, onion, and hot sauce. Stir until combined. Remove from heat and stir in the grated cheese and cilantro (reserving one tablespoon of cilantro for garnish).
Bake for 25-30 minutes or until golden and bubbly.
Remove from oven and top it with the reserved cilantro and sliced avocado.
Serve with tortilla chips, radishes, sweet peppers, cucumbers and ENJOY!
Hot Little Tip
There are so many delicious recipes you can make with cauliflower. We've been experimenting a lot. This one was definitely a winner!