Callie's Confetti Biscuit Recipe
From Carrie Morey's Hot Little Suppers cookbook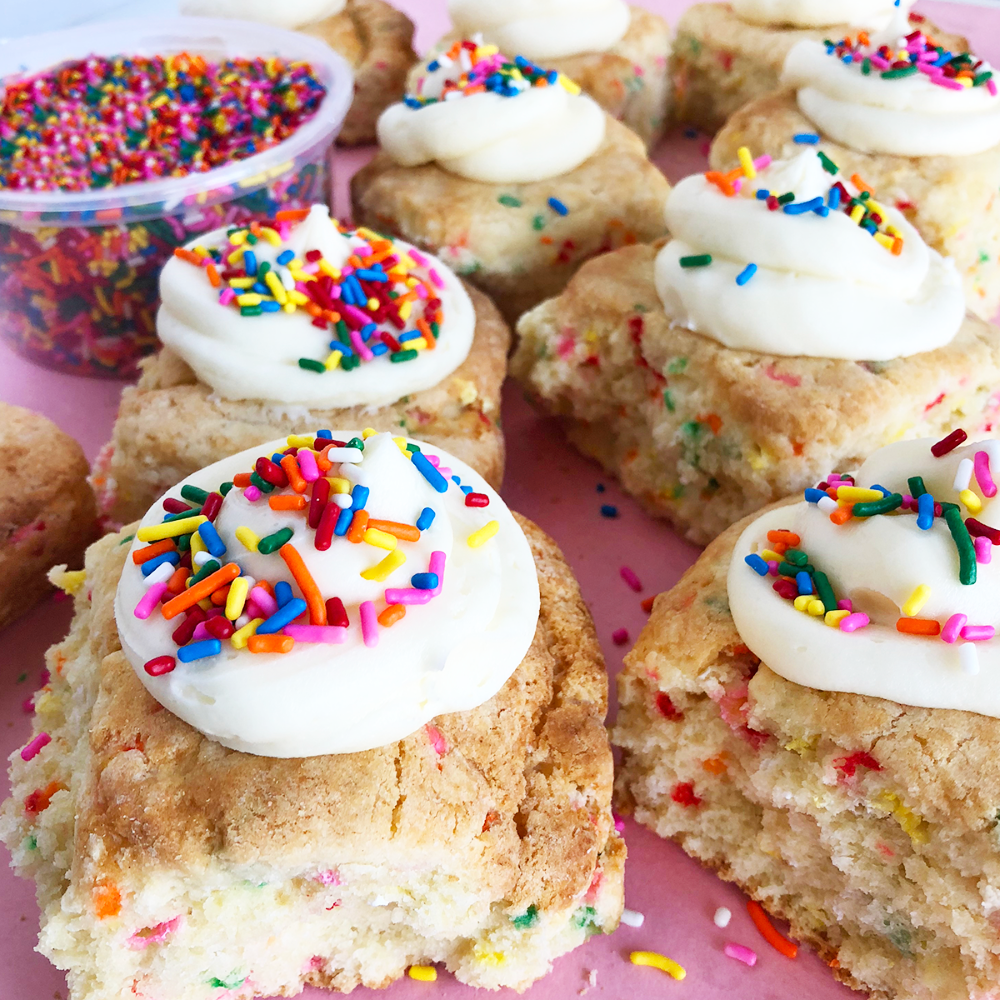 Ingredients
• 3 cups shortcake biscuit mix
• 1/4 cup sugar
• 1/2 cup unsalted butter
• 4 ounces cream cheese
• 3/4 cup buttermilk
• 1/2 cup rainbow sprinkles
• 1 large egg, beaten
Glaze:
• 1 cup confectioners' sugar
• 1/3 cup heavy whipping cream
• 2 tablespoons water
• 1/4 teaspoon vanilla extract
• Pinch of salt
Who doesn't love cake for breakfast? Shortcake, that is! These confetti shortcake biscuits bring celebration to the table. This is the perfect treat for any occasion: red, white, and blue sprinkles for a dessert on the Fourth of July, or red and green for Christmas. This is a perfect activity to do with the whole family, have the little ones decorate just how they like them. 
Every year for my daughters' birthdays, I bring my girls breakfast in bed with a candle in their confetti biscuit. It is the perfect sweet breakfast to start their day off right and could be for you as well. Stop by our Charleston eateries to grab a free birthday biscuit on your birthday - just tell the biscuiter that it is your birthday!
Instructions:
Preheat oven to 425 degrees F. Line a baking sheet with parchment paper.
Place 2 cups of mix and sugar in a large bowl. 
Add 4 tablespoons of salted butter and work it into the mix in a snapping motion with your fingers. Once your mix is the consistency of grated Parmesan cheese, add cream cheese in the same snapping manner. The cream cheese portions should be about the size of a dime.
Make a well in the center of the dough. Add 3/4 cup buttermilk and sprinkles and combine until the dough is wet and sticky. Be careful not to overwork the dough. If more liquid is needed to absorb the flour, add the remaining buttermilk.
Liberally dust the dough, rolling surface, rolling pin, and cutter with the remaining mix. Flip the dough onto a dusted surface. Roll the dough using a rolling pin until it is 2 inches thick.
Place the biscuits about 2 inches apart on a parchment-lined rimmed baking sheet as you cut them. Freeze biscuits until cold, about 10 minutes, brush tops with egg.
Bake until golden brown 12-15 minutes.
For glaze: in a medium bowl, whisk together confectioners' sugar, cream, 2 tablespoons water, vanilla, and salt until smooth. Drizzle glaze over warm biscuits. Garnish with more sprinkles, if desired.
Shop the post
Hot Little Tip
Change the color of the sprinkles for a specific holiday like the Fourth of July, Mardi Gras, or Valentine's Day!