Callie's Shortcake Biscuit Recipe - Callie's Hot Little Biscuit
From Carrie Morey's Hot Little Suppers cookbook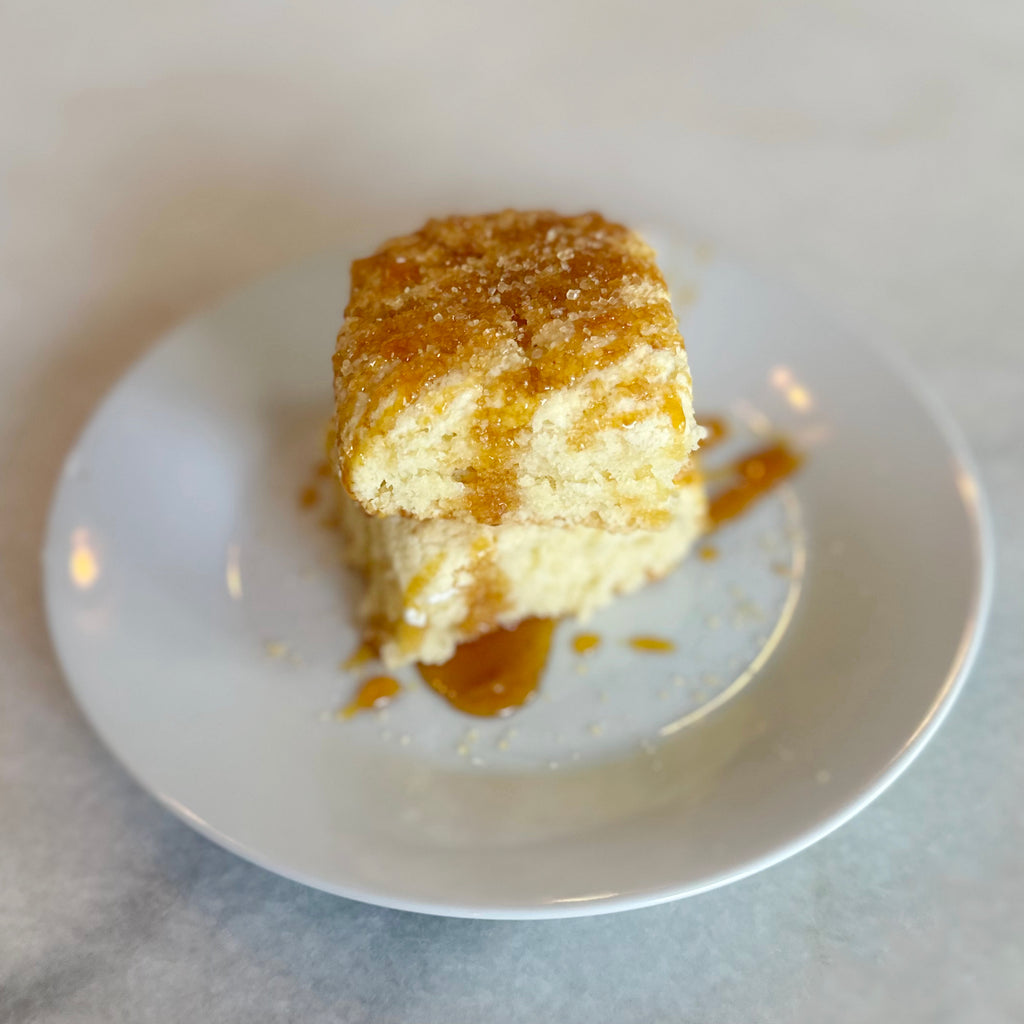 Ingredients
• 2 Cups self-rising flour, we prefer White Lily or you can use our mix, plus more for dusting
• 10 Tablespoons salted butter, divided
• 1/2 to 3/4 cup whole milk
• 1 teaspoon pure vanilla extract
• 1 tablespoon Turbinado sugar
While we may savor every single bite of our tender, tangy buttermilk biscuits, every now and then, we crave something sweet. That's when we turn to our classic shortcake biscuit recipe. This traditional dessert biscuit is a sweet take on the traditional buttermilk biscuit. It's topped with Turbinado sugar for an added crunch! 
We love pairing our shortcake biscuits with Blackberry Jam at our eateries or a delicious Strawberry Jam. You also may be familiar with strawberry shortcake biscuits or Carrie's blueberry shortcake trifle. Find more shortcake-inspired recipes here. 
Gather Your Tools
2-inch biscuit
cutter
(or your preferred size!)
Parchment paper
Rimmed backing sheet
Rolling pin
Gather Your Ingredients
2 Cups self-rising flour, we prefer White Lily 
or you can use our 
mix
, plus more for dusting
10 Tablespoons salted butter, divided
1/2 to 3/4 cup whole milk
1 teaspoon pure vanilla extract
1 tablespoon Turbinado sugar
Instructions
Preheat oven to 350 degrees F
Place 2 cups of biscuit mix into a large bowl.
Add 8 tablespoons of salted butter and work it into the. Mix in a snapping motion with your fingers. Once your mix is the consistency of grated Parmesan cheese, add cream cheese in the same snapping manner. The cream cheese portions should be about the size of a dime.
In a separate bowl, stir together milk and vanilla.
Make a well in the center of the dough. Add the whole milk and vanilla mixture and combine until the dough is wet and sticky. Be careful not to overwork the dough. 
Liberally dust the dough, rolling surface, rolling pin, and cutter with the remaining biscuit mix. Flip the dough onto a dusted surface. Roll the dough using a rolling pin until it is 2 inches thick.
As you cut the biscuits, place them on a parchment-lined, rimmed baking sheet. The biscuits should touch. Bring the remaining dough back together into a mound. Roll, cut, and place the biscuits in the same manner.
Melt the remaining butter and brush onto the biscuits. Sprinkle the biscuit tops with Turbinado sugar. 
Bake for 16-18 minutes, rotating the pan halfway through.
What is the difference between shortcake and shortbread biscuits?
Shortcake is typically a light, fluffy biscuit made with baking powder or baking soda, and is usually served with sweetened fruit, such as strawberries and whipped cream. Shortbread is a dense, buttery biscuit made with flour, sugar, and butter, and is usually served plain, or with a light dusting of sugar.
What is the secret to light fluffy biscuits?
The key to making light and fluffy biscuits is to not over-mix the dough. The dough should be handled as little as possible, just hand mix until the ingredients are combined. Finally, preheat your oven to 400 degrees, but as soon as you put the biscuits in the oven, turn down the temperature to 350 degrees and bake rotating the pan halfway through your bake time. 
Are biscuits better with butter or shortening?
Biscuits are generally better with butter. Shortening can make them extra flaky, but butter adds a richer flavor.
What makes a biscuit hold together?
Shortcake biscuits (and all biscuits!) hold together because of the gluten in the flour. Gluten is a network of proteins that forms when flour is mixed with a liquid. This network helps to bind the ingredients together and gives the biscuit structure and strength.
Is it better to use milk or buttermilk in biscuits?
It depends on the recipe and what type of flavor and texture you are looking for. Buttermilk generally makes for a slightly more tender and flavorful biscuit, while regular milk makes for a more traditional biscuit. For shortcake biscuits, we recommend regular, whole milk.
Hot Little Tip
We LOVE to sweeten up our shortcake biscuits with fresh fruit or chocolate. You can also add savory additions like our "Patty Cake" biscuit that includes a sausage patty, maple syrup, and a dusting of powdered sugar. Yum!